Note: If you can read French, go to the French page for additional content.

to SEARCH this page
FEATURED REVIEW:
Fall Out Boy had completed this seventh album last year, but unsatisfied, they deleted everything to start from scratch. The result is probably their most pop album to date with many catchy melodies and some dancing beats. They can still go into hard rock on occasion, especially with "The Last of the Real Ones". On the other hand, it is rather the first single, "Champion", that represents the best compromise between their current style and the rock sound of their past. Few moments on the album manage to really stand out, and the whole is rather average. So, nothing really interesting and perhaps their worst album so far.
Music Videos: « Champion » - « The Last of the Real Ones » - « Hold Me Tight or Don't »


½

FEATURED NEW ARTIST:
Lior Shoov is a songwriter and a multidisciplinary artist of Israeli origin who now lives in Paris. She has traveled the world for five years, lugging strange instruments in her luggage. Everything is a pretext for percussion to accompany her soft and unique voice, ranging from various tambourines to simple toys. Lior thus blends the styles, between song, world music and improvisation. It is therefore a very singular artist that we discover with this incomparable self-titled album.
Musique Sauvage / L-A be / SIX



½

february 9-15:
Considered as one of Canada's greatest jazz singers, Holly Cole returns to the forefront with Holly, after six years of absence on record. The Halifax native offers 11 interpretations of such great standards, including George Gershwin's "I Was Doing All Right", which she sings with the incomparable trombonist and singer Wycliffe Gordon. She comes back a little later with another Gershwin song, "They Can't Take That Away From Me". Recorded for the most part at New York's Studio Sear Sound with producer Russ Titelman (Eric Clapton, Randy Newman, Rickie Lee Jones), the album also has arrangements by pianist Larry Goldings. Holly adds her own personal touch to all those great songs that take on a new timeless dimension here.
Rumpus Room / Universal / SIX



½

After Burn the Plan three years ago, Toronto's female folk trio is back on record with Shapeshifters. Caroline Brooks, Kerri Ough and Susan Passmore once again offer superb vocal harmonies with an even more accessible sound, one step closer to pop music. They are therefore ready to conquer a much wider audience than with their previous traditional sound. Considering the quality of their melodies and their harmonies, the result is particularly successful. Here is an album of great efficiency, which will catch attention of many fans of smart pop music.
Music Video: « I See Gold »



½

february 1-8:
Here is the third album in quartet for pianist Robi Botos. Accompanied by Seamus Blake (saxophone), Mike Downes (bass) and Larnell Lewis (drums), Botos is becoming more and more prominent on the Canadian jazz scene. He is also accompanied by renowned guests: Cory Henry (Hammond B3 organ), Ingrid Jensen (trumpet) and Lionel Loueke (guitar), not to mention a string quartet for two pieces. Recorded in Montreal in one day, after being performed live in Toronto and Montreal, the album retains its live atmosphere as the band performed together in the same room. The album ends strongly with a unique cover of Prince's "Calhoun Square". With Old Soul, Robi Botos will appeal to both jazz and soul fans with music filled with hope and humility. Very pleasant!
A440 / SIX



½

The Montreal author and performer who made a name for herself at La Voix in 2015 introduces her second album. Nameless is inspired by the poem Still I Rise by Maya Angelou, writer, poet and emblematic figure of the American black movement for civil rights. Soothing, bewitching and intense, Dominique Fils-Aimé's album pays tribute to the resilience and strength of the people facing adversity. It is a minimalist soul album with African-American blues influences from the early 20th century, a liberating music for the slaves at the time. The voice of Do Mi alternates between power and sweetness, with particularly sweet passages. With Nameless, the artist offers us an album that is good for the soul. It's only sad that it is far too short with only eight songs totaling 25 minutes.



½

French singer, guitarist and pianist Sébastien Izambard is best known for his work with Il Divo. For his new album, the tenor returns to pop music, that he has not explored for 20 years. There are still of course traces of the classical singing that made him famous, but we can also hear influences from Coldplay, The Weeknd, James Blake and Adele. He offers us a sometimes-danceable pop sound, with also several ballads, including the title-song. Without breaking any rules, the Parisian is far from his work of the last 15 years with his famous lyrical vocal band.


½

Jean-Philippe Rio-Py is from the French countryside. A seasoned pianist and composer, Riopy can already be heard in movie trailers (The Danish Girl, The Sense of an Ending), documentaries on English channels (BBC, ITV, Channel 4), as well as advertising campaigns (Ikea, Armani, Samsung). After a first single in the spring of 2017 ("I Love You"), Riopy finally issues his first album, totally instrumental, in a neo-classical style with new age influences. He offers several solid compositions throughout the 16 pieces (57 minutes).



½

january 26-31:
Canadian singer and pianist Laila Biali releases her second album of original music, an extremely bright self-titled record. Still influenced by jazz, she somewhat reoriented herself towards pop and soul music with several catchy melodies. One can even hear covers of two very popular songs from a large audience: Coldplay's "Yellow" and the late David Bowie's "Let's Dance". The whole is listening perfectly, with many very pleasant moments. A great album! (January 2018)
Joshua Tree / Chronograph / SIX



½


Born in Montreal and now based in Toronto, Danielle Duval has invited strong collaborators for Lose It. She first worked with Sam Roberts, who can be heard on "Nowhere is Far" as he sings and plays most of the instruments. She has also collaborated with Toronto twins Mark and Matt Thibideau, who have been contributing to the atmosphere of retro synthesizers for most of the album. This energetic electro-pop style is highlighted by the production of the famous tandem of Gus Van Go and Werner F. The rich sound, both contemporary and influenced by new wave, is dominated by the deep voice of Danielle who keeps full control of the album. She offers us a solid record with Lose It. (January 2018)
Music Video: « Undercover »



½


january 1-11:
This new Eminem album represents a form of evolution for the famous rapper. Revival contains a mix of twists about his forties and political stances in the Trump era, which is contrasting sharply with his misogynistic and homophobic statements of the past. It is also an album produced after a long period in rehabilitation and he even admits that he had to learn to rap again after his many drug abuses. We can also hear a difference in his flow and his way of rapping in general, while remaining unique in the genre. For the first time, Eminem seems nostalgic of a bygone era. He even uses samplings like Joan Jett's "I Love Rock 'n' Roll" in "Remind Me" and the Cranberries' "Zombie" in "In Your Head", in addition to recycling the templates of his own classics. ("Stan", "Love the Way You Lie"). We can hear several collaborators on the album, but oddly, only one other rapper, Phresher. There is Beyoncé stealing the show on the sweet piano opening, "Walk On Water", not to mention P!nk, Skylar Grey, Kehlani, Alicia Keys, X Ambassadors, and of course Ed Sheeran for the excellent "River". The main problem of the record is a lack of good beats, one of the main strengths of Eminem previously. It turns out to be a lot less interesting when he becomes emotional and looks to the past. Revival still has its share of good times anyway among its 19 tracks. (January 2018 Featured Review)
Music Video: « Walk On Water »
Aftermath / Shady / Interscope / Universal




Greta Van Fleet is a young Michigan quartet formed of twins Josh (vocals) and Jake Kiszka (guitar), with their younger brother Sam on bass and a family friend, drummer Danny Wagner. The name of the band comes from the name of one of their aunts. They offer a hard rock sound strongly influenced by Led Zeppelin, with also obvious comparisons with Kingdom Come and the Black Crowes. From the Fires is introduced as a double EP, featuring the four-track EP Black Smoke Rising and four new tracks. Even if references to the past are far too numerous and Led Zeppelin remains in mind throughout the CD, Greta Van Fleet offer us refreshing rock music, which will revive the nostalgic fiber of 1970s rock fans, while proving that the new generation can still play effective rock 'n' roll. (January 2018 Featured New Artist)
Music Video: « Highway Tune »




After the very strong Vulnicura in 2015, the unique Icelandic artist is back with Utopia, produced again by Arca. After the heartbreak portrayed on the previous record, she seems to be coming back to life here with many bright moments. She also returns to the instruments of her childhood, whose flute she played being a kid. On "Blissing Me", it is rather the harp that is in the spotlight, offering almost angelic music. The opening song, "Arisen My Senses", and "Blissing Me" are reminiscent of the lightness of her hits "Venus as a Boy", "Hyperballad" and "All Is Full of Love" that have greatly contributed to her worldwide fame in the 1990s. Despite its light moments, Utopia can also be thought provoking and some passages require a little more effort to listen to seize all the layers that compose them. On the other hand, the effort is greatly rewarded, as it is often the case with Björk's work. It's an album to listen to in a very particular mood, to add richness to the atmosphere. Once again, Björk managed to offer us a first-rate album. (January 2018)



½

IsKwé – The Fight Within
IsKwé (which means "woman" in Cree) is a unique artist originally from Winnipeg and now based in Hamilton. With The Fight Within, she releases her second self-produced album. IsKwé offers alternative pop music with incursions into British trip hop, her Cree roots and R&B. There is a good deal of experimentation and ambient music, but her catchy melodies, with her beautiful, sweet and powerful voice, make her more accessible on several occasions, despite powerful political lyrics. The main flaw of the album is that it seems far too short with only nine tracks totaling just 33 minutes. Here is a Canadian artist to discover absolutely! (January 2018)
Music Video: « Nobody Knows »



½


A year after Use Less U, the Quebec pop rock band led by Daniel Moisan is back with the sequel, Use Less 2. And it is indeed a logical continuation with inspirations of The Cure, Tragically Hip and REM, as well as still present traces of the Beatles in the background. With this sixth album, Mosquito-B offer again a quality album that will appeal to any fan of English rock. Once again, the band is offering their album online only at the cost of an English pound (approximately $1.70 CDN). (January 2018)



½

Following her pop turn of three years ago on 1989, Taylor Swift pursues in the same path with Reputation. More mature than ever, she offers a rather dark album on which she is concerned about sexuality and betrayal. Musically, the album is built on a background of electro, with drum loops and many synthesizers. She moves away more than ever from the country pop sound of her debut. The album seems formed of shades of gray that make it pretty hard to appreciate quickly, despite some very good catchy songs ("…Ready For It?", "Delicate", "Look What You Made Me Do", "Getaway Car", "New Year's Day"). (January 2018)
Music Videos: « Look What You Made Me Do » - « …Ready For It? »




Maroon 5 – Red Pill Blues
For their sixth album, Maroon 5 are surrounded by several collaborators: Future, Kendrick Lamar, A$AP Rocky, Julia Michaels, LunchMoney Lewis and SZA. Produced by J. Kash, Red Pill Blues pursues the path of Maroon 5 in pop music. Moreover, the group has never been as popular, having reached the dozen top 10s in Billboard Hot 100. They also performed in front of 2.5 million people during their last tour only, which led them to more than 30 countries. Musically, Maroon 5 put more and more emphasis on the groove, as evidenced by the 11-minute song "Closure", a nice funk moment. Their R&B-themed pop music is usually light, and forget about the squeaky guitars that have been missing from the band's albums for quite some time now. Maroon 5 again offer a series of radio hits, with good times. (December 2017 Featured Review)
Music Videos: « Don't Wanna Know » - « Cold » - « What Lovers Do »
222 / Interscope / Universal




Alex Lahey – I Love You Like a Brother
Alex Lahey is a young female singer from Melbourne, Australia. She offers pop rock and new wave music with contagious energy and unforgettable melodies. She even explores pop punk at times with a certain influence of Paramore. After an opening tour for Tegan and Sara, Alex releases her debut album. I Love You Like a Brother includes 10 effective songs, all equally enjoyable to listen to. A great discovery and certainly an artist to watch closely! (December 2017 Featured New Artist)



½

After the excellent album IRM in 2010, it took seven years to finally discover a new record from Charlotte Gainsbourg. On Rest, she surrounds herself with renowned collaborators, including Paul McCartney who offers her a song, "Songbird in a Cage", and Guy-Manuel Homem-Christo (Daft Punk) who co-wrote the title track and first single. Produced by SebastiAn (Frank Ocean, Kavinsky), the album also features Owen Pallett, Connan Mockasin, and more. Rest presents high quality adult pop music, with a great mix of orchestrations and electronics. There is a bit of everything on it with dancing moments and more ambient ones, but the whole is linked perfectly. (December 2017)



½

Since its formation in 2010, Noel Gallagher's new band has never stopped improving. The High Flying Birds reach new heights on Who Built the Moon. Bursting with energy, they offer us some frankly catchy grooves. One only has to think of the excellent "Holy Mountain" and "She Taught How to Fly" that inevitably make us want to listen to them again and again. Some tracks may be reminiscent of the rock 'n' roll of the Rolling Stones ("Black & White Sunshine"), while on other occasions, the former Oasis member and his band slow down the tempo to take us into an enveloping atmosphere ("Wednesday, Pt. 1 (Interlude)" and "End Credits (Wednesday, Pt. 2)"). What surprises above all on this energetic record is the great creativity of the compositions that seem quite new in a world of British rock which has seen a lot. Hats off! (December 2017)
Sour Mash / Universal





The popular American country singer is back with his tenth album, which pays tribute to the beaches of Lake Texoma, close to where he grew up and where he recorded Texoma Shore. Blake Shelton offers a polished album where overproduction reminds us of his status as a Hollywood superstar. The melodies are certainly catchy, but they are much too neat. We would like to feel a little rage on some occasions, but it will never happen during the 11 songs of the record. Texoma Shore is a quality country pop album, aimed at the general public, but it has nothing exciting. (December 2017)
Ten Point / Warner


½

U2 – Songs of Experience
Three years after Songs of Innocence, and a year late, U2 is back on record with Songs of Experience (the sequel inspired by William Blake's collection of poems Songs of Innocence and Experience). The lyrics of the album take the form of intimate letters addressed to important people in the entourage of Bono. Musically, the band favors a little less the guitar of The Edge on several occasions and the whole proves to be pretty soft. The first single, "Get Out of Your Own Way", is certainly the most pop and accessible track on the album, with an unforgettable chorus. There is also "American Soul" which has a catchy rhythm, but we get tired of it quickly and the presence of Kendrick Lamar goes unnoticed. Many other generic songs leave us indifferent and the whole has a lack of cohesion. We don't really recognize the band that dominated the world not so long ago, but it will not stop them from going on a huge tour. (December 2017)




As he approaches 40 years of career, Canadian Bryan Adams returns with a new collection of his greatest hits. Condensed on a single CD at full capacity, this anthology contains 21 unmissable hits like "Summer of 69", "Somebody", "Heaven", "It's Only Love" (with Tina Turner), "(Everything I Do) I Do It For You", "Have You Ever Really Loved A Woman", "Can't Stop This Thing We Started", "When You're Gone" (with Melanie C.), "Back To You" and many more. In addition to covering his entire career, Ultimate contains two new songs: "Ultimate Love" and "Please Stay". It is therefore an extremely complete compilation which is proposed to us. Its main negative point is that all the songs are presented in a complete disorder. The result is some weird links between what he produced when he was at the peak of his career in the early 1980s, his mass hits of the 1990s, and his lesser work of the past 20 years. It is nevertheless an excellent compilation to have on one CD all the greatest hits of Bryan Adams. (December 2017)





Green Day – Greatest Hits: God's Favorite Band
Since their last collection of hits went back to 2001 with International Superhits, it made sense that we are offered a new compilation to cover the many hits by Green Day in the new millennium. Here is a very comprehensive collection of 22 tracks covering the entire career of the band. Delivered chronologically, these songs include 10 already offered on International Superhits, but especially 10 incomparable hits produced since that time, including the inevitable album American Idiot (a title that is still very current). Only one track is from the trilogy ¡Uno!, ¡Dos!, ¡Tré! ("Oh Love"), but they add two new songs: "Ordinary World" (with Miranda Lambert) and "Back in the USA". Here is the ultimate anthology for Green Day with all the band's biggest hits on one CD. (December 2017)




½

Several compilations have been released over the years, bringing together the music of Elton John, the most memorable probably being Greatest Hits 1970-2002, a double collection issued 15 years ago. Diamonds has many similarities with that one, starting with the same 10 early hits. The 34-track collection adds some important songs of his repertoire such as "Little Jeannie", "I Don't Wanna Go on with You Like That" and the live duet with George Michael, "Don't Let the Sun Go Down on Me". We can also hear some more recent songs: "Electricity", "Home Again" and "Looking Up". A three-CD version is also available with several additional pieces that could have been on the first two, including his covers of "Lucy in the Sky with Diamonds" (The Beatles) and "Pinball Wizard" (The Who). Here is certainly the ultimate collection for Elton John, highlighting this year 50 years of collaboration with Bernie Taupin. (December 2017)




½

Lhasa – Live in Reykjavik
After the release of her third album, Lhasa de Sela traveled to Iceland to participate in the Reykjavik Arts Festival and to offer two concerts on May 23 and 24, 2009. The album Live in Reykjavik contains 14 songs performed on that occasion. In addition to the pieces from her first two albums, Lhasa presents a great version of Sam Cooke's "A Change is Gonna Come". Accompanied by her musicians, including guitarist Joe Grass, the female singer offers a nuanced performance in front of an attentive and conquered audience. This audience was far from suspecting that this would be one of the last public performances by Lhasa. (December 2017)



½

Linkin Park – One More Light: Live
Linkin Park's album One More Light was just out when the world was shocked by the suicide of its singer, Chester Bennington, at the age of 41. Five months later, here is an album recorded live on different dates of their most recent tour in South America and Europe. They will have been the last performances of one of the greatest singers of rock music in the 2000s. Half of the 16 songs offered come from this seventh and last album of the band, including the hit title-song that has become a true anthem to Bennington since his death. The greatest hits include "What I've Done", "In the End", "Numb", "Heavy" and a piano-voice version of "Crawling". Here is an album that takes on a whole new meaning with the departure of Chester Bennington. (December 2017)



½

On On Air, the Rolling Stones feature rare BBC radio recordings from their debut, between 1963 and 1965. Of the 18 tracks offered, eight have never been recorded in studio or offered commercially. We can obviously hear several rhythm & blues covers, which made them famous at the time, including Chuck Berry classics as "Roll Over Beethoven" and "Memphis, Tennessee". But we can also discover their debut in composition, especially with the classic "(I Can't Get No) Satisfaction". In addition to the single 50-minute CD, a double version containing 32 songs is available. (December 2017)



½

Tears for Fears – Rule the World: The Greatest Hits
Very popular in the 1980s, the British pop rock band Tears for Fears has been rather quiet since that time. Here is a collection containing their 16 greatest hits for a total duration approaching 75 minutes. Of course, we can hear the classics "Shout" and "Everybody Wants to Rule the World", but you will also rediscover with pleasure the excellent "Mad World", "Sowing the Seeds of Love", "Head Over Heels", "Woman in Chains", "Change", "Pale Shelter", etc. It lacks only a certain chronology to the album to make it an ultimate anthology of this important band from the 1980 decade. (December 2017)





A Tribute to Les Paul: From Universal Studios Hollywood (DVD)
Deceased in 2009, Les Paul has influenced several generations of guitarists, especially thanks to his invention of the guitar of the same name marketed by Gibson. This DVD presents a tribute to Les Paul with excerpts from a concert for his 90th birthday captured at Universal Studios in Hollywood and featuring prominent guitarists performing with this legendary guitar. We can hear Slash, Joe Satriani, Buddy Guy, Joe Perry, Kenny Wayne Shepherd, Steve Lukather, etc. The performances on stage, often of very high quality, are interspersed with interviews with the musicians. One can also discover rare interviews with Les Paul himself which are particularly interesting to discover his progress, what he had in mind at the time, both for his invention of the guitar and the 8-track recorder. Here is a quality tribute to this great legend of music. (December 2017)



½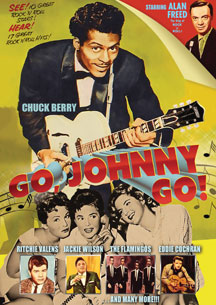 Go, Johnny Go!
(DVD)
Produced in 1959, Go, Johnny Go was the second and last "jukebox" movie around DJ Alan Freed. This musical tells the story of an undeniably talented young orphan named Johnny Melody (played by Jimmy Clanton) whom Freed is trying to launch the career. On the other hand, the essential element of the film (and its interest) is to see some of the greatest rock 'n' roll stars on stage. You can hear Ritchie Valens, Jackie Wilson, Eddie Cochran, Jo-Ann Campbell, The Cadillacs, The Flamingos, and most importantly, Chuck Berry. Note that this is the only appearance of Ritchie Valens in a movie, as he died shortly after in a plane crash. If the drama of the film is sorely lacking interest, it is still nice to immerse yourself in the living atmosphere of the late 1950s. It is also pleasant to see great artists like Chuck Berry and Ritchie Valens performing while they were at the peak of their art and popularity. (December 2017)
Sonar / MVD


½

25 years ago, the Montreal rocker issued her second album, Racine (Roots in French), a major record that would propel her to the forefront of the music scene. This pure rock album now comes back to life with new studio recordings. Instead of improving the sound with current technologies, Sass Jordan and her team decided instead to give the songs a touch of the 1970s, where they drew their inspiration. The result is a raw album that does not deny the hits of 1992, including the Top 15 songs "Make You a Believer", "You Don't Have to Remind Me", "I Want to Believe" and "Goin' Back Again". (October 2017)
Music Video: « Make You a Believer »



½

For this album, the 12th of her career, it was important for Emilie-Claire Barlow to present several songs in French to the Canadian English market. Lumières d'hiver incorporates a mix of Christmas songs and other hymns of the winter time. You can hear some classics in English like "I'll Be Home for Christmas" and "Please Come Home for Christmas". But it is especially the French pieces that catch attention: "Combien de Noël?", "Noël blanc" and the excellent "Marie Noël". One can even discover a French version of "The Christmas Waltz", as well as two duets: with Ingrid St-Pierre (Wilson Philips' "Hey Santa" in a French version) and with Mitsou Gélinas (Renée Martel's "As-tu vu le Père Noël?"). Finally, there are three original songs, all in French, including the title track. The album was produced, arranged and orchestrated by Emilie-Claire and her great accomplice, Steve Webster. The result is a warm winter album that will add a special atmosphere to your holiday parties in front of the fire place. (December 2017)
Empress / SIX



½

Florence K offers a gift to her fans for the Christmas period. She presents a bilingual six-track EP containing only original songs written specifically for this time of the year. There are two duets with Stefie Shock for "Mon bel amour" and "A New Christmas Song". The young sisters of Florence, Éléonore and Ariane Lagacé, also participate in four songs as backup singers. The record boasts prominent arrangements, in addition to incorporating a full section of brass. Here is a new kind of Christmas record that you will enjoy discovering. (December 2017)



½


Following last year success of Christmas Caravan, the Quebec City gypsy jazz band returns with a new Holiday album. What made the success of the first record was certainly the originality of the interpretations of classics that are often heard, as well as less known songs. This is still the case with Coconut Christmas, which contains favorites such as "Feliz Navidad", "Sleigh Ride", "Blue Christmas" and "Jingle Bell Rock". The band also offers us a warm version of U2's "New Year's Day". Once again produced by American John Jorgenson (Elton John, Johnny Cash, Willie Nelson), the album still has a very festive atmosphere for a Christmas time of pure pleasure. (December 2017)



½

Vancouver-based Nova Scotian singer and songwriter Katherine Penfold presents a collection of Christmas classics on Keep Christmas With You. There are 10 standards in great warm and modern versions. These include "Let It Snow, Let It Snow, Let It Snow", "The Christmas Song", "White Christmas", "Santa Claus Is Coming to Town" and "Have Yourself a Merry Little Christmas". One can also discover a classic to come with Donny Hathaway's "This Christmas" and the title track, the holiday classic from Sesame Street. Here is an excellent album to warm up your cold holiday evenings. (December 2017)



½

Sia – Everyday is Christmas
After 15 years of career, the Australian pop singer presents a first Christmas album. Indeed, it is a pop album containing exclusively original songs whose only pretext reminds us of Christmas, as well as the occasional use of Christmas bells. Sia tries to give us a contemporary Christmas album and in that sense, it's successful. Otherwise, few tracks offer any excitement whatsoever and creativity is not often included. We can hear some dynamic songs that make us smile ("Santa's Coming for Us", "Candy Cane Lane"), but when she arrives with tearful ballads in the Adele style ("Snowman", "Snowflake"), Sia becomes frankly annoying. She talks to children with "Puppies Are Forever" and to adults with "Ho Ho Ho". The set, which she wrote with her faithful collaborator Greg Kurstin, unfortunately has a great lack of coherence and lame references for a holiday album. Everyday is Christmas must be considered as another pop album by Sia, and it ranks among the weakest of her career. (December 2017)


½

A Capitol Christmas, Vol. 2
As part of Capitol Records' 75th anniversary celebrations, the record company is offering us the second volume of this Christmas collection, after the success of last year's first edition. Once again there are great classics by renowned artists such as the Beach Boys, Glen Campbell, Dinah Shore, Johnny Mercer, Wayne Newton, and the duo of Les Paul and Mary Ford. Among the Christmas classics that can be rediscovered are "Jingle Bell Rock", "Blue Christmas", "Jingle Bells", "Winter Wonderland", "Have Yourself a Merry Little Christmas", "Silver Bells", "White Christmas" and many others. There are 24 in all, mostly original recordings of the time, but also some remixes. For those who still prefer good old-fashioned holiday classics to contemporary versions, here is an excellent collection, which complements volume one perfectly. (December 2017)



½

P!nk – Beautiful Trauma
After the great album The Truth About Love in 2012, P!nk took a long break and she now comes back with Beautiful Trauma. From the beginning, the album seems more than ever inspired by the music of the day with the title song, the funky "Revenge" (with Eminem) and the piano / electro hit "What About Us". Unfortunately, the singer runs out of steam quickly and falls into more adult territories, closer to Adele than new fashionable singers. We understand she is now in her late thirties, but she seems to have matured a lot in the last five years, and it certainly is not for the better. Her folk ballads on the piano and her adult mid-tempo pop songs are becoming more boring as the album progresses. Most of the tracks contrast with P!nk's extravagant personality, which stood out through her best recordings. On Beautiful Trauma, the atmosphere is not only soberer, but it does not have anything like what drew attention to the singer in the past. Good luck to get to the end of this dubious proposal! (November 2017 Featured Review)
Music Video: « What About Us »


½

The singer from Kentucky releases her debut album, in the country pop style. Her country influences are evident as she constantly draws in more classic country music to bring it up to date and make it contemporary music. In addition, she adds a good dose of her luminous personality which brings her towards pop melodies that are unforgettable. Carly Pearce co-wrote more than half of the songs on the record, and she certainly left her mark. Every Little Thing proves to be a great success for this 27-year-old singer who already has a lot of work behind her. Here is a pleasant album, both in energetic moments and ballads highlighting her voice. (November 2017 Featured New Artist)
Music Video: « Every Little Thing »




The former Oasis singer and the youngest of the Gallagher brothers comes to us with his debut solo album, after having tried his luck with Beady Eye, practically modeled on the band that made him famous, his brother less. This time, it's alone that he embarks on a new adventure, even if the shadow of Oasis still hangs over him. Several songs of As You Were have similarities with Oasis songs, already largely inspired by the work of The Beatles. Although musically the album is rather retro, its sound remains well anchored in the 21st century with some rhythmic loops and other digital manipulations. We quickly recognize the singer we much appreciated in the 1990s, with all his charisma, but he adds scale to his singing, seeming to sing better than ever. He issues a very good album, an energetic and entertaining one. (November 2017)



½

Ryan Kennedy made his mark at the fourth edition of La Voix (The Voice in Quebec) where he reached the semifinal on Pierre Lapointe's team. The native of the Laurentians issues his second album today, mostly in English. There are only the hits "Soul Digger" ("Je cours toujours"), "Honest Song" and "Morin Heights" that can also be heard in French at the end of the CD. Kennedy offers folk music with a strong pop trend thanks to very catchy melodies. He delivers his songs with a lot of charisma and a unique voice, reminding Neil Young a little, certainly an influence for him. With Love is Gold, Ryan Kennedy offers us a solid album that will surely appeal to a large audience. Very pleasant! (November 2017)
Music Video: « Honest Song »



½

After her appearance at the final of La Voix (The Voice in Quebec) in 2015 and a debut album in French, Rosa is back with a first recording in English. This is a resolutely rock five-track EP, on which she returns to her first influences. She is thus going to conquer new markets like the United States, which she has already explored thanks to a tour within the Trans-Siberian Orchestra. In addition to the four energetic tracks and the ballad "He Loves Me", all perfectly showcasing Rosa's powerful voice, we can hear a new song in French, "Laisse-moi partir". With Free, Rosa Laricchiuta will certainly open new doors, having a raw vocal talent. (November 2017)



½


The Toronto band is back on record with If I Had the Strength, after a year-long tour that took them all over the world. The Lemon Bucket Orkestra draws its inspiration once again from the folk traditions of Eastern Europe. On the other hand, this album presents itself much more as a whole, with a solid narrative line, rather than individual songs. It's about going back home and not being exactly the same, which is probably what the band's leader, Mark Marczyk, was feeling on his return from the tour. The band is once again offering a very energetic album, which will be very enjoyable to discover in concert. (November 2017)




After a few weaker years, it seems that Marilyn Manson has found his creativity in recent years with increasingly solid albums. He pursues in this direction with Heaven Upside Down, his 10th career record. We find again the bluesy elements of The Pale Emperor, skillfully mixed with the industrial sound that made his greatest years and his fame. Some tracks are particularly catchy, like "Kill4Me" and "Jesus Crisis". Manson and Tyler Bates offer us several frankly aggressive, even disturbing songs ("Revelation #12", "We Know Where You Fucking Live"), but they are tailor-made for Marilyn Manson. So, we find a Marilyn Manson at his best, with music that could serve as a soundtrack of any horror movie. Sensitive ears, abstain! (November 2017)



½

After almost 10 years of activity, Jessica Lea Mayfield seems to have reached the peak of her career with this fourth album. Her style is better defined than ever while she offers an indie rock sound with sweet and nostalgic singing. Squeaky guitars add spice to the ensemble on several occasions, including the opening track, "Wish You Could See Me Now". Produced by John Agnello (Sonic Youth, The Hold Steady), Sorry is Gone has good times, even if it was written in a context of separation for Jessica. A personal but also professional context since her ex-husband, Jesse Newport, also produced her previous album, Make My Head Sing… A lot of fuzz and echo create a very special atmosphere on this album around the voice of Jessica. Definitely her best recording to date! (November 2017)



½

The so-called "Canada's Sweetheart of Swing" goes a little further in her exploration of jazz standards of the 1920s, 30s and 40s with this new album of seven tracks. Hot Three was recorded at New Orleans' Twerk-O-Phonic Sound studio on a 78-rpm acetate via a Presto portable table. No error was possible, and it was necessary to avoid any vibration, the needle risking spoiling a recording. With her trio of musicians, we can say that Alex Pangman really managed to move in the 1930s and feel what the musicians of the time should feel, being always nervous to ruin everything before the end of the recording session. Also, with this type of recording, no post-production or addition of effect was possible. So, even on CD, what we hear comes directly from the work done in the studio, in a mono sound of course. The choice of songs also very well represents the era with standards of that period. Obviously, with barely 20 minutes, it's a bit short for an album, but it represents the limits of the time. Even each song was limited to 3 minutes 15. For the nostalgic of a long-gone time, here is what you need to go almost a century back. (November 2017)




On this first recording, Lydia Persaud presents a unique folk style on ukulele, with a rather soulful voice. The Toronto artist has surrounded herself with talented musicians, including Robbie Grunwald (keyboards, bass and guitar) who also produces it. Low Light is unfortunately an EP of only four tracks (less than 14 minutes), but it will present itself as an excellent introduction to this artist with unlimited talent that will have to be watched closely. (November 2017)



½


In recent years, the former Led Zeppelin singer seems more inspired than ever, in addition to having lost none of his powerful voice. Robert Plant is back with Carry Fire which seems to want to hypnotize us from the opening song, "The May Queen". It's reminiscent of Led Zeppelin at the time of "Stairway to Heaven", while retaining the unique personality that Plant has acquired during his long 35-year solo career. We can indeed hear throughout this album strong inspirations of English folk, which have placed him in a box of his own in recent years. His mix of folk and rock with Middle Eastern influences is still particularly successful and it is difficult not to remain hooked until the end of the 11 tracks. The presence again of the Sensational Space Shifters is possibly for something in it. Let's note his cover of an old obscure song of 1958 by Ersel Hickey, "Bluebirds Over the Mountains", which takes all its form here, as if it came from the very hand of Plant. Carry Fire turns out to be a complete album, without real weaknesses. (November 2017)



½

The French band singing in English is back with its sixth album, after an appetizer EP earlier this year (ApeTizer). More than ever, Shaka Ponk merges the genres, while we still can find this clever mix between energetic rock ("Gung Ho", "Fear Ya") and electro-pop ("Faking Love"). The group even pushes towards metal on "Wataman" and it marries rock and funk on "Rusty Fonky". On "Slam & Slam'Ed", it is rap that is featured with the collaboration of Edouard Baer. Then, the band offers us their first ballad with "Mysterious Ways". In spite of their various explorations, Shaka Ponk keep memorable melodies and very good beats. But above all, the group remains well of its time, as much musically as for the lyrics. This is a record that is once again really entertaining throughout its length, despite nearly an hour of music. With The EVOL, Shaka Ponk certainly present their strongest album to date, a complete and rich album. (November 2017)
Music Videos: « Gung Ho » - « Mysterious Ways » - « Wrong Side »



½


With her second album, Subduction, pianist and composer Julie Thériault offers us captivating instrumental pieces, very cinematographic. She is also a painter and she signs the canvas on the front art cover. The word "subduction" is defined in oceanography as a slow but irreversible movement. It's a bit the feeling that gives us the album with slow pieces, a mix of shadow and light, which brings us on a long journey. Images are virtually appearing to us. A choir of 20 male voices is added to several pieces, as well as the string ensemble of the Bratislava Symphony Orchestra. We can also hear the Armenian-born violinist Nuné Melik who enriches "Etna" and "Vlast" with her Landolfi 1750 violin. Michel Bélanger was the artistic director of Subduction, produced and mixed by Julie Thériault (who also signs the arrangements) and Claude Champagne. Here is a great record for a pleasant and relaxed atmosphere. (November 2017)



½

It's been 15 years since the indie rock band was formed in Cleveland, Ohio, before relocating to Richmond, Virginia. J. Roddy Walston and the Business release their fourth album today. They propose a fusion between contemporary alternative rock, classic rock and southern rock. Their catchy melodies also make them widely accessible to a more pop audience. They literally catch us from the opening of the CD with the inevitable "You Know Me Better" and "Blade of Truth", in addition to the excellent "The Wanting" and "Bad Habits" a little later. Although the album is somewhat uneven, it has enough catchy songs to keep our interest. (November 2017)




Weezer – Pacific Daydream
After the solid White Album last year, Weezer takes a new turn with Pacific Daydream. Initially clearly influenced by their native California, with titles like "Beach Boys" and "Feels Like Summer", the band also offers literally pop songs that leave out the abrasive guitars to face Maroon 5 and other contemporary boy bands. They even add beats and other electronic elements, a first for Weezer. The pop melodies may be a tribute to the Beach Boys, but it's not very well done... Not only will the band not join the audience of these legends, but it lacks the freshness to excite the new generation of listeners. An overproduction envelops everything in a nice little clean record that is aiming who finally? Nobody! (November 2017)




The White Buffalo is the project of Jake Smith, an Oregon-born Californian who started playing music at not less than 19 years old. He offers a mix of folk, rock and country, with a strong southern trend. Darkest Darks, Lightest Lights is his fifth album and he continues in the same direction with several solid songs that he sings with his deep voice. The White Buffalo has already made his mark with music for various movies and TV shows, but with this album, he may well catch the attention of a wider audience. (November 2017)





Custom Search