Note: If you can read French, go to the French page for additional content.

to SEARCH this page
FEATURED REVIEW:
After the success of his debut album, Dream Your Life Away, thanks mostly to the radio hit "Riptide", the Australian singer-songwriter is back on record. Vance Joy presents again his melodic folk sound with a sometimes pop, sometimes rock trend. Nation of Two once again contains great potential hits, starting with the unmissable first single "Lay It On Me". Superb melodist, Joy manages to hang us with most of his songs. It only lacks a little musical creativity at times to really stand out from Ed Sheeran, Jack Johnson, James Blunt and others. However, his style begins to take shape, for a more coherent second album than the first one.
Music Videos: « Lay It On Me » - « We're Going Home » - « Call If You Need Me »




FEATURED NEW ARTIST:
I'm With Her is a super female trio composed of Sara Watkins (Nickel Creek), Aoife O'Donovan (Crooked Still) and Sarah Jarosz. They offer a stripped-down and discreet folk sound with bluegrass influences. Warm textures and superb vocal harmonies enrich the whole. See You Around is an album that slowly installs, requiring a minimum of patience. On the other hand, fans of soft folk music will be greatly rewarded after 40 minutes.




march 16-22:
Following the release of their debut album in 2013, the duo Cats on Trees has had tremendous success in France. Thanks in particular to the hits "Siren's Call" and "Jimmy", the self-titled album has sold more than 220 000 copies and allowed the duo to perform over 200 concerts in France during a 2-year tour. On Neon, Nina and Yohan come back with pop music with unusual melodies, on electro-pop rhythms. They are inspired by both the Beach Boys and Arcade Fire, a good mix of analog music from another era and contemporary sounds. Their unforgettable melodies delivered with an incredible charm by Nina succeed again to seduce us. It's hard not to fall in love!



½

On A Crow Looked at Me issued last year, Phil Elverum told us how the death of his wife, Geneviève Castrée (an artist born in Quebec), had changed his life. He's already back with Now Only, trying to look at the future with his daughter. It is with great tenderness that the songwriter and performer tells how much he changed, whether he likes it or not. Less sad than his previous record, it is still extremely introspective, moving away from rock most of the time to flirt with folk, accompanying himself on guitar. Now Only may be less of a hit than the previous critically acclaimed album, but fans of Mount Eerie will be delighted to see where Elverum is with his life. A record to discover slowly and that will leave you a beautiful glimmer of hope facing death.



½


After having greatly impress with their debut album, Pop or Not, two years ago, the Manchester band is back with a new album. On Empty Words, Dom Thomas and his band did not want to reproduce what had worked on the first recording. Less influenced by French pop and funk, this new record offers avant-garde indie pop music, incorporating electronics. Whyte Horses are then propelled from the 1960s to 2018. We still find obviously their first influences, but a little better sprinkled and integrated into the whole. So, the album remains refreshing, while seeking a little more our intellect. Audrey Pic replaces Julie Margat as lead singer, bringing more experience. We can also hear Melanie Pain (Nouvelle Vague), Leonore Wheatley (The Soundcarriers) and La Roux (who steals the show on "Best of It"). In the end, the much-appreciated qualities of the first album are still found on Empty Words, but with a certain evolution towards more contemporary music.



½

march 9-15:
Anne Bisson Trio – Four Seasons in Jazz: Live at Bernie's
Four Seasons in Jazz was recorded live from Bernie Grundman's mastering studio in Hollywood (March 2017), in a completely analog version, direct-to-disc. Anne Bisson offers a sweet jazz sound that sometimes takes on the appearance of folk. She interprets the four seasons in three pieces each, in addition to the introduction to summer, "I Can See Clearly Now". The album concludes with three bonus tracks, including an original song, "Come On, Lolita", to be issued on her next album. If you like stripped-down piano-voice jazz, Anne Bisson will surely capture your attention.




Myles Goodwyn – Myles Goodwyn and Friends of the Blues
Founding member of April Wine in 1969, it is at the dawn of his 70 years that singer and guitarist Myles Goodwyn presents today his blues compositions that he accumulated during all those years. He was accompanied by real blues musicians: Jack de Keyzer, Garret Mason, David Wilcox, Amos Garret, Kenny Wayne, Joe Murphy, Frank Marino, Shaun Verreault, Bill Stevenson and Rick Derringer. Goodwyn's voice remains clear and powerful throughout the 12 tracks of the album which is exceeding 52 minutes. This is an effective blues rock album by a Canadian rock legend.




march 1-8:
The Calgary singer with an exceptional voice is back with her second album, four years after Gold. A great songwriter and performer, Ellen Doty offers jazz music with pop influences and even soul music. On the other hand, on Come Fall, she decided to completely strip down her sound, thus finding herself often accompanied only by a very discreet piano. As discrete drums sometimes add to the whole, but that's it. No bass, no guitar, no brass. This is another successful album introduced to us by Ellen Doty.




After five years of waiting, Franz Ferdinand members make a return on record with Always Ascending. From the opening track (the title track), we can perceive that the band is somewhat lost, with a mix of disco and cheap electro, and rhythm changes that are more useless than unpredictable. Everything is confirmed later with many songs that sound old. There are some rhythms to make us stomp, but the band no longer seems to be the shadow of itself. We rather want to quickly return to the first albums of the band when we hear pastiches of their best songs, much less interesting. One can even hear the melodic line of "Take Me Out" during "Lazy Boy". Very disappointing this fifth album by Franz Ferdinand!


½

Moby – Everything Was Beautiful, and Nothing Hurt
Five years have passed since his album Innocents, but Moby is finally back on record in his very own style of very cinematic electro music. It must be said that in recent years he had explored other horizons with his punk project The Void Pacific Choir. On Everything Was Beautiful, and Nothing Hurt, his 15th album, we find the Moby that we discovered in the 1990s, especially with Play that will soon celebrate its 20th anniversary. Moby is of course still inspired by English trip hop, but there are also soul and gospel influences through his melancholy music. He succeeds in offering us contemporary music, but in direct connection with the past. Moby points out that all the songs on the album have imperfections or are incomplete, just like weavers in the Middle East who deliberately introduce defects into their carpets, believing that only the Divine can be perfect. Even if these imperfections turn out to be discreet on this Moby CD, there are still some surprising moments, like "The Ceremony of Innocence" which does not have any line of bass. Despite these imperfections, it is a very successful album that offers us Moby.
Little Idiot / Arts & Crafts / SIX



½

For their new album, the Montreal quartet wanted to take their time, to be more relaxed in its creation. Suuns entered the Breakglass Studios with Jace Lasek from the Besnard Lakes for five sessions spread over several months. The album was mixed to perfection by renowned John Congleton (St. Vincent), who came straight from Dallas for the occasion. Freer than ever, the band indulges in out of the ordinary musical explorations. The first single, "Watch You, Watch Me", gives a good overview with unique beats by drummer Liam O'Neill to accompany a particular organic / synthetic blend. A little less dark than in the past, Ben Shemie and his band take a more playful path with Felt. It is an album that still requires a certain effort of adaptation and which is thus addressed to an informed public. However, we can hear impressive creative feats, with a very good mix of experimental rock and electro.
Music Videos: « Watch You, Watch Me » - « Make It Real »



½

Fall Out Boy had completed this seventh album last year, but unsatisfied, they deleted everything to start from scratch. The result is probably their most pop album to date with many catchy melodies and some dancing beats. They can still go into hard rock on occasion, especially with "The Last of the Real Ones". On the other hand, it is rather the first single, "Champion", that represents the best compromise between their current style and the rock sound of their past. Few moments on the album manage to really stand out, and the whole is rather average. So, nothing really interesting and perhaps their worst album so far. (February 2018 Featured Review)
Music Videos: « Champion » - « The Last of the Real Ones » - « Hold Me Tight or Don't »


½

Lior Shoov is a songwriter and a multidisciplinary artist of Israeli origin who now lives in Paris. She has traveled the world for five years, lugging strange instruments in her luggage. Everything is a pretext for percussion to accompany her soft and unique voice, ranging from various tambourines to simple toys. Lior thus blends the styles, between song, world music and improvisation. It is therefore a very singular artist that we discover with this incomparable self-titled album. (February 2018 Featured New Artist)
Musique Sauvage / L-A be / SIX



½

The Canadian duo is back with their third folk pop album. Big Little Lions present 13 original songs, often energetic, where vocal harmonies dominate widely. We find a good cohesion throughout the record, which remains effective from the beginning to the end. This is perhaps their best release to date. One thing is sure: many of the proposed melodies will remain in you for a long time. You can discover them touring across Canada in the coming months. (February 2018)
Far Flung / Riptide





Here is the third album in quartet for pianist Robi Botos. Accompanied by Seamus Blake (saxophone), Mike Downes (bass) and Larnell Lewis (drums), Botos is becoming more and more prominent on the Canadian jazz scene. He is also accompanied by renowned guests: Cory Henry (Hammond B3 organ), Ingrid Jensen (trumpet) and Lionel Loueke (guitar), not to mention a string quartet for two pieces. Recorded in Montreal in one day, after being performed live in Toronto and Montreal, the album retains its live atmosphere as the band performed together in the same room. The album ends strongly with a unique cover of Prince's "Calhoun Square". With Old Soul, Robi Botos will appeal to both jazz and soul fans with music filled with hope and humility. Very pleasant! (February 2018)
A440 / SIX



½

Considered as one of Canada's greatest jazz singers, Holly Cole returns to the forefront with Holly, after six years of absence on record. The Halifax native offers 11 interpretations of such great standards, including George Gershwin's "I Was Doing All Right", which she sings with the incomparable trombonist and singer Wycliffe Gordon. She comes back a little later with another Gershwin song, "They Can't Take That Away From Me". Recorded for the most part at New York's Studio Sear Sound with producer Russ Titelman (Eric Clapton, Randy Newman, Rickie Lee Jones), the album also has arrangements by pianist Larry Goldings. Holly adds her own personal touch to all those great songs that take on a new timeless dimension here. (February 2018)
Rumpus Room / Universal / SIX



½

The Montreal author and performer who made a name for herself at La Voix in 2015 introduces her second album. Nameless is inspired by the poem Still I Rise by Maya Angelou, writer, poet and emblematic figure of the American black movement for civil rights. Soothing, bewitching and intense, Dominique Fils-Aimé's album pays tribute to the resilience and strength of the people facing adversity. It is a minimalist soul album with African-American blues influences from the early 20th century, a liberating music for the slaves at the time. The voice of Do Mi alternates between power and sweetness, with particularly sweet passages. With Nameless, the artist offers us an album that is good for the soul. It's only sad that it is far too short with only eight songs totaling 25 minutes. (February 2018)



½

The prolific Chicago artist is already presenting his fourth album since he's been playing without the Harpoons. With Transangelic Exodus, Ezra Furman certainly offers his most varied album to date, with aerial and cinematic moments and other more aggressive ones with creaky guitars. In opening, Furman recalls Springsteen on "Suck the Blood from My Wound" by his raw voice. Lou Reed also comes to mind on several occasions. But, where Furman stands out, it's that he can go in different musical directions, while having a clear story, that of a man in love with an angel, both pursued by the government. He confesses that it is a mixture of fiction and his own stories. In any case, Ezra Furman hits the target with Transangelic Exodus, which will probably be recognized as his best recording so far. (February 2018)



½

After Burn the Plan three years ago, Toronto's female folk trio is back on record with Shapeshifters. Caroline Brooks, Kerri Ough and Susan Passmore once again offer superb vocal harmonies with an even more accessible sound, one step closer to pop music. They are therefore ready to conquer a much wider audience than with their previous traditional sound. Considering the quality of their melodies and their harmonies, the result is particularly successful. Here is an album of great efficiency, which will catch attention of many fans of smart pop music. (February 2018)
Music Video: « I See Gold »



½

The English soulman returns with a new R&B album with a retro sound. Recorded live in the studio directly on an 8-track tape, Whatever It Takes seems straight out of the years 1955-65. The album was inspired heavily by his wife Jesse, met in New York City a few years ago. It results in a certain letting go for James Hunter who seems to have received an illumination when writing these songs. Several high-quality tracks will catch your attention quickly, to the point of believing that they are pre-Motown classics. Well no, since the 10 songs on the album are original. Even if it only lasts 27 minutes, Whatever It Takes may surprise even the most skeptical ones. So, here is a very nice journey in time for the sound, but with excellent compositions of today by James Hunter. (February 2018)



½

French singer, guitarist and pianist Sébastien Izambard is best known for his work with Il Divo. For his new album, the tenor returns to pop music, that he has not explored for 20 years. There are still of course traces of the classical singing that made him famous, but we can also hear influences from Coldplay, The Weeknd, James Blake and Adele. He offers us a sometimes-danceable pop sound, with also several ballads, including the title-song. Without breaking any rules, the Parisian is far from his work of the last 15 years with his famous lyrical vocal band. (February 2018)


½

For her new album, the Quebec soprano performs opera heroines by Verdi, Puccini and Massenet, with the Laval Symphony Orchestra conducted by Alain Trudel. She revives some of the most important opera women characters, such as Violetta (La Traviata), Cio-Cio-San (Madama Butterfly), Salome (Hérodiade), as well as Aida and Thais from the operas of the same title. More than just an interpretation, she truly embodies these larger-than-life female characters. The album was recorded live on October 25, 2017 at the Sainte-Rose-de-Lima Church in Laval. As an encore in conclusion of the CD, we can hear her version of Leonard Bernstein's "Somewhere" from West Side Story, with arrangements by Simon Leclerc. (February 2018)



½

The unforgettable voice behind the mega hit "Drinkin' in L.A." by Bran Van 3000, Stephane Moraille has been moving away from the spotlight for the last ten years to devote herself to copyrights as a specialist lawyer. The singer-songwriter from the Port-au-Prince area is back to basics with Daïva. The structure of each song is based on a traditional Haitian rhythm with the addition of percussion, guitars, brass and strings imagined by producer Pierre-Luc Cérat (Bran Van 3000). The result is soul music tinged with R&B, house and jazz. Several tracks highlight her powerful voice, including "Zanmi", "Good Hands" and "Twilit". For lyrics, Stephane alternates between Creole and English. "Reckoning" is built from a text by Jim Corcoran and fits perfectly with the #metoo movement. With Daïva, Stephane Moraille skillfully manages to merge genres, in addition to making links with her roots. Here is an album of great creativity, very enjoyable to listen to the end. (February 2018)



½

Ought – Room Inside the World
The Montreal indie rock band is back with their third album, Room Inside the World, after singer Tim Darcy released a solo album last year. Ought still offer a mix of underground rock and more accessible new wave. A little brighter than the previous ones, the record still has some darker moments that may seem to stretch a little too much. But the whole remains studied and creative. We can compare them to different bands, from The Cure to Protomartyr, but they are more and more successful in establishing their own style. One of the highlights: "Desire" with its choir of 70 singers. Here is an album to listen carefully, and a few times to be well imbued. (February 2018)



½

Jean-Philippe Rio-Py is from the French countryside. A seasoned pianist and composer, Riopy can already be heard in movie trailers (The Danish Girl, The Sense of an Ending), documentaries on English channels (BBC, ITV, Channel 4), as well as advertising campaigns (Ikea, Armani, Samsung). After a first single in the spring of 2017 ("I Love You"), Riopy finally issues his first album, totally instrumental, in a neo-classical style with new age influences. He offers several solid compositions throughout the 16 pieces (57 minutes). (February 2018)



½

Superchunk – What a Time to Be Alive
Although they have almost 30 years of career, the indie rock band from North Carolina has lost none of its adolescent energy. On the contrary, Superchunk seem more dynamic than ever on What a Time to Be Alive. Indeed, on this 11th album and the first in 5 years, the group seems to have fun as in their best years, a contagious energy for 32 minutes where intense rock (but melodic) meets punk on some occasions. Each of the 11 songs is interesting on different levels. The album was written in the wake of the US elections in 2016, and it takes on a particular and important meaning. With What a Time to Be Alive, Superchunk prove to the world that they not only have their place on the indie rock scene, but they have managed to produce one of their best albums to date. A faultless! (February 2018)





Canadian singer and pianist Laila Biali releases her second album of original music, an extremely bright self-titled record. Still influenced by jazz, she somewhat reoriented herself towards pop and soul music with several catchy melodies. One can even hear covers of two very popular songs from a large audience: Coldplay's "Yellow" and the late David Bowie's "Let's Dance". The whole is listening perfectly, with many very pleasant moments. A great album! (January 2018)
Joshua Tree / Chronograph / SIX



½


Born in Montreal and now based in Toronto, Danielle Duval has invited strong collaborators for Lose It. She first worked with Sam Roberts, who can be heard on "Nowhere is Far" as he sings and plays most of the instruments. She has also collaborated with Toronto twins Mark and Matt Thibideau, who have been contributing to the atmosphere of retro synthesizers for most of the album. This energetic electro-pop style is highlighted by the production of the famous tandem of Gus Van Go and Werner F. The rich sound, both contemporary and influenced by new wave, is dominated by the deep voice of Danielle who keeps full control of the album. She offers us a solid record with Lose It. (January 2018)
Music Video: « Undercover »



½


As he approaches 40 years of career, Canadian Bryan Adams returns with a new collection of his greatest hits. Condensed on a single CD at full capacity, this anthology contains 21 unmissable hits like "Summer of 69", "Somebody", "Heaven", "It's Only Love" (with Tina Turner), "(Everything I Do) I Do It For You", "Have You Ever Really Loved A Woman", "Can't Stop This Thing We Started", "When You're Gone" (with Melanie C.), "Back To You" and many more. In addition to covering his entire career, Ultimate contains two new songs: "Ultimate Love" and "Please Stay". It is therefore an extremely complete compilation which is proposed to us. Its main negative point is that all the songs are presented in a complete disorder. The result is some weird links between what he produced when he was at the peak of his career in the early 1980s, his mass hits of the 1990s, and his lesser work of the past 20 years. It is nevertheless an excellent compilation to have on one CD all the greatest hits of Bryan Adams. (December 2017)





Green Day – Greatest Hits: God's Favorite Band
Since their last collection of hits went back to 2001 with International Superhits, it made sense that we are offered a new compilation to cover the many hits by Green Day in the new millennium. Here is a very comprehensive collection of 22 tracks covering the entire career of the band. Delivered chronologically, these songs include 10 already offered on International Superhits, but especially 10 incomparable hits produced since that time, including the inevitable album American Idiot (a title that is still very current). Only one track is from the trilogy ¡Uno!, ¡Dos!, ¡Tré! ("Oh Love"), but they add two new songs: "Ordinary World" (with Miranda Lambert) and "Back in the USA". Here is the ultimate anthology for Green Day with all the band's biggest hits on one CD. (December 2017)




½

Several compilations have been released over the years, bringing together the music of Elton John, the most memorable probably being Greatest Hits 1970-2002, a double collection issued 15 years ago. Diamonds has many similarities with that one, starting with the same 10 early hits. The 34-track collection adds some important songs of his repertoire such as "Little Jeannie", "I Don't Wanna Go on with You Like That" and the live duet with George Michael, "Don't Let the Sun Go Down on Me". We can also hear some more recent songs: "Electricity", "Home Again" and "Looking Up". A three-CD version is also available with several additional pieces that could have been on the first two, including his covers of "Lucy in the Sky with Diamonds" (The Beatles) and "Pinball Wizard" (The Who). Here is certainly the ultimate collection for Elton John, highlighting this year 50 years of collaboration with Bernie Taupin. (December 2017)




½

Lhasa – Live in Reykjavik
After the release of her third album, Lhasa de Sela traveled to Iceland to participate in the Reykjavik Arts Festival and to offer two concerts on May 23 and 24, 2009. The album Live in Reykjavik contains 14 songs performed on that occasion. In addition to the pieces from her first two albums, Lhasa presents a great version of Sam Cooke's "A Change is Gonna Come". Accompanied by her musicians, including guitarist Joe Grass, the female singer offers a nuanced performance in front of an attentive and conquered audience. This audience was far from suspecting that this would be one of the last public performances by Lhasa. (December 2017)



½

Linkin Park – One More Light: Live
Linkin Park's album One More Light was just out when the world was shocked by the suicide of its singer, Chester Bennington, at the age of 41. Five months later, here is an album recorded live on different dates of their most recent tour in South America and Europe. They will have been the last performances of one of the greatest singers of rock music in the 2000s. Half of the 16 songs offered come from this seventh and last album of the band, including the hit title-song that has become a true anthem to Bennington since his death. The greatest hits include "What I've Done", "In the End", "Numb", "Heavy" and a piano-voice version of "Crawling". Here is an album that takes on a whole new meaning with the departure of Chester Bennington. (December 2017)



½

On On Air, the Rolling Stones feature rare BBC radio recordings from their debut, between 1963 and 1965. Of the 18 tracks offered, eight have never been recorded in studio or offered commercially. We can obviously hear several rhythm & blues covers, which made them famous at the time, including Chuck Berry classics as "Roll Over Beethoven" and "Memphis, Tennessee". But we can also discover their debut in composition, especially with the classic "(I Can't Get No) Satisfaction". In addition to the single 50-minute CD, a double version containing 32 songs is available. (December 2017)



½

Tears for Fears – Rule the World: The Greatest Hits
Very popular in the 1980s, the British pop rock band Tears for Fears has been rather quiet since that time. Here is a collection containing their 16 greatest hits for a total duration approaching 75 minutes. Of course, we can hear the classics "Shout" and "Everybody Wants to Rule the World", but you will also rediscover with pleasure the excellent "Mad World", "Sowing the Seeds of Love", "Head Over Heels", "Woman in Chains", "Change", "Pale Shelter", etc. It lacks only a certain chronology to the album to make it an ultimate anthology of this important band from the 1980 decade. (December 2017)





A Tribute to Les Paul: From Universal Studios Hollywood (DVD)
Deceased in 2009, Les Paul has influenced several generations of guitarists, especially thanks to his invention of the guitar of the same name marketed by Gibson. This DVD presents a tribute to Les Paul with excerpts from a concert for his 90th birthday captured at Universal Studios in Hollywood and featuring prominent guitarists performing with this legendary guitar. We can hear Slash, Joe Satriani, Buddy Guy, Joe Perry, Kenny Wayne Shepherd, Steve Lukather, etc. The performances on stage, often of very high quality, are interspersed with interviews with the musicians. One can also discover rare interviews with Les Paul himself which are particularly interesting to discover his progress, what he had in mind at the time, both for his invention of the guitar and the 8-track recorder. Here is a quality tribute to this great legend of music. (December 2017)



½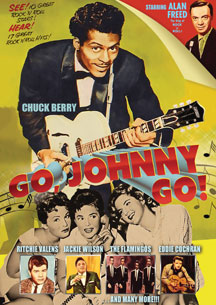 Go, Johnny Go!
(DVD)
Produced in 1959, Go, Johnny Go was the second and last "jukebox" movie around DJ Alan Freed. This musical tells the story of an undeniably talented young orphan named Johnny Melody (played by Jimmy Clanton) whom Freed is trying to launch the career. On the other hand, the essential element of the film (and its interest) is to see some of the greatest rock 'n' roll stars on stage. You can hear Ritchie Valens, Jackie Wilson, Eddie Cochran, Jo-Ann Campbell, The Cadillacs, The Flamingos, and most importantly, Chuck Berry. Note that this is the only appearance of Ritchie Valens in a movie, as he died shortly after in a plane crash. If the drama of the film is sorely lacking interest, it is still nice to immerse yourself in the living atmosphere of the late 1950s. It is also pleasant to see great artists like Chuck Berry and Ritchie Valens performing while they were at the peak of their art and popularity. (December 2017)
Sonar / MVD


½

25 years ago, the Montreal rocker issued her second album, Racine (Roots in French), a major record that would propel her to the forefront of the music scene. This pure rock album now comes back to life with new studio recordings. Instead of improving the sound with current technologies, Sass Jordan and her team decided instead to give the songs a touch of the 1970s, where they drew their inspiration. The result is a raw album that does not deny the hits of 1992, including the Top 15 songs "Make You a Believer", "You Don't Have to Remind Me", "I Want to Believe" and "Goin' Back Again". (October 2017)
Music Video: « Make You a Believer »



½


Custom Search