Custom Search
on all Musicomania.ca

Note: If you can read French, go to the French section for additional content.

to SEARCH this page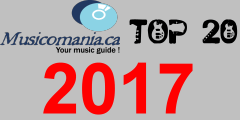 This new Eminem album represents a form of evolution for the famous rapper. Revival contains a mix of twists about his forties and political stances in the Trump era, which is contrasting sharply with his misogynistic and homophobic statements of the past. It is also an album produced after a long period in rehabilitation and he even admits that he had to learn to rap again after his many drug abuses. We can also hear a difference in his flow and his way of rapping in general, while remaining unique in the genre. For the first time, Eminem seems nostalgic of a bygone era. He even uses samplings like Joan Jett's "I Love Rock 'n' Roll" in "Remind Me" and the Cranberries' "Zombie" in "In Your Head", in addition to recycling the templates of his own classics. ("Stan", "Love the Way You Lie"). We can hear several collaborators on the album, but oddly, only one other rapper, Phresher. There is Beyoncé stealing the show on the sweet piano opening, "Walk On Water", not to mention P!nk, Skylar Grey, Kehlani, Alicia Keys, X Ambassadors, and of course Ed Sheeran for the excellent "River". The main problem of the record is a lack of good beats, one of the main strengths of Eminem previously. It turns out to be a lot less interesting when he becomes emotional and looks to the past. Revival still has its share of good times anyway among its 19 tracks. (January 2018 Featured Review)
Music Video: « Walk On Water »
Aftermath / Shady / Interscope / Universal




Greta Van Fleet is a young Michigan quartet formed of twins Josh (vocals) and Jake Kiszka (guitar), with their younger brother Sam on bass and a family friend, drummer Danny Wagner. The name of the band comes from the name of one of their aunts. They offer a hard rock sound strongly influenced by Led Zeppelin, with also obvious comparisons with Kingdom Come and the Black Crowes. From the Fires is introduced as a double EP, featuring the four-track EP Black Smoke Rising and four new tracks. Even if references to the past are far too numerous and Led Zeppelin remains in mind throughout the CD, Greta Van Fleet offer us refreshing rock music, which will revive the nostalgic fiber of 1970s rock fans, while proving that the new generation can still play effective rock 'n' roll. (January 2018 Featured New Artist)
Music Video: « Highway Tune »




After the very strong Vulnicura in 2015, the unique Icelandic artist is back with Utopia, produced again by Arca. After the heartbreak portrayed on the previous record, she seems to be coming back to life here with many bright moments. She also returns to the instruments of her childhood, whose flute she played being a kid. On "Blissing Me", it is rather the harp that is in the spotlight, offering almost angelic music. The opening song, "Arisen My Senses", and "Blissing Me" are reminiscent of the lightness of her hits "Venus as a Boy", "Hyperballad" and "All Is Full of Love" that have greatly contributed to her worldwide fame in the 1990s. Despite its light moments, Utopia can also be thought provoking and some passages require a little more effort to listen to seize all the layers that compose them. On the other hand, the effort is greatly rewarded, as it is often the case with Björk's work. It's an album to listen to in a very particular mood, to add richness to the atmosphere. Once again, Björk managed to offer us a first-rate album. (January 2018)



½

IsKwé – The Fight Within
IsKwé (which means "woman" in Cree) is a unique artist originally from Winnipeg and now based in Hamilton. With The Fight Within, she releases her second self-produced album. IsKwé offers alternative pop music with incursions into British trip hop, her Cree roots and R&B. There is a good deal of experimentation and ambient music, but her catchy melodies, with her beautiful, sweet and powerful voice, make her more accessible on several occasions, despite powerful political lyrics. The main flaw of the album is that it seems far too short with only nine tracks totaling just 33 minutes. Here is a Canadian artist to discover absolutely! (January 2018)
Music Video: « Nobody Knows »



½


A year after Use Less U, the Quebec pop rock band led by Daniel Moisan is back with the sequel, Use Less 2. And it is indeed a logical continuation with inspirations of The Cure, Tragically Hip and REM, as well as still present traces of the Beatles in the background. With this sixth album, Mosquito-B offer again a quality album that will appeal to any fan of English rock. Once again, the band is offering their album online only at the cost of an English pound (approximately $1.70 CDN). (January 2018)



½

Following her pop turn of three years ago on 1989, Taylor Swift pursues in the same path with Reputation. More mature than ever, she offers a rather dark album on which she is concerned about sexuality and betrayal. Musically, the album is built on a background of electro, with drum loops and many synthesizers. She moves away more than ever from the country pop sound of her debut. The album seems formed of shades of gray that make it pretty hard to appreciate quickly, despite some very good catchy songs ("…Ready For It?", "Delicate", "Look What You Made Me Do", "Getaway Car", "New Year's Day"). (January 2018)
Music Videos: « Look What You Made Me Do » - « …Ready For It? »




Maroon 5 – Red Pill Blues
For their sixth album, Maroon 5 are surrounded by several collaborators: Future, Kendrick Lamar, A$AP Rocky, Julia Michaels, LunchMoney Lewis and SZA. Produced by J. Kash, Red Pill Blues pursues the path of Maroon 5 in pop music. Moreover, the group has never been as popular, having reached the dozen top 10s in Billboard Hot 100. They also performed in front of 2.5 million people during their last tour only, which led them to more than 30 countries. Musically, Maroon 5 put more and more emphasis on the groove, as evidenced by the 11-minute song "Closure", a nice funk moment. Their R&B-themed pop music is usually light, and forget about the squeaky guitars that have been missing from the band's albums for quite some time now. Maroon 5 again offer a series of radio hits, with good times. (December 2017 Featured Review)
Music Videos: « Don't Wanna Know » - « Cold » - « What Lovers Do »
222 / Interscope / Universal




Alex Lahey – I Love You Like a Brother
Alex Lahey is a young female singer from Melbourne, Australia. She offers pop rock and new wave music with contagious energy and unforgettable melodies. She even explores pop punk at times with a certain influence of Paramore. After an opening tour for Tegan and Sara, Alex releases her debut album. I Love You Like a Brother includes 10 effective songs, all equally enjoyable to listen to. A great discovery and certainly an artist to watch closely! (December 2017 Featured New Artist)



½

After the excellent album IRM in 2010, it took seven years to finally discover a new record from Charlotte Gainsbourg. On Rest, she surrounds herself with renowned collaborators, including Paul McCartney who offers her a song, "Songbird in a Cage", and Guy-Manuel Homem-Christo (Daft Punk) who co-wrote the title track and first single. Produced by SebastiAn (Frank Ocean, Kavinsky), the album also features Owen Pallett, Connan Mockasin, and more. Rest presents high quality adult pop music, with a great mix of orchestrations and electronics. There is a bit of everything on it with dancing moments and more ambient ones, but the whole is linked perfectly. (December 2017)



½

Since its formation in 2010, Noel Gallagher's new band has never stopped improving. The High Flying Birds reach new heights on Who Built the Moon. Bursting with energy, they offer us some frankly catchy grooves. One only has to think of the excellent "Holy Mountain" and "She Taught How to Fly" that inevitably make us want to listen to them again and again. Some tracks may be reminiscent of the rock 'n' roll of the Rolling Stones ("Black & White Sunshine"), while on other occasions, the former Oasis member and his band slow down the tempo to take us into an enveloping atmosphere ("Wednesday, Pt. 1 (Interlude)" and "End Credits (Wednesday, Pt. 2)"). What surprises above all on this energetic record is the great creativity of the compositions that seem quite new in a world of British rock which has seen a lot. Hats off! (December 2017)
Sour Mash / Universal





The popular American country singer is back with his tenth album, which pays tribute to the beaches of Lake Texoma, close to where he grew up and where he recorded Texoma Shore. Blake Shelton offers a polished album where overproduction reminds us of his status as a Hollywood superstar. The melodies are certainly catchy, but they are much too neat. We would like to feel a little rage on some occasions, but it will never happen during the 11 songs of the record. Texoma Shore is a quality country pop album, aimed at the general public, but it has nothing exciting. (December 2017)
Ten Point / Warner


½

U2 – Songs of Experience
Three years after Songs of Innocence, and a year late, U2 is back on record with Songs of Experience (the sequel inspired by William Blake's collection of poems Songs of Innocence and Experience). The lyrics of the album take the form of intimate letters addressed to important people in the entourage of Bono. Musically, the band favors a little less the guitar of The Edge on several occasions and the whole proves to be pretty soft. The first single, "Get Out of Your Own Way", is certainly the most pop and accessible track on the album, with an unforgettable chorus. There is also "American Soul" which has a catchy rhythm, but we get tired of it quickly and the presence of Kendrick Lamar goes unnoticed. Many other generic songs leave us indifferent and the whole has a lack of cohesion. We don't really recognize the band that dominated the world not so long ago, but it will not stop them from going on a huge tour. (December 2017)




P!nk – Beautiful Trauma
After the great album The Truth About Love in 2012, P!nk took a long break and she now comes back with Beautiful Trauma. From the beginning, the album seems more than ever inspired by the music of the day with the title song, the funky "Revenge" (with Eminem) and the piano / electro hit "What About Us". Unfortunately, the singer runs out of steam quickly and falls into more adult territories, closer to Adele than new fashionable singers. We understand she is now in her late thirties, but she seems to have matured a lot in the last five years, and it certainly is not for the better. Her folk ballads on the piano and her adult mid-tempo pop songs are becoming more boring as the album progresses. Most of the tracks contrast with P!nk's extravagant personality, which stood out through her best recordings. On Beautiful Trauma, the atmosphere is not only soberer, but it does not have anything like what drew attention to the singer in the past. Good luck to get to the end of this dubious proposal! (November 2017 Featured Review)
Music Video: « What About Us »


½

The singer from Kentucky releases her debut album, in the country pop style. Her country influences are evident as she constantly draws in more classic country music to bring it up to date and make it contemporary music. In addition, she adds a good dose of her luminous personality which brings her towards pop melodies that are unforgettable. Carly Pearce co-wrote more than half of the songs on the record, and she certainly left her mark. Every Little Thing proves to be a great success for this 27-year-old singer who already has a lot of work behind her. Here is a pleasant album, both in energetic moments and ballads highlighting her voice. (November 2017 Featured New Artist)
Music Video: « Every Little Thing »




The former Oasis singer and the youngest of the Gallagher brothers comes to us with his debut solo album, after having tried his luck with Beady Eye, practically modeled on the band that made him famous, his brother less. This time, it's alone that he embarks on a new adventure, even if the shadow of Oasis still hangs over him. Several songs of As You Were have similarities with Oasis songs, already largely inspired by the work of The Beatles. Although musically the album is rather retro, its sound remains well anchored in the 21st century with some rhythmic loops and other digital manipulations. We quickly recognize the singer we much appreciated in the 1990s, with all his charisma, but he adds scale to his singing, seeming to sing better than ever. He issues a very good album, an energetic and entertaining one. (November 2017)



½

Ryan Kennedy made his mark at the fourth edition of La Voix (The Voice in Quebec) where he reached the semifinal on Pierre Lapointe's team. The native of the Laurentians issues his second album today, mostly in English. There are only the hits "Soul Digger" ("Je cours toujours"), "Honest Song" and "Morin Heights" that can also be heard in French at the end of the CD. Kennedy offers folk music with a strong pop trend thanks to very catchy melodies. He delivers his songs with a lot of charisma and a unique voice, reminding Neil Young a little, certainly an influence for him. With Love is Gold, Ryan Kennedy offers us a solid album that will surely appeal to a large audience. Very pleasant! (November 2017)
Music Video: « Honest Song »



½

After her appearance at the final of La Voix (The Voice in Quebec) in 2015 and a debut album in French, Rosa is back with a first recording in English. This is a resolutely rock five-track EP, on which she returns to her first influences. She is thus going to conquer new markets like the United States, which she has already explored thanks to a tour within the Trans-Siberian Orchestra. In addition to the four energetic tracks and the ballad "He Loves Me", all perfectly showcasing Rosa's powerful voice, we can hear a new song in French, "Laisse-moi partir". With Free, Rosa Laricchiuta will certainly open new doors, having a raw vocal talent. (November 2017)



½


The Toronto band is back on record with If I Had the Strength, after a year-long tour that took them all over the world. The Lemon Bucket Orkestra draws its inspiration once again from the folk traditions of Eastern Europe. On the other hand, this album presents itself much more as a whole, with a solid narrative line, rather than individual songs. It's about going back home and not being exactly the same, which is probably what the band's leader, Mark Marczyk, was feeling on his return from the tour. The band is once again offering a very energetic album, which will be very enjoyable to discover in concert. (November 2017)




After a few weaker years, it seems that Marilyn Manson has found his creativity in recent years with increasingly solid albums. He pursues in this direction with Heaven Upside Down, his 10th career record. We find again the bluesy elements of The Pale Emperor, skillfully mixed with the industrial sound that made his greatest years and his fame. Some tracks are particularly catchy, like "Kill4Me" and "Jesus Crisis". Manson and Tyler Bates offer us several frankly aggressive, even disturbing songs ("Revelation #12", "We Know Where You Fucking Live"), but they are tailor-made for Marilyn Manson. So, we find a Marilyn Manson at his best, with music that could serve as a soundtrack of any horror movie. Sensitive ears, abstain! (November 2017)



½

After almost 10 years of activity, Jessica Lea Mayfield seems to have reached the peak of her career with this fourth album. Her style is better defined than ever while she offers an indie rock sound with sweet and nostalgic singing. Squeaky guitars add spice to the ensemble on several occasions, including the opening track, "Wish You Could See Me Now". Produced by John Agnello (Sonic Youth, The Hold Steady), Sorry is Gone has good times, even if it was written in a context of separation for Jessica. A personal but also professional context since her ex-husband, Jesse Newport, also produced her previous album, Make My Head Sing… A lot of fuzz and echo create a very special atmosphere on this album around the voice of Jessica. Definitely her best recording to date! (November 2017)



½

The so-called "Canada's Sweetheart of Swing" goes a little further in her exploration of jazz standards of the 1920s, 30s and 40s with this new album of seven tracks. Hot Three was recorded at New Orleans' Twerk-O-Phonic Sound studio on a 78-rpm acetate via a Presto portable table. No error was possible, and it was necessary to avoid any vibration, the needle risking spoiling a recording. With her trio of musicians, we can say that Alex Pangman really managed to move in the 1930s and feel what the musicians of the time should feel, being always nervous to ruin everything before the end of the recording session. Also, with this type of recording, no post-production or addition of effect was possible. So, even on CD, what we hear comes directly from the work done in the studio, in a mono sound of course. The choice of songs also very well represents the era with standards of that period. Obviously, with barely 20 minutes, it's a bit short for an album, but it represents the limits of the time. Even each song was limited to 3 minutes 15. For the nostalgic of a long-gone time, here is what you need to go almost a century back. (November 2017)




On this first recording, Lydia Persaud presents a unique folk style on ukulele, with a rather soulful voice. The Toronto artist has surrounded herself with talented musicians, including Robbie Grunwald (keyboards, bass and guitar) who also produces it. Low Light is unfortunately an EP of only four tracks (less than 14 minutes), but it will present itself as an excellent introduction to this artist with unlimited talent that will have to be watched closely. (November 2017)



½


In recent years, the former Led Zeppelin singer seems more inspired than ever, in addition to having lost none of his powerful voice. Robert Plant is back with Carry Fire which seems to want to hypnotize us from the opening song, "The May Queen". It's reminiscent of Led Zeppelin at the time of "Stairway to Heaven", while retaining the unique personality that Plant has acquired during his long 35-year solo career. We can indeed hear throughout this album strong inspirations of English folk, which have placed him in a box of his own in recent years. His mix of folk and rock with Middle Eastern influences is still particularly successful and it is difficult not to remain hooked until the end of the 11 tracks. The presence again of the Sensational Space Shifters is possibly for something in it. Let's note his cover of an old obscure song of 1958 by Ersel Hickey, "Bluebirds Over the Mountains", which takes all its form here, as if it came from the very hand of Plant. Carry Fire turns out to be a complete album, without real weaknesses. (November 2017)



½

The French band singing in English is back with its sixth album, after an appetizer EP earlier this year (ApeTizer). More than ever, Shaka Ponk merges the genres, while we still can find this clever mix between energetic rock ("Gung Ho", "Fear Ya") and electro-pop ("Faking Love"). The group even pushes towards metal on "Wataman" and it marries rock and funk on "Rusty Fonky". On "Slam & Slam'Ed", it is rap that is featured with the collaboration of Edouard Baer. Then, the band offers us their first ballad with "Mysterious Ways". In spite of their various explorations, Shaka Ponk keep memorable melodies and very good beats. But above all, the group remains well of its time, as much musically as for the lyrics. This is a record that is once again really entertaining throughout its length, despite nearly an hour of music. With The EVOL, Shaka Ponk certainly present their strongest album to date, a complete and rich album. (November 2017)
Music Videos: « Gung Ho » - « Mysterious Ways » - « Wrong Side »



½


With her second album, Subduction, pianist and composer Julie Thériault offers us captivating instrumental pieces, very cinematographic. She is also a painter and she signs the canvas on the front art cover. The word "subduction" is defined in oceanography as a slow but irreversible movement. It's a bit the feeling that gives us the album with slow pieces, a mix of shadow and light, which brings us on a long journey. Images are virtually appearing to us. A choir of 20 male voices is added to several pieces, as well as the string ensemble of the Bratislava Symphony Orchestra. We can also hear the Armenian-born violinist Nuné Melik who enriches "Etna" and "Vlast" with her Landolfi 1750 violin. Michel Bélanger was the artistic director of Subduction, produced and mixed by Julie Thériault (who also signs the arrangements) and Claude Champagne. Here is a great record for a pleasant and relaxed atmosphere. (November 2017)



½

It's been 15 years since the indie rock band was formed in Cleveland, Ohio, before relocating to Richmond, Virginia. J. Roddy Walston and the Business release their fourth album today. They propose a fusion between contemporary alternative rock, classic rock and southern rock. Their catchy melodies also make them widely accessible to a more pop audience. They literally catch us from the opening of the CD with the inevitable "You Know Me Better" and "Blade of Truth", in addition to the excellent "The Wanting" and "Bad Habits" a little later. Although the album is somewhat uneven, it has enough catchy songs to keep our interest. (November 2017)




Weezer – Pacific Daydream
After the solid White Album last year, Weezer takes a new turn with Pacific Daydream. Initially clearly influenced by their native California, with titles like "Beach Boys" and "Feels Like Summer", the band also offers literally pop songs that leave out the abrasive guitars to face Maroon 5 and other contemporary boy bands. They even add beats and other electronic elements, a first for Weezer. The pop melodies may be a tribute to the Beach Boys, but it's not very well done... Not only will the band not join the audience of these legends, but it lacks the freshness to excite the new generation of listeners. An overproduction envelops everything in a nice little clean record that is aiming who finally? Nobody! (November 2017)




The White Buffalo is the project of Jake Smith, an Oregon-born Californian who started playing music at not less than 19 years old. He offers a mix of folk, rock and country, with a strong southern trend. Darkest Darks, Lightest Lights is his fifth album and he continues in the same direction with several solid songs that he sings with his deep voice. The White Buffalo has already made his mark with music for various movies and TV shows, but with this album, he may well catch the attention of a wider audience. (November 2017)




Jack Johnson – All the Light Above it Too
For his first album in four years, Hawaiian Jack Johnson offers 10 light and sunny songs, completely stripped down and getting close to folk music on several occasions. His pop melodies remain at the forefront for accessible music that is so pleasant humming to infinity. Some tracks benefit from more complete arrangements, such as "Big Sur" for example which does not fail to catch our attention in the middle of this whole in simplicity. With this seventh album, Johnson gives us a simple record for sure, but so luminous and pleasant to listen to the end! We have the feeling to be carried on a Hawaii beach to let ourselves be rocked by the waves in background noise to the captivating music of Jack Johnson. (October 2017 Featured Review)
Brushfire / Island / Republic / Universal



½

After having formed several bands, London singer-songwriter Jack Cooper releases his first solo album. He gives us a rather sweet indie sound that makes an introspection on his youth. Completely recorded and produced alone at home, Sandgrown is filled with melancholy. The melodies are unforgettable and his guitar play greatly supports his soft and intimate voice. There are two instrumentals that are very pleasant, even if one regrets his voice. With only nine tracks totaling not even 30 minutes, the main problem with the album is that it is much too short. So, you have to replay it in loops! (October 2017 Featured New Artist)



½

Alvvays – Antisocialites
After a critically acclaimed debut album in 2014, Toronto's indie rock band is back with Antisocialites. The expectations were great, but the band managed to bring back the same indie pop sound that was quite noisy, a mix between new wave and pop punk, with an even higher level of confidence. The result is a package of excellent romantic and emotive songs, on a short CD of less than 33 minutes. Arrangements are more extensive, more complete than on their previous CD. Antisocialites is an extremely solid album with few weaknesses and many memorable songs ("In Undertow", "Dreams Tonite", "Plimsoll Punks", "Lollipop (Ode to Jim)"). (October 2017)



½

Jake Bugg – Hearts That Strain
On Hearts That Strain, the British singer dropped the electronics from his previous record and instead concentrated on a folk rock style inspired by the 1960s and 1970s. Even if he offers music that seems to come from another era, it fits much better at Jake Bugg than anything he has been doing before. In fact, it is as if he had really discovered his musical personality. Producer Dan Auerbach may have something to do with it as he invited him to Nashville to record this unique record of only 36 minutes. The voice of Bugg can sometimes irritate, but musically, it is his best album to this day and by far, while we enjoy it until the end. Note the presence of a guest singer, Noah Cyrus (Miley's younger sister) who lends her voice to the magnificent "Waiting". (October 2017)



½

Sylvie DesGroseilliers began late her career as a singer, but she has since recovered with three albums, presence on Quebec TV shows Belle et Bum and La Voix (The Voice), as well as several musical reviews. On Women of Soul, available in digital format, she pays tribute to several black singers such as Etta James, Aretha Franklin, Patti Labelle, Tina Turner, Donna Summer and Whitney Houston. As a bonus, she sings an original song in French, "Laisse-toi aller", in addition to the George Thurston (Boule Noire) classic, "Aimer d'amour", which she has so often interpreted with her unique style. Sylvie's soulful voice is in a class of its own to make us rediscover in her own way such great songs. In addition, she offers us a lot for our money with over 77 minutes of music. And with a tour to accompany the album that will land in Montreal on November 8 at the Maison de la Culture Maisonneuve, what a great way to prepare to celebrate 20 years of career in 2018! (October 2017)



½


On their ninth album, the Foo Fighters take a certain musical turn as they move a little more towards progressive rock, rather than the alternative and post-grunge sound that characterized them until then. The guitars remain aggressive, but in songs that are constantly changing, both in rhythm and atmosphere. It is evident that Dave Grohl was inspired by Josh Homme and Queens of the Stone Age. The occasional elements of hardcore are interesting, but the whole is rather destabilizing and difficult to follow. There is a refreshing side to this development for the Seattle band, but fans may find it difficult to join this new music direction. (October 2017)




Montreal's Lewis Furey is best known for composing music for the films and albums of his wife, actress and singer Carole Laure. As for Johannes Brahms (1833-1897), he is best known for his symphonies, concertos, chamber music and many piano works. On the other hand, he also wrote nearly 200 songs (lieder) published in 33 collections. On this album, Lewis Furey pays tribute to the Brahms lieder by adapting 17 of them in English and singing them in a piano-voice version, in the purest German tradition. We can recognize some of them, including the most famous, "Lullaby & Goodnight". (October 2017)




The charismatic American country singer returns with his second album, Everybody. Chris Janson has a contemporary country sound with a strong pop trend, thanks to unforgettable melodies and good beats. The production is of quality with large scale arrangements that give a much more urban than rural side to his country music. We could even say that the record is sometimes overproduced and that we might have preferred a sound a little dirtier, more skinned. Janson clearly offers music for the radios and arena concerts. The set is sunny and entertaining, which should satisfy most of the fans of contemporary country. (October 2017)




Wyclef Jean – Carnival III: The Fall and Rise of a Refugee
Oddly enough, after having offered us the EP J'ouvert earlier this year, which totaled almost 48 minutes in its deluxe version, Wyclef Jean arrives with his first full-length album in 10 years which does not even reach 43 minutes. Carnival III is issued 20 years after The Carnival, his first solo album after the Fugees. It is a usual album for Jean, without great surprises. Filled with positivism, it brings at least freshness in this sense. On the other hand, it turns out to be musically without much interest with songs that are cruelly lacking personality. Again, he fuses skillfully genres, with worldbeat, soul, hip hop and of course R&B. But, nothing succeeds to truly stand out from the pack, surprisingly tasteless. Carnival III has a good number of collaborators, but that add nothing more to the whole, even Emeli Sandé. Finally, despite its inconsistencies, we can conclude that J'ouvert had a more interesting ensemble, especially with its cover of Jacques Brel's "Ne me quitte pas". (October 2017)
Heads / Sony


½

Originally from Ottawa and now based in Paris, Kyrie Kristmanson is a full-fledged artist, in the purest sense of the word. With her haunting voice, she offers folk music with medieval influences. She is also accompanied here by Quatuor Noce, a young French classical band that likes experimentation. On this 10-track album, Kyrie offers a trip to another world and another era. Rather difficult to access, for both folk and classical fans, Modern Ruin is an album to be discovered slowly, with a great opening. (October 2017)





Lights – Skin & Earth
Only one year after Midnight Machines, the prolific Ontario singer is already back with a new album. Lights offers particularly catchy songs that range from electro dance pop ("Until the Light") to rather aggressive rock ("Savage"). Of course, there are still softer songs of alternative pop, but in any case, her voice remains in evidence. Despite the variations in styles, she managed to create a solid guideline influenced by the comic books she produced recently. In fact, each of the 14 songs draws its inspiration from a chapter. She presents compositions of high quality, charged with emotion, and powerful. A handful of producers have managed to make these great songs glitter and make it the most enjoyable Lights album to date. In fact, it is the weaker moments that become scarce while the whole remains effective until the end. We can certainly say that Lights is offering us her most convincing album with Skin & Earth. Listen to it in a loop! (October 2017)
Music Videos: « Giants » - « Skydiving » - « Savage » - « New Fears »





The Toronto band Lowest of the Low was formed more than 25 years ago, but took long breaks along the way. So, this is only their fifth album, the first in 13 years. The guys still offer an alternative rock sound that balances between the 1980s and 1990s, a sound that has rather aged! You can also hear some hard rock moments ("The Hard Way") and pop melodies all over the album. Do the Right Now has great moments, but it must be admitted that Lowest of the Low is not the most creative band. Their music is therefore mainly aimed at the nostalgic people of a bygone era in the history of rock, when the guitars occupied the whole place before being replaced by electronic arrangements. (October 2017)




Winner of the Grammy for the best vocal jazz album in 2016 for the album For One to Love, the Franco-American artist is already back, and with a double album of 112 minutes. Cécile McLorin Salvant does not skimp and continues her meteoric rise, as she is only 27 years old. She offers 23 tracks, original compositions and judiciously chosen covers, which revolve around the theme of interpersonal relationships. Coproduced by Cécile and Al Pryor, Dreams and Daggers was recorded in front of an audience in New York City. In addition to her regular trio, she is accompanied by the string quartet Catalyst Quartet and pianist Sullivan Fortner. It is an ambitious album filled with humor and intelligence, confirming the incomparable talent of Cécile McLorin Salvant. (October 2017)





The Vancouver duo is back with a new album, less than a year after Positive Thinking. On Dollhouse, The Pack AD continues to move away from its blues and punk influences that have made it abundantly compared to the White Stripes and the Black Keys. Becky Black (vocals and guitar) and Maya Miller (drums) remain in an indie rock style often squeaky, sometimes experimental, but with solid pop melodies that make them quite accessible to a wide audience. The Pack AD offers us once again an excellent album, its main problem being to be too short with only 28 minutes. (October 2017)



½

Following the huge success of his first two albums, the German DJ is back with Uncovered, an album of 18 tracks totaling nearly 68 minutes. Here, we still find the very pop house music typical to Robin Schulz, perfect for both dance floors and commercial radios. He is accompanied by renowned collaborators including David Guetta, another DJ, for the hit "Shed a Light". You can also hear James Blunt (on the excellent "OK"), Rhys, Nico Santos and Cheat Codes. Schulz certainly does not introduce as many potential hits as on his previous records, but his fans will certainly appreciate it anyway. (October 2017)
Music Videos: « Shed a Light » - « OK »




With her fifth album, Annie Clark (aka St. Vincent) presents much more personal songs, hiding less behind her character than before. There are songs that date back several years, taken from voice memos, text messages, melodies and notes, collected during her travels around the world. Produced by Jack Antonoff (Lorde, Taylor Swift), Masseduction offers a sound more pop than on her previous records, with still a good dose of guitars, synthesizers and other elements of often complex electro. Several rhythms are catchy, as for example with the title track. But it's the unforgettable melodies that quickly attract us to this first-rate album, certainly her strongest to date. Thanks to Masseduction, St. Vincent still secures a place among the best albums of the year, a habit she kept for three albums now. (October 2017)
Loma Vista / Concord / Universal





Now is the first album by the Canadian singer in 15 years, only the fifth of her career spanning three decades. Shania Twain remains anyway the female country singer who has sold the most albums to date (75 million). On this new record, she allows herself for the first time to do all the songwriting, in addition to coproduce. You can hear 16 songs with rather varied styles while country music rubs with 1960's and more modern pop, contemporary adult music and several ballads. Soon we realize that Shania lost her flamboyant and entertaining personality of the 1990s, which made her famous indeed. Here, it is rather her pain of the last years (sickness, separation) that emerges throughout the CD, while she seems almost to feel sorry for her fate, unless it is her personal therapy that she does with us. On the other hand, there are very few exciting parts to this music which is frankly annoying overall. Some more interesting tracks come at the end ("You Can't Buy Love" and the first single "Life's About to Get Good"), but it's too little too late. Now has nothing to do with what we knew (and liked) about Shania Twain. (October 2017)
Music Video: « Life's About to Get Good »
Mercury / Universal



The Weather Station, it is in fact a lady, Tamara Lindeman, a singer and songwriter from Toronto that has been offering an indie folk sound for about ten years. Two years after the critically acclaimed album Loyalty, she is back with a new self-titled record. On this new album, she reinvents herself by adding more audacious musical arrangements to her poetic narratives. Her voice remains vibrant and unique, but the strings that are added to the whole give it a musical richness that is greatly appreciated. (October 2017)



½

For her new album, the Toronto jazz pianist and singer emerges from her comfort zone as she finds herself alone at the piano rather than accompanied by seasoned musicians. Carol Welsman offers 16 songs that have been chosen by her fans and are all romantic. You can hear some French songs ("Les feuilles mortes", "Les parapluies de Cherbourg", "Les moulins de mon cœur"), Latin classics ("Besame Mucho", "Corcovado", "Garota de Ipanema") and a good number of American standards. For You is an intimate album that allows us to rediscover Carol Welsman's warm and sensual voice. (October 2017)
Welcar / SIX



½


Recorded in one day in Malibu in 1976, Hitchhiker is an album that has remained in the vault of Neil Young and has never been released, unlike Homegrown and Chrome Dreams, its cousins ​​of the same era. Finally, it is issued more than 40 years later, while he was hesitating to consider it a complete piece until the last few years. Produced by David Briggs, this is a real solo album, while Young is alone on the guitar and occasionally on harmonica. The songs sound like Neil Young's classics, but in a very bare and relaxed version. With a little more arrangement and conviction from Young, they could have been on most of his albums without Crazy Horse. The only song that has been released on another record is "Campaigner" that we heard on Decade in 1977. Neil Young's hardcore fans will have a great time discovering this unknown work. If you are not, many other albums of his wide career are likely to satisfy you more. (October 2017)
Reprise / Warner




Five years have passed since the second album of the blonde singer, five years during which Kesha mainly put her energy in a legal battle with her former collaborator Dr. Luke whom she initially accused of sexual and emotional abuse. This still tense situation is reflected in many of Rainbow's lyrics. Musically, Kesha is moving towards a more rock, folk and even country sound. She offers several excellent and creative compositions which highlight her vocal capacities. The use of pianos and strings, especially in the title track, adds some richness to the whole and makes it go up to the next level. Kesha also collaborates with surprising artists such as Eagles of Death Metal on 2 tracks, The Dap-Kings Horns and Dolly Parton. Rainbow may not contain instant hits like "TiK ToK", but it is much more interesting than her two previous records. (September 2017 Featured Review)
Music Videos: « Woman » - « Praying » - « Learn To Let Go » - « Rainbow »



½

After the mega hit "Take My Hand" and an EP, the Irish duo Picture This gives us its debut full-length album. You can hear a folk pop sound with some rock moments, but especially completely unforgettable melodies. Moreover, the recent single, "Everything I Need", is already a favorite of commercial radios and risks not to leave you after a few listenings. Ryan Hennessy (voice and guitar) and Jimmy Rainsford (drums) certainly have a winning recipe and an undeniable talent for writing songs with great efficiency. (September 2017 Featured New Artist)
Music Videos: « Take My Hand » - « Never Change » - « Everything I Need »



½

Jason Bajada – Loveshit II (Blondie & the Backstabberz)
Jason Bajada has always fueled with romantic dramas. On the other hand, in the aftermath of the excellent album Volcano and the radio hit of "Pékin (Les amitiés)", he hit a wall. Heart broken, friendships that collapse and betray have made him slid towards suicidal ideas and a stay in psychiatric hospital. If his album Loveshit in 2009 had allowed him to chase a few demons, what more logical than to release Loveshit II to empty his heart. This is what Bajada does thoroughly on this 20-track double album totaling 74 minutes. Thanks to the production of Philippe Brault who knows how to highlight Bajada's talent as a melodist, the album does not seem too miserable at the end, but rather looking towards the future, filled with hope. Effective pop rock songs alternate with mid-tempo tracks that can recall Morrissey ("The Worst Year of My Life") or The Cure ("Painkiller"). He also offers the poignant acoustic ballad "You Had Me at I'm Gonna Ruin Your Life". Even if Jason Bajada sings generally dark stories, he succeeds in making us keep our good mood, a feat in itself! (September 2017)



½


The legendary Canadian singer and songwriter is back with his first album in seven years, followed by an impressive tour. Bruce Cockburn will be soon inducted into the Pantheon of Canadian Songwriters and Composers, and he continues to be as relevant with his powerful lyrics and his unique folk rock style. This 33rd album was produced by Colin Linden who succeeded in getting the best of the 72-year old artist. His guitar playing remains remarkable and is at the heart of this extremely interesting record. The 11 tracks include "3 Al Purdys" in honor of Al Purdy who was at the very source of inspiration for this record. With Bone on Bone, Bruce Cockburn seems more solid than ever, in perfect control of his art. (September 2017)



½

Following the success of One World two years ago, the Canadian guitarist and composer returns with a new album. As its title suggests, Jesse Cook explores more than ever world music on Beyond Borders, a real musical journey. There is still this new age background played with mastery on acoustic guitar, but the whole compels a much greater opening to the world with traces of Latin music, Mediterranean music, flamenco, and so on. So, once again, Jesse Cook offers us a very nice album to listen to. (September 2017)



½

Established in Toronto for twenty years, the pianist native from Havana is making a great comeback on record with Contumbao. For the occasion, Hilario Duran returned to Havana to record at the famous Egrem studio, which he had known in the 1970s and 1980s. He is accompanied by renown musicians for the recording of these 12 jazz pieces with Cuban influences. One can even hear a very special guest in Chucho Valdes, a great influence of Hilario, who performs in an inflamed piano duet with him on the play "Duo Influenciado". This piece was recorded in Toronto during the Valdes tour with Joe Lovano. This is once again a high-quality album that Hilario Duran offers us with Contumbao. (September 2017)



½

Pianist, arranger and composer Jean Fernand Girard only releases his second album, although he has worked for more than 30 years alongside artists such as Bob Walsh and Marie-Michèle Desrosiers, as well as acting as producer and music director on television and on stage. He is accompanied for the occasion by renowned musicians, including his old accomplices, Guy Bélanger on the harmonica and Jean Cyr on double bass. Girard offers a pure and free jazz that leaves plenty of room for improvisation, while highlighting the talent of the musicians who seem in perfect control of their instrument. Jazz Waves is a record of more than 50 minutes which remains pleasant to listen until the end. (September 2017)



½


A versatile musician, pianist and composer Jean-François Groulx returns to a more standard jazz style after exploring world music. Accompanied by double bassist Adrian Vedady and drummer Paul Brochu (UZEB), Groulx offers eight pieces of contemporary jazz with a lively groove. The melodies are catchy, but the whole remains sufficiently refined to satisfy the inveterate jazz fans. Spirale is played magnificently by the trio that seems in perfect cohesion throughout the record. (September 2017)



½

Matt Herskowitz Trio – Forget Me Not: Homage to Lew Soloff
Matt Herskowitz is a world-renowned pianist and composer who was born in the state of New York, but has adopted Montreal for almost 20 years. He is as comfortable in classical as jazz, but it is the later that he explores thoroughly on Forget Me Not, originally released in 2005, but rearranged in homage to the great trumpeter Lew Soloff. The album presents a good mix of styles as jazz integrates contemporary classical, funk, blues and Latin and Brazilian music. There are 10 pieces totaling 66 minutes, some original compositions by Herskowitz, but also Nina Simone's "Four Women", Henry Mancini's "Etude on the Days of Wine & Roses", and several other covers played masterfully. (September 2017)





The folk duo from Saskatoon is back with its fourth album, Talk is Cheap. The 10-piece auto-produced album contains a folk sound that is both light and lively, thanks to an undeniable pop trend reminiscent of the 1960s. The Karpinka Brothers are accompanied by renowned musicians: Mathieu Charbonneau (Timber Timbre) on piano and keyboards, Jamie Thompson (Unicorns, Islands) on drums and percussion, Sophie Trudeau (Godspeed You! Black Emperor) on violin, Joel Kerr (Sarah Slean) on bass and Krista Muir on backing vocals. Here is a very good album, very pleasant to listen to! (September 2017)



½


Rob Lutes – Walk in the Dark
Toronto's Rob Lutes issues his seventh album with Walk in the Dark. There is still his unique guitar fingering as he offers bluesy folk music somewhere between Neil Young, Bob Dylan and Lou Reed. The album was recorded in Montreal in just three days and it introduces greatly his soulful voice and contagious groove. Lutes co-produced with Rob Heaney (Cirque du Soleil) and was accompanied by renowned musicians: Rob MacDonald (guitar), Bob Stagg (keyboards), Guy Bélanger (harmonica), Joe Grass (guitar), as well as Ian Kelly. Lutes explores various subjects, as well as paying tribute to James Cotton ("There's No Way To Tell You That Tonight") and guitarist Joseph Spence (the instrumental "Spence"). Two tracks were co-written with American Dale Boyle and there is a song by John Prine ("Rocky Mountain Time"). It is a solid album from beginning to end that offers us a Rob Lutes in great shape. (September 2017)
Lucky Bear / SIX



½


The trio led by pianist and composer Emie R. Roussel is complemented by bassist Nicolas Bédard and drummer Dominic Cloutier. They have had the opportunity over the past two years to perform in 11 countries on four continents. The trio returns with a fourth album strongly inspired by these many cultural discoveries. The three musicians play a mix of acoustic and electric music, but always with excellent melodies and effective beats. To the seven pieces as a trio are added three pieces specially composed for guests. First, there is Guadeloupian singer Malika Tirolien who lends her voice to the beautiful soul jazz of "Away". Then, we can hear Canadian-New Zealand trumpeter Lex French, met in 2014 in Oceania, on "De Tadoussac à Auckland". Finally, there is Canadian bassist Norman Lachapelle, a major influence for Nicolas Bédard, on the play "Tout le monde ensemble". With Intersections, it is an inspired and inspiring album that the Emie R. Roussel Trio suggests, a highly creative contemporary jazz album. (September 2017)



½


The band formed 15 years ago in Ottawa is already releasing its eighth album with Under Burning Skies. The Souljazz Orchestra of course explores jazz and soul, but also funk that can be heard throughout this album. The band uses analog keyboards, which add a touch of disco and boogie to their already well-varied sound. The brass remains in the foreground, while a drum machine gives the beat. The sextet seems more in control than ever of its art and above all, it is still ready to go on stage to give a breathtaking performance. Here is an excellent record from this unique Canadian collective! (September 2017)



½

After a rather annoying album in 2015 with Honeymoon, Lana Del Rey returns with a little more positivism on Lust For Life. On the other hand, the tempo is not necessarily more energetic than on the previous one. After all, she works again with her faithful collaborator, producer Rick Nowels. We can hear several well-known collaborators, including for the singles, "Summer Bummer" (A$AP Rocky and Playboi Carti), "Groupie Love" (A$AP Rocky) and the title track (The Weeknd). You can also hear Stevie Nicks on "Beautiful People Beautiful Problems", as well as Sean Ono Lennon on "Tomorrow Never Came". At 72 minutes, the album may seem long, but it is above all an atmospheric album to play in loop in the background of a rather quiet context. Few tracks stand out and many will seem monotonous. If she could concentrate the album around the best compositions, Lana Del Rey would certainly have offered a product of much higher quality. (August 2017 Featured Review)
Music Video: « Lust For Life »
Polydor / Interscope / Universal




Dua Lipa is a 21-year-old English singer who releases her debut album. The singer-songwriter performs catchy pop songs mostly danceable, but most of all greatly inspired. She has spent crazy time in the studio in recent years to refine her style and issued 6 singles including 3 top 40s in the UK. It is these hits that provide the highlights of the record, including "Hotter Than Hell", "Be the One" and "Blow Your Mind (Mwah)". She also offers a duet with Miguel for "Lost in Your Light". What strikes quickly with Dua Lipa is her unlimited vocal capacities, which are perfectly enhanced by excellent songs. In some passages a little slower, she turns into a soul singer of high level who has nothing to envy to the biggest stars (Adele, Sia, etc.). The album concludes with a beautiful minimalist ballad, "Homesick", written with Chris Martin (Coldplay). It is therefore a first album at the same time surprising and extremely satisfactory that offers us Dua Lipa. This record opens the way on a very beautiful career to follow closely. (August 2017 Featured New Artist)
Music Videos: « Hotter Than Hell » - « Be the One » - « Blow Your Mind (Mwah) » - « Lost in Your Light » - « New Rules »



½

For this fifth studio album, Arcade Fire have put a lot of efforts by hiring renowned producers to co-produce with them. First, there are Thomas Bangalter (Daft Punk) and Steve Mackey (Pulp), as well as the participation of Geoff Barrow (Portishead) and Marcus Dravs (who previously worked with the Montreal band in the past). As for the guest musicians, there are longtime friends like Owen Pallett and Sarah Neufeld, not forgetting the legendary Daniel Lanois who plays the pedal steel guitar on a few tracks. Musically, the band pursues in a pop direction where electronics dominate largely on guitars. On the other hand, the dark texts contrast these sounds which often seem light. There is only "Infinite Content" that detonates a bit through the whole with a much more aggressive rock garage style in its first part and soft country music in its second. We will find a more direct rock 'n' roll sound at only one other time, on "Good God Damn", while the whole is inspired mostly by disco. Arcade Fire are once again exploring new territories on Everything Now. On the other hand, they always seem to remain in balance between creativity and already heard music. It is an effective album, but it certainly will not change the face of music. (August 2017)



½

Australian Kim Churchill releases his fifth album with Weight_Falls, including the first single, "Second Hand Car". It took him 18 months of writing to come up with this new record following Silence/Win issued in 2014. He was thinking that his songs were too clean, too polished, and he ended up throwing everything and starting over again. So, he wrote a new version of the album in just a week, before taking two months to record it with producer Ian Pritchett in a garage in Sydney. The result is a varied and raw album on which you can still find complex guitars and the effective melodies of Kim Churchill. The surprises are mostly the energetic percussions and the creative vocal harmonies. Churchill offers us a great album, which will surely please his fans. (August 2017)



½

Coldplay – Kaleidoscope EP
Even if it is the title of a track from the A Head Full of Dreams album, this new Coldplay EP does not contain the song "Kaleidoscope". It contains five other songs, including the hit "Something Just Like This" in collaboration with the Chainsmokers in a live version identified as Tokyo Remix. There is also a collaboration with Big Sean for "Miracles", not to mention that Brian Eno contributed to the writing of the excellent "ALIEN". Kaleidoscope will surely make you be patient until the next Coldplay album, while surfing on the more pop atmosphere of A Head Full of Dreams. (August 2017)



½

Cydemind is a progressive metal band from Quebec that has the distinction of being led by the violin rather than the guitar. On the other hand, the guitar riffs remain creative, not to mention a rhythm section that hammers each track vigorously. On Erosion, the band offers only six tracks, but for a total of 64 minutes anyway. It must be said that the title track alone extends over 27 minutes in conclusion of the CD. Produced and mixed by Chris Donaldson, a Montreal specialist in heavy metal, the instrumental album offers a superb blend of progressive rock, jazz and symphonic metal. A great surprise that is pleasant to hear! (August 2017)



½


The Dears – Times Infinity, Volume Two
Two years after the first volume, here is the #2 of Times Infinity for the Montreal band The Dears. It must be said that it was recorded at the same time as the first, but that it is only discovered now. It is therefore natural that volume 2 should continue in the same rather intimate and widely accessible tone. There are great moments of pop music, but also bluesy or R&B incursions that break somewhat the general rhythm of the album. Murray Lightburn steals the show with his voice on this record, while he takes on influences of David Bowie on some occasions. We may find a little less of foreground compositions than on the first of the series, but there is enough humor and cynicism to make volume 2 interesting too. (August 2017)



½

On its third album, the Los Angeles trio Foster the People offers rather funky pop music. There are also hip hop, new wave or pop passages, somewhat more experimental. The synthesizers are numerous, either influenced by the 1980s, or inspired by contemporary electro music. Despite effective pop melodies, it is felt throughout Sacred Hearts Club that Mark Foster's band had the desire of exploring a little more, pushing its limits. The result is more than interesting with a pleasant record to listen to the end despite frankly cerebral parts. Very successful! (August 2017)



½

HAIM – Something to Tell You
The three Californian sisters are back with a second album, having conquered a large audience with Days Are Gone four years ago. On Something to Tell You, they seem more at ease than ever in the 1990s-pop genre with influences from Sheryl Crow, Shania Twain and Amy Grant. One can also make obvious comparisons with Wilson Phillips and Fleetwood Mac on numerous occasions. Indeed, this is what will vary in opinions on this album. Some will appreciate their refreshing pop sound with something from another time, and others will consider that their pastiche of yesteryears can be strongly related to copy. In short, the Haim sisters present a good mix of both, with effective pop songs and somewhat too striking similarities to works of the past. They venture a little less on Something to Tell You, but they still remain interesting. (August 2017)




This thirteenth album by the famous rapper creates a certain break with his past. First, there is only one beatmaker, No I.D., a rare occurrence for Jay-Z. The varied rhythms prove worthy of the reputation of this experienced rapper. You can hear on 4:44 influences of soul, funk and reggae, not to mention electronic programs, all of which adding depth to this short 36-minute album. A certain emotion emerges from the whole record which seems sometimes wanting to go into nostalgia. In the absence of radio hits, one can especially discover perfect pieces for quiet evenings at home. Only two notable appearances on the album: Frank Ocean and Beyoncé (his charming wife). Jay-Z offers a record that is both mature and modern, a record that can please both his long-time fans and the new generation of rap fans. A very good album! (August 2017)



½

Karim Kharbouch (aka French Montana) is a rapper born in Morocco who lives in Bronx. He releases his second official album containing nothing less than 18 tracks. We can hear a wide range of collaborators, from Pharrell to Travis Scott through Swae Lee, The Weeknd, Future, T.I., Young Thug, etc. French Montana explores in a way all the aspects of hip hop, going through almost all the clichés surrounding that way of life. A name comes back to mind all along the record: Drake. Several songs seem to be too much inspired by him to remain original. Jungle Rules suffers from some stretching in length with more than 64 minutes and several tracks that bring nothing new to the genre. Some moments will seem interesting, but unfortunately too little. (August 2017)


½

The New Yorker of Dominican origin Romeo Santos has had a phenomenal success in recent years. Still, he resists the temptation to take a pop turn on this third album, as did many of his Latin American compatriots. Santos remains faithful to his origins and presents a new style of bachata accompanied only by keyboards and percussions with discreet guitars. He offers us nothing less than 18 tracks totaling 65 minutes. He is once again accompanied with renowned collaborators, but of Latin origin this time rather than American superstars. We can hear the voices of Juan Luis Guerra, Daddy Yankee, Julio Iglesias, Nicky Jam, Ozuna and Jessie Reyez. With Daddy Yankee and Nicky Jam, Santos presents an unmistakable reggaetón in "Bella y Sensual", which seems to be copied on "Debate de 4" from his debut album. The main weakness of the album is the lyrics that always revolve around sex, his status as Casanova, etc. Despite a CD that is a little too long with several comparable songs, we find on Golden a few potential hits that should allow Romeo Santos to remain popular: "Héroe Favorito", "Imitadora", etc. (August 2017)
Music Video: « Imitadora »




After four decades with his Destroyers, singer and guitarist George Thorogood issues his very first solo album. He offers acoustic versions, completely stripped, of classic blues, as well as some songs of contemporary blues. It features a unique version of John Lee Hooker's "One Bourbon, One Scotch, One Beer", Hank Williams' "Pictures From Life's Other Side", and the Rolling Stones' "No Expectations". The CD version also contains a 15th song in bonus, Robert Johnson's "Dynaflow Blues". On this album where he plays all instruments, George Thorogood demonstrates more than ever his talent as a blues musician, proof that all that time he did not need the artifices of the Destroyers. (August 2017)




After the surprising Lost in the Dream in 2014, the Philadelphia band is back with its fourth career recording, A Deeper Understanding, which is a logical follower. You can hear a clever mix of indie rock and more corporate rock, with always very effective melodies. The voice of Adam Granduciel has many similarities with that of Bob Dylan, to the point that it is disturbing at times. Despite the accessibility of most of the songs on the record, the group retains some creative freedom on A Deeper Understanding, even going as far as to deliver seven tracks of more than six minutes (out of a total of 10) including one of 11 minutes (the first single, "Thinking of a Place"). It was therefore not a question of offering tailor-made songs for radio stations for Granduciel and his band. The group gains in depth and interest in the slower and introspective songs ("Knocked Down"). The War On Drugs offer us again an excellent album, creative and enjoyable until the end. (August 2017)



½

White Hot Guilt is a side project by Josh Warburton (July Talk) and Toronto producer Thomas D'Arcy (Small Sins, Tommy Hawkins). They met several years ago and it is their desire to produce together a little more pop music that brought them together. On this five-track EP, the duo offers funky electro pop music in which brass plays an important role in accompanying Warburton's falsetto voice, a set that can remind the Scissor Sisters. But most of all, what is retained throughout the CD is the pleasure that emerges from it, perhaps as a therapy for Warburton who is just coming back from rehabilitation. It is a first very successful impression for this duo which suggests good things in the future. (August 2017)
TDM



½


On Prism four years ago, Katy Perry reached a certain maturity with a little more adult music, except for the dance song "Dark Horse". It is on that song that Katy decided to build for Witness which is much more club-oriented with energetic electro music. Electronic beats and synthesizers dominate completely here. But it is not always successful, on the contrary! The only track that provides a minimum of excitement is the hit "Chained to the Rhythm", with perhaps also "Pendulum". Otherwise, we can hear frankly boring songs, including two useless ballads, the worst being by far "Bigger Than Me". Katy talks about social topics that might be interesting, but on music so tasteless that you no longer want to listen to the end. Witness is a weird album and would have been more relevant early in her career, when Katy Perry lacked confidence. (July 2017 Featured Review)
Music Videos: « Chained to the Rhythm » - « Bon Appétit »



Nick Hakim arrives from Washington, DC with a rather underground R&B style. The singer, songwriter and multi-instrumentalist offers somewhat psychedelic aerial music with a soft voice, atmospheric music on which one can be rocked when playing in the background. However, to truly discover all the subtleties on Green Twins, some effort is needed. The album proposes more depth than the two EPs previously issued and which allowed Hakim to be recognized. We discover the true face and all the artistic possibilities of Nick Hakim on Green Twins, an album that will surely bring him recognition, although popular success will be difficult to acquire with music of such consistency. (July 2017 Featured New Artist)
Music Video: « Roller Skates »



½

Baltimore's pop punk band has released new albums with great consistency for 10 years. All Time Low are already having their seventh record with Last Young Renegade, following the acclaimed Future Hearts released two years ago, the last for Hopeless Records. This new recording also introduces a change of orientation for the band that becomes much more pop than rock with synthesizers and dancing rhythms. There are some hints of the past, but this is clearly not what dominates here. The whole is still intense and emotional, which may appeal to their first audience, if they are ready to follow them in a new way that reminds OneRepublic on several occasions. Note the presence of Tegan and Sara for the very effective "Ground Control". In conclusion, despite their pop turn, All Time Low have enough interesting tracks to attract a large audience. (July 2017)




60 years ago, Chuck Berry was one of the precursors of rock 'n' roll by releasing his debut album. Released three months after his death at the age of 90, Chuck is his first record of original songs in 38 years and he would certainly have liked to be still there to present it to the public. For more than 20 years in the 1980s and 1990s he had lost interest in writing new songs, a desire that was revived later in the years 2000. This new album is therefore the fruit of several years of work and it presents a legendary artist with still powerful voice. What we realize quickly on "Wonderful Woman" and "Big Boys" is that he had not lost any energy with the guitar in his hand, for Chuck Berry as we knew him well. He later slows down the rhythm on a few songs, but the beats return at different moments of the 10-song CD, of which "Lady B. Goode", a nod to his greatest hit. He also presents one of his finest poems set in song with "Dutchman". With Chuck, this rock 'n' roll legend proves that he could still compete with any artist of today. A surprising and extremely pleasant album to listen to, which loops magnificently an incomparable career! (July 2017)



½

Benjamin Booker is a singer and songwriter from Virginia who plays a mix of blues and somewhat dirty rock, certainly inspired by the garage blues sound of the White Stripes, Black Keys and company. However, despite his hoarse voice, he has melodies a little more pop with soul and folk tendencies. On this second album, he is more politically and socially involved, following the rise of the Black Lives Matter movement. This mix of committed and personal songs, accompanied by rich and varied music, results in a complete album that is extremely pleasant to listen to, his most accomplished work to date. A very nice surprise! (July 2017)



½

Cheap Trick have experienced an unexpected success with their album of last year Bang, Zoom, Crazy... Hello. So, it's probably what motivated them to come back with a new album just over a year later. We're All Alright! takes again the most interesting of the previous one, while going a little further with an energetic rock sound worthy of their best years, with as bonus a real pleasure quite contagious. In fact, their sound is a little more rock than in the late 1970s and 1980s when the band was inspired a little more by the Beatles. On We're All Alright!, they put more forward their hard rock side with energy based on the rhythm section. This is an extremely enjoyable album that offer us Cheap Trick, a perfect album to accompany your road trips throughout the summer. (July 2017)



½

DragonForce – Reaching Into Infinity (CD + DVD)
The masters of power metal are back with a new faster than lightning album, despite its 70 minutes. On this seventh album, DragonForce welcome a new drummer in Gee Anzalone. They present music that is still as fast and heavy with perfect execution, but harmonies and melodies seem more accessible than ever. Will they reach the top of the charts while continuing to demonstrate all their virtuosity? Reaching into Infinity has everything needed to please a large audience, if you are not too stunned by the infernal rhythm section and the prowess of guitarists Sam Totman and Herman Li, perhaps the best duo of guitarists these days. Note that the band pays tribute to Iron Maiden's "Seventh Son of a Seventh Son" with the 11-minute "Edge of the World" song. They also offer two bonus tracks ("Hatred and Revenge" and "Evil Dead"), as well as a DVD containing songs recorded in concert at the Woodstock Festival in Poland in 2016. With Reaching into Infinity, it is easy to say that DragonForce offer their strongest album in 10 years, since the unmistakable Ultra Beatdown in 2008. (July 2017)
Electric Generation / Cadence





The Kingston, Ontario group has been around for 30 years. On this seventh album, Hugh Dillon and his band again offer this mix of accessible rock close to Tragically Hip and hard rock as AC / DC, with obvious influences on several occasions from the Rolling Stones. An effective rhythm section will surely make you stomp your feet for several songs. The guitar remains also greatly effective with quality riffs. Despite great entertainment, the Headstones remain often a predictable band. (July 2017)




The Las Vegas rock band is definitely evolving on their third album. There are still some dark sides a little heavy, but the group seems to try to remain more joyful than in the past. Evolve contains much more pop songs with the almost excessive use of synthesizers, starting with the disco "I Don't Know Why". At times, Imagine Dragons seem to want to imitate Coldplay without the same success in their turning to pop, with in addition strong influences from the 1980s. There are still some interesting electro rock songs, but too little to solidify this much too disparate album. Even the mega hit "Believer", which has invaded radios, becomes somewhat tiresome over time. Evolve is a frustrating album at the end of the day, because we would like to love it but we cannot. It seems we're dealing with a band a little bit lost. (July 2017)
Music Video: « Believer »


½

After 747 in 2014, the country pop trio took a break, the time of solo albums by Charles Kelley and Hillary Scott. Lady Antebellum now return with Heart Break, produced in California by Busbee. The result is a slightly softer rock and less country sound. Several mid-tempo tracks were inspired either from the 1960s and 1970s or from adult contemporary music. Several melodies are captivating enough to achieve some radio success. On the other hand, there are many interchangeable songs that are not very exciting. (July 2017)
Music Video: « You Look Good »


½

Lorde – Melodrama
After a debut album that got much attention in 2013, the young New Zealander, now 20 years old, is back with Melodrama. If Pure Heroine already had some creativity for this young singer-songwriter, Lorde really takes off with this one. We can also have a very good overview with the first singles: "Green Light", "Liability" and "Perfect Places". To change her sound, Lorde gave production to Jack Antonoff (Fun) and Bleachers. The result is a more mature record, but above all more elaborate and creative than the previous one. We can hear several textures, between interiority and catchy rhythms. But no matter the context of the song, Lorde succeeds in captivating us and carrying us to the end, when you would ask for even more. 41 minutes are certainly not enough for this excellent album, surely one of the best of the year... (July 2017)
Music Video: « Green Light »





Toronto's folk pop duo releases its fourth studio album with The Knight Sessions. Brenley MacEachern and Lisa MacIsaac (Ashley MacIsaac's sister) possibly offer their most mature album so far with several successful songs. The vocal harmonies remain at the very core of their music, and the simple arrangements of acoustic guitar or violin only enhance them without ever stealing the show. You will not be able to stop yourself from continuously humming some of the unforgettable melodies of this new record of high quality. (July 2017)
Passenger Sounds / Cadence



½

Quatuor Ébène & Michel Portal – Eternal Stories
Quatuor Ébène (Ebony Quartet) is easily transformed between a classical ensemble and a jazz band. In the case of Eternal Stories, the string quartet joins jazz musician Michel Portal on clarinets, but also percussionist Richard Héry and keyboardist Xavier Tribolet. They perform their own compositions, including four Portal tracks. The highlight of the album is when they play extracts from the "Five Tango Sensations", a late work by Astor Piazzolla. Quatuor Ébène remains inventive on this new album and it maybe also allows Michel Portal to realize a dream, that of producing an album with a string quartet, as Charlie Parker did in 1949. (July 2017)



½

Paul Rossy – Jazz Poetry: The Music of Paul Rossy
Dr. Paul Rossy is a pediatrician during the day and a singer-songwriter at night. In April, he released his first album of original songs in collaboration with Ian Kelly, Goodbye Sings the Wind, to support the Montreal Children's Hospital. Following his participation at the Montreal International Jazz Festival last year, Dr. Rossy was inspired and wanted to give a jazz color to his songs. He again entrusted the production to Ian Kelly for Jazz Poetry which contains a reinterpretation in jazz version of the songs of Goodbye Sings the Wind. Profits will again be donated to the Montreal Children's Hospital Foundation. (July 2017)



½


Simon Okely is a multi-instrumentalist from Melbourne, Australia. After being a member of the Oh Mercy band as a guitarist, he decided to embark on a solo career under the pseudonym Slow Dancer. In a Mood is his sophomore album on which he offers a mix of folk and soft rock with a touch of soul / R&B. In fact, he reminds us of a contemporary mix between Christopher Cross and Van Morrison. Slow Dancer plays all the instruments in addition to singing from his powerful voice, making it softer and warm for the needs of this record that is perfect for the bedroom. He does not reinvent anything and seems rather nostalgic of the past, but he nevertheless plays pleasant to listen music, a sound that comforts us. (July 2017)




Styx – The Mission
After more than 45 years of career, the old progressive rockers return with a first album of original songs in 14 years. The Mission is a concept album about a mission to Mars in 2033. As for the sound, it has nothing futuristic as the band returns to the sound that made them successful back in the late 1970s. Otherwise, we quickly realize that this is where Styx feels the most comfortable with several good energetic tracks worthy of their best years. It is rather refreshing to hear the band resume where they left over 35 years ago. The Mission is therefore a surprising album, very pleasant to listen to. (July 2017)




In 2016, producer Ian Brennan (Tinariwen, Tasili), who is behind the projects of the Zomba Prison Project, traveled to Ukerewe, the largest inland island in Africa, accessible only by a ferry, a four-hour trip. It is so isolated that people were going there to abandon their albino children. The island has become a haven for people in this condition. Brennan organized composition workshops, encouraging people to express their experiences and feelings. The singing and dancing being rather badly seen on the island, Brennan must have been convincing to allow the group to open itself. Often ignored and left out even by their own family, it is not surprising that albinos have expressed themselves mostly on the themes of loneliness and abandonment. Most of the songs on the album have been written in Kikirewe and Jeeta, two officially censored dialects of the country since its unification in 1964. Like the Zomba Prison Project, Brennan allows a group not heard until then to express freely. The result is a touching album of 23 tracks (somewhat uneven) for just over 30 minutes. (July 2017)




Whitehorse – Panther in the Dollhouse
The Quebec duo formed of Luke Doucet and Melissa McClelland is back with a new album, only two years after Leave No Bridge Unburned. Less autobiographical than the previous one, Panther in the Dollhouse presents rather dark and imperfect characters in a more cinematic context. With the addition of the duo of producers Likeminds and several musicians, the sound of the band also takes some expansion towards rock, leaving in the past their little country side that was never far before. We can certainly say that Whitehorse are reaching a new stage in their career thanks to this excellent record. (July 2017)
Music Videos: « Boys Like You » - « Nighthawks »



½

While Linkin Park seemed to have somewhat creatively found itself back in 2014 with The Hunting Party, now they are getting bogged down again with a more than dubious pop turn. Metal is indeed completely absent here, as are the interesting riffs, and forget the screams of Chester Bennington which gave so much energy to their first recordings. We now have a pop rock sound tinged with electro, but mostly frankly lacking in character and dynamism. There are some interesting moments, tailor-made for radios, but they are way too rare. Even the first single, "Heavy", does not push down any barrier despite its interesting melody. One More Light is an album that will surely leave the fans of the first hour indifferent, without allowing the band to get a new audience. (June 2017 Featured Review)
Music Video: « Heavy »



Scott Helman is a young pop rock singer from Toronto who offers his debut album with Hôtel de Ville (City Hall). More rock than Justin Bieber, Helman presents mostly much more creative music, bringing him immediately into a class apart. But it remains that each melody is unforgettable and made perfectly for radios. It's simple, the 12 tracks on Hôtel de Ville could be at the top of the charts. Since his first EP in 2014, Augusta, the 21-year old guy has not stopped working his sound, going on tour around the world. It is very easy to hear it listening to Hôtel de Ville, which has very few weaknesses. For quality pop music, Scott Helman is definitely a name to remember. (June 2017 Featured New Artist)
Music Video: « Kinda Complicated »



½

Aliocha – Eleven Songs
The young Aliocha is a natural, self-taught, inspired by Bob Dylan, Eliott Smith, John Lennon and Nick Drake, while bringing his personal touch, full of imperfections. While traveling between Montreal, Paris and Los Angeles, he could trace his path, especially when he met brilliant producer Samy Osta (La Femme, Feu! Chatterton) in Paris. After releasing the Sorry Eyes EP in France in the fall of 2016, he is back with an album released simultaneously in Europe and Canada. Aliocha proposes a folk sound inspired by both contemporary folk rock and the music of the 1960s. Some pop or more psychedelic touches add color to an album that ultimately has a lot of personality. A very good record! (June 2017)



½


Dan Auerbach is mostly known for his work with The Black Keys, in a garage blues style, and he has also produced several albums in different genres: Pretenders, Lana Del Rey, Cage the Elephant, JEFF the Brotherhood, Dr. John and so on. For this solo album, Auerbach goes in a complete different way, exploring old Memphis soul and Nashville country. He often recalls Jeff Lynne in the 1980s, in the days of the Traveling Wilburys, a style he particularly liked. The album contains only 10 songs totaling 35 minutes, but they are simply refreshing, in addition to being greatly creative. So here is a very high quality entertainment, which is missing only two or three tracks to make the difference and carry the album to the top of 2017. (June 2017)



½

After six years of absence on record, Debbie Harry and her band are back with a new album, Pollinator. On the other hand, it seems that since their return in the years 2000 Blondie try more than ever to recall their glorious past while clinging to more contemporary electro pop music. Where they were rather successful on their previous albums, here it sounds downright false. It is not the panoply of songwriters and guest musicians who would make Pollinator as interesting as their albums of 40 years ago. Neither their covers of Johnny Marr ("My Monster") and Charli XCX ("Gravity"). At the end of the day, it's hard to understand who Blondie is talking to with this album, as both fans of their debut and a younger audience should pay no attention to it. (June 2017)


½

F

a

ith Evans

and The Notorious B.I.G. – The King & I
Although it is announced as an album by Faith Evans and The Notorious B.I.G., The King & I is much more an album by Faith Evans, mostly R&B, with samplings by the late rapper. In fact, it presents itself as a souvenir album about the duo's relationship. Several of the samplings have already been heard often and their use is not always judicious, even being negative for several of the 25 tracks. We can hear several guest artists (Jamal Woolard, Lil 'Cease, Mama Wallace, Snoop Dogg, Busta Rhymes, Lil' Kim, etc.), but it is not enough to restore credibility to the whole. With 72 minutes of music, The King & I contains far too many uninteresting moments to satisfy even the biggest nostalgic fans of The Notorious B.I.G. (June 2017)



After a long break of six years, the band from Seattle is back with an album of great complexity. Indeed, Fleet Foxes still offer this mix of indie rock, folk and country, but they add a touch of progressive rock that can recall the beginnings of Yes. Crack-Up is definitely their most dense, cerebral, complex and difficult album to date. On the other hand, it quickly turns out to be very rewarding. The vocal harmonies remain the strength of the band, and from this point of view they can recall the most psychedelic moments of the Beach Boys. As if to confirm the group's sophisticated artistic approach, they chose to release as a first single a 9-minute song in two parts, "Third of May / Odaigahara". Sometimes orchestral and sometimes experimental, Crack-Up will leave no one indifferent, representing a great challenge to the first listening. On the other hand, with a little patience, you will discover several layers and musical subtleties all more interesting than the others. Fleet Foxes therefore offer a very creative album, which requires only a little effort of appreciation. (June 2017)



½

For their second album of the year, the Australian collective goes into science fiction with energetic progressive rock filled with synthesizers and robotic voices. Murder of the Universe is divided into three chapters, each telling a part of humanity that is pushed to extinction in a futuristic world dominated by machines. Several passages recall the Judas Priest of the late 1980s, without the endless guitar solos. In the third chapter, the very graphic descriptions of vomiting cyborgs and the murder of the universe may shock some sensitive ears. But in fact, few really interesting moments come out and one wonders if it was really necessary to go that far. Several pieces on the album offer the expected entertainment, but lack some creativity, staying often predictable. Murder of the Universe is certainly their weakest album among the last three. On the other hand, they announced five albums in 2017, which means that they will have three more to get better creatively. To be continued… (June 2017)



½

For this first album, the singer and songwriter from Toronto comes to us with a pop sound accompanied by scratching electric guitars. Taylor Knox reminds us greatly of the pop rock sounds of the 1970s, but also of contemporaries like Teenage Fanclub and Tame Impala. LOVE begins strongly with the energetic and effective songs "Wishing Well" and "The Stars". Several tracks will then keep your interest and make you want to hear more. Several elements of this first record deserve special attention to this artist in the future. (June 2017)




The Canadian singer and pianist is back with a new album of jazz standards, after revisiting pop rock classics on Wallflower in 2015. Diana Krall became more involved than ever before as she chose each song, conceived the arrangements and gathered three separate bands to record the 11 tracks. Whether in a trio, a quartet or a quintet version, each song is interpreted smoothly, with a good dose of romanticism. You can hear several standards of the genre such as "Moonglow", "Blue Skies", "Sway", "Dream", as well as the first single, "Night and Day", a Cole Porter classic. Turn Up the Quiet is a very good late night record by this great jazz lady. (June 2017)



½

Shai Maestro Trio – The Stone Skipper
Accompanied by Jorge Roeder and Ziv Ravitz, Israeli pianist Shai Maestro offers us a jazz album of great power with The Stone Skipper. This is the fourth album of the trio since their debut in 2011. The fluidity of the three musicians is incomparable and they seem to be one (the trio takes its full meaning). Maestro pushes the boundaries of jazz by integrating a few electronic elements and voices coming from nowhere to blend perfectly with his music. The 15-song album presents itself as a storyline, and each musician has put himself at the service of the storyline avoiding to lose themselves in virtuosity. Even Maestro could fade at the piano on several occasions to let the work breathe in its deployment. This is undoubtedly the most personal album of the trio to date, with several meditative moments. To discover! (June 2017)



½


Meklit – When the People Move, the Music Moves Too
Meklit is a Californian of Ethiopian origin who offers a fusion of world music and jazz. On this new album, she merges even more the genres in an energetic and particularly creative ensemble. Produced by singer / songwriter Dan Wilson (Adele, John Legend), the record carries us in all kinds of atmospheres with rich arrangements incorporating violins, keyboards, brass, clarinets, etc. Despite the musical richness, Meklit's powerful soulful voice emerges very well through the whole. The godfather of Ethio-Jazz, Mulatu Astatke, contributed to this album when he told Meklit in 2011: "Find your contribution to ethio-jazz and keep innovating!". The result is a festive album that integrates both Ethiopian and American cultures. Among the musicians who participated in the recording are Andrew Bird and Preservation Hall Horns. An incomparable record to discover! (June 2017)



½

Montreal-born with Haitian background Jowee Omicil offers an incomparable musical mix. Jazz is obviously at the heart of the work of this trumpeter and multi-instrumentalist, but there are also Caribbean, African, Latin or gospel accents. The arranger, composer and producer now established in Paris releases his new album, his first international record, on which he intends to celebrate. He is accompanied for the occasion by musicians of great talent from about anywhere around the world. Omicil winks at Aznavour, Tinariwen and Jay-Z. He even crosses the "Bridge of Avignon" ("Le pont d'Avignon") in afro-pop, in addition to presenting sounds close to Indian music. In fact, it is a constant journey that we do in the company of Jowee Omicil who really goes in all directions, maybe even a little too much we can say after a while. He succeeds at least in putting everything in his own style, in making it a personal work. So, it's all to his credit! (June 2017)
Jazz Village / PIAS / SIX



½

The Under the Influence suite is a 2015 order from the Montreal National Jazz Orchestra to saxophonist, composer and conductor Christine Jensen. There are five parts by renowned composers such as Kenny Wheeler, Jan Jarczyk, John Coltrane, Lee Konitz and Wayne Shorter. Sienna Dahlen's soft voice accompanies the orchestra magnificently. Founded in 2012, the Montreal National Jazz Orchestra has about twenty musicians and is already considered world-class. As for Christine Jensen, the Montrealer is part of the jazz elite in Canada. (June 2017)



½

Paramore – After Laughter
Four years after their excellent self-titled album, Paramore are back with After Laughter. Singer Hayley Williams seems to have problems retaining her colleagues, while bassist Jeremy Davis left the band for the second time. Paramore seem more and more centered around their singer, the only one to have been a member of the band for their five albums. In addition, it seems that the music of the group follows more and more the pop inspiration of Hayley. After Laughter contains several contagious melodies and the alternative rock elements that could remain previously now seem from the past. Their new wave sound, which seems joyful at first, rather presents an incessant struggle against break-ups. But this is nothing surprising since the band's departures remain their main inspiration since their debut 12 years ago. After Laughter is still a very pleasant album to listen to. (June 2017)
Music Videos: « Hard Times » - « Told You So »



½

The young pianist, singer and songwriter returns with a new album entitled Living in Twilight, from the Weepies song that she plays beautifully. The album contains a mix of classics from the American songbook, amazing contemporary covers and original compositions. Among the classics, there are Ray Nobles' "The Very Thought of You", Cole Porter's "So In Love" and Chick Corea's "500 Miles High". Her interpretations of contemporary songs include the surprising "Someone Like You" (Adele), "To Be Alone With You" (Sufjan Stevens) in an instrumental version, as well as the touching "Go Leave" (Kate McGarrigle). Some influences are particularly evident throughout the CD, including traces of Cuban and Brazilian music. Ariel Pocock offers varied jazz music, a soft but rich sound. She will be visiting Quebec in early July for three concerts. (June 2017)



½

For this eighth album, and the first in four years, the indie rock band took all their time, recording enough material for a double album, then starting all over again. They worked again with producer Mike D, but also with Danger Mouse and John Hill. They were accompanied by about twenty musicians and nine engineers, perhaps to recreate the collegiality of Woodstock which was their first influence for the record. There is a mix of indie rock and glam, but this is mainly their most pop album to date. Just listen to their hit "Feel It Still" to be convinced, a short song of less than three minutes that reminds Pharrell Williams. We hear some interesting elements on Woodstock, but unfortunately it is not the band that we knew, as if they were lost a bit. It has anyway a good commercial potential... (June 2017)
Music Videos: « Feel It Still » - « Rich Friends »




Royal Blood – How Did We Get So Dark?
Three years after its debut album, the British duo is back with another hard-hitting record. A little less heavy than the previous one, How Did We Get So Dark still presents elements comparable to the White Stripes in a dirty garage style. Fuzzy guitars and a few keyboards are added to the sound of the band that is growing. The melodies are unforgettable, on always energetic and catchy music which will surely make you stomp your feet. In short, even if it lasts only 34 minutes, it is a very satisfactory album that give us the guys of Royal Blood. (June 2017)
Music Videos: « Lights Out » - « Hook, Line & Sinker » - « I Only Lie When I Love You »



½