Note: If you can read French, go to the French section for additional content.
A - AC/DC - AfroCubism - Aguilera, Christina - Allison, Mose - Arcade Fire - Auf der Maur, Melissa - Avenged Sevenfold -
B - Bad Religion - Badu, Erykah - Band of Horses - Barlow, Emilie-Claire - Bieber, Justin - Big Boi - Black Dub - Black Eyed Peas, The - Black Keys, The - Bran Van 3000 - Braxton, Toni - Bring Me The Horizon - Broken Bells -
C - Carreau, Stephane - Celtic Woman - Charlap, Bill & Rosnes, Renee - Ciara - Cirque du Soleil - Clapton, Eric - Coheed and Cambria - Collins, Phil - Crow, Sheryl - Cyrus, Miley -
D - Damned Things, The - Danger Mouse and Sparklehorse - Deftones - Diddy-Dirty Money - Disturbed - Dobson, Fefe - Dr. Dog -
E - Eels - Elias, Eliane - Eminem - Erickson, Roky - Evans, Kellylee -
F - Faccini, Piers - Factory, The - Favourite, Johnny - Flaming Lips, The - Florence K - Fonseca, Roberto - Forrest, Angel -
G - Galactic - Gaslight Anthem, The - Gorillaz - Goulding, Ellie - Greenwood - Grinderman - Guilty Brothers Experience, The -
H - Heartsounds - Hendrix, Jimi - H.I.M. - Hole - Hollerado -
I - Infected Mushroom -
J - Jackson, Michael - Jaheim - Jazz Passengers, The - Jonas & The Massive Attraction - Jones, Norah - Jones, Oliver, Ranee Lee & Montreal Jubilation Gospel Choir -
K - Kent, Stacey - Ke$ha (2) - Kings of Leon - Kole, Hilary - Kylie -
L - LCD Soundsystem - Lidell, Jamie - Linkin Park -
M - Madonna - Manx, Harry - Manzanera, Phil - Marina & The Diamonds - Maroon 5 - Masri, Mark - Massive Attack - MC Mario - MGMT - Michaels, Bret - Milow - Monae, Janelle - Moran, Jason - Motion City Soundtrack - My Chemical Romance -
N - Nelly - Nouvelle Vague -
O - Off With Their Heads - Osbourne, Ozzy -
P - Pacifika - Parkway Drive - Perry, Katy - Pet Shop Boys - Plant, Robert - Plants and Animals - Posner, Mike -
R - Rihanna - Robyn - Rocket To The Moon, A -
S - Santana - Scissor Sisters - Scorpions - Shakira - Slackers, The - Small World Project - Staples, Mavis - Stone Temple Pilots - Story Of The Year - Superbees, The -
T - Tankian, Serj - Tiersen, Yann - Tiësto -
U - Usher -
V - Veara - Viola, Fredo -
W - Wainwright, Rufus - Walsh, Bob - We Are The In Crowd - Weezer - West, Kanye - Wilson, Cassandra - Winston, Charlie - Wintersleep -
Y - Yanofsky, Nikki -
Z - Zahra, Hindi

AC/DC - Iron Man 2
After more than 35 years of career, the Australian rock 'n' roll band AC/DC seems to want to avoid at all costs presenting us an anthology worthy of this name which would include only the best they did. A compilation of quality, which would certainly have to be a double album, is awaited by their fans since the 1980s, but the group still presents live recordings, rarities, video compilations on DVD, and so on, without ever offering the best studio recordings of the band. The soundtrack of Iron Man 2 is the closest they were to have succeeded in offering a compilation of their greatest hits with 15 tracks extending on their entire career. But, don't get excited too quickly, because some of their classics can be heard ("Shoot to Thrill", "Back in Black", "Thunderstruck", "Highway to Hell"), but they are surrounded by album tracks and other less impressive songs ("Cold Hearted Man", "Evil Walks", "Rock 'n' Roll Damnation"). In fact, the goal of this CD is to accompany the film filled of explosions and testosterone which is Iron Man 2. For the testosterone, you won't have to seek a lot in the repertory of the band to find all that it is necessary. On the other hand, the choice of the music of AC/DC to accompany this movie for teenagers of the rising generation can be largely debatable. They perhaps wanted to attract their father with them… To conclude, once again, we cannot regard this AC/DC compilation as an anthology and it will be necessary to continue to wait patiently. (July 2010)
Videos: « Highway to Hell » - « Thunderstruck »


½

AfroCubism - AfroCubism
At the end of the 1990s, Ry Cooder allowed the whole world to discover Cuban music by assembling the best Cuban musicians within the Buena Vista Social Club. Except that the starting plan was to also include Bassekou Kouyate and Djelimady Tounkara, two of the best musicians of Mali. They could not go to Cuba to the last minute because of visa problems and were thus forgotten for the project. Finally, we had to wait until 2010 so that an amalgam between Cuba and Mali could be made and it's under the name of AfroCubism. Kouyate and Tounkara are accompanied by two other Malian musicians, Toumani Diabaté and Lassana Diabaté (not related). The quartet joins its talent with the Cubans Eliades Ochoa and Jorge Maturell. The beats of both cultures are mixing perfectly together to make a very effective Afro-Cuban sound, even if the majority of Malian compositions emphasize the African dimension of this world beat. We can hear anyway great Cuban classics like "La Culebra" of Beny Moré and the unforgettable "Guantanamera", in an instrumental version passably different from the one we always hear. So, here is another example that the fusion of cultures brings only positive things to music. AfroCubism will undoubtedly succeed in heating your cold winter evenings. (December 2010 Featured New Artist)
Video: Introduction
World Circuit / Nonesuch / Warner



½

Christina Aguilera - Bionic
After the excellent Back to Basics in 2006, the pressure was huge on the frail shoulders of the pop singer from New York City. This is perhaps explaining the delay before the release of Bionic. Whereas for the previous album she was rather presenting a retro style of pop music, this time she looks in front with a futuristic electronic pop. On the other hand, she doesn't go so far from the styles which made her become famous as R&B and ballads. I appreciate a lot more Christina since she left the incessant voice effects she was using at her debut and I particularly like the electronics which are introduced on this album with a great production. You will find enough thrilling pop pieces to please her fans who are also lovers of dance floors ("Not Myself Tonight", "Desnudate", "Glam"). In the end, Bionic is a varied album with an excellent mix of compelling and introspective moments. This is a good record well of his time which will help the diva to cope effectively with the turn of the new decade. (August 2010)
Video: « Not Myself Tonight »



½

Mose Allison - The Way of the World
After a career of more than 50 years, singer and pianist Mose Allison is back on record, even if he seemed retired for the last 12 years. He returns on the Anti- label, well known for the creativity of the albums it releases. Moreover, Allison can count on the troubadour of great talent Joe Henry for the production. It's besides Henry who convinced him to get locked up again in a studio. Mose Allison thus offers 12 tracks including 5 covers and adding up 35 minutes. Faithful to himself, he sails once again between jazz and blues. It's besides what brought him the most criticisms throughout his career because he was ignored by fans of both genres. On The Way of the World, Allison didn't lose any energy behind a piano, in spite of his 82 years of age. The album begins strongly with "My Brain", a rewriting of "My Babe" of Willie Dixon. You will discover solid tracks throughout the CD until the finale, "This New Situation" of Buddy Johnson, on which Allison presents a superb duet with his daughter Amy. Here is an album of an impressive effectiveness by a true living legend… (June 2010)



½

Arcade Fire - The Suburbs

After having presented an exceptional album in 2004 with Funeral, the band from Montreal Arcade Fire must try to progress with a whole challenge on its arms, to resume offering a record of such quality. Neon Bible brought us completely elsewhere with a dark album, often difficult of access. For its 3rd opus, the group returns to a very "suburban" melancholy, with simple, but so effective melodies. While listening to the title-song, one can hear an obvious influence of the 1960s. 1970s pop also comes to our mind on several occasions with David Bowie never hiding well far behind the influences of the band. Not surprising that Bowie is their number one fan. A little less theatrical than the previous records, The Suburbs presents less great orchestral moments to concentrate on more sober recordings, centered on guitars and melodies. In spite of the great melancholy which furnishes the 64-minute album, the unit remains luminous, much less dark than Neon Bible. In that sense, one can a little more easily compare it with their masterpiece of 2004. On the other hand, the 16 tracks are not all at the same level and they could have cut off some to give even more power to the CD. We can hear anyway a good number of great songs like "Ready to Start", "Suburban War", "Sprawl II (Mountains Beyond Mountains)", magnificently interpreted by Régine Chassagne, and of course the title-song in opening with a reprise in conclusion. The group explores genres we never really knew about them until now: rock 'n' roll ("Month of May") and folk ("Wasted Hours"). This 3rd recording by Arcade Fire constitutes once again a very great success and it will appear undoubtedly among the best albums of the year, especially after several additional listens. (September 2010 Featured Review)
Video: « Ready to Start »





Melissa Auf der Maur - Out of Our Minds
Former bass player for Hole and the Smashing Pumpkins, Montrealer Melissa Auf der Maur is back with a 2nd album, 6 years after her first test in solo. At the time, she presented a passably heavy sound which went regularly to draw in classic metal. For this one, she explores various music textures which can also be rather heavy, but most of the time more inspired. Out of Our Minds is a concept album, but it goes even further belonging to a multiplatform project, OOOM, integrating a short film, a comic strip, a video game, a website, and so on. Melissa thus lets her creative spirit go loose completely in this project of a great creativity. Musically, the album presents very solid tracks like the title-song (the first single), "Follow the Map", "22 Below" and "Meet Me On the Dark Side". The dark "Father's Grave" is also to mention, especially because of the duet Melissa is offering us with Glenn Danzig, the legendary singer of the Misfits and Danzig. The creativity of Out of Our Minds exceeds certainly the one on her previous record. The fans of the tall red-hair musician are extremely likely to think she's a genius… (May 2010)
Video: « Out of Our Minds »



½

Avenged Sevenfold - Nightmare
Following the death of their drummer James Sullivan in 2009, Avenged Sevenfold required the help of Dream Theater's Mike Portnoy for the recording of its 5th album. The band continues in the same direction as on its previous recordings, integrating its British metal influences into its emo style. The album begins with the title-song, a thrash metal track of a great effectiveness with a riff recalling Megadeth. In spite of the many variations of styles throughout the CD, the compositions are not all very creative and disappointing moments will make you go to the following track. "Buried Alive" is straightforwardly a pastiche of Metallica's "One" meeting Pantera's "Cemetary Gates", before embarking on another riff in the Megadeth style. As for "Victim", it's a ballad which brings us straight towards Queensrÿche. But, there's still a strong point about Avenged Sevenfold: M. Shadows' singing and the musicians' playing are once again irreproachable and don't have anything to envy to the great musicians who inspired them in the past. Moreover, the ultra fast introduction of "Natural Born Killer" requires a talent which can't be found easily, even among the bands that are speed metal specialists. The album is concluded with a solid 11-minute track, "Save Me", a kind of tribute to their young missing companion. Even if the 67 minutes of the CD can seem unequal to you, there are sufficient strong points on Nightmare to preserve the interest of their fans. But, as it was the case for their previous albums, Avenged Sevenfold doesn't revolutionize anything yet. (October 2010)
Video: « Nightmare »




Bad Religion - The Dissent of Man
2010 marks the 30th anniversary of the Californian punk band and what a good moment to offer its 15th album. The production is again between the hands of Joe Barresi (Tool, Queens of the Stone Age) which also worked on New Maps of Hell, their previous album including some aggressive moments. This time, they incorporate several mid-tempo tracks like the first single "The Devil in Stitches". It's thus to some extent an evolution for the band, even if their sound remains easily recognizable from the first moments. Few titles succeed in truly catching our attention and, in spite of the obvious effort to present different compositions from those of the past, the magic of 20 years ago is not there anymore. The Dissent of Man is an honest album which will shameless enable them to go on tour, but it will quite simply not make history. (December 2010)




Erykah Badu - New Amerykah Part 2: Return of the Ankh
Since the excellent Baduizm issued in 1997, no album of Erykah Badu had truly succeeded in catching my attention until New Amerykah Part 1: 4th World War in 2008. Two years later, the soul/R&B singer from Texas is back with the follower. The essence of Return of the Ankh was recorded during the sessions for the previous album. Erykah skillfully uses sampling on various occasions, which adds a beautiful musical richness to the album. It's the case among others in the excellent "Turn Me Away (Get Munny)", which uses "You Can't Turn Me Away" of Sylvia Striplin and "Get Money" of Junior M.A.F.I.A. In "Gone Baby, Don't Be Long", she uses "Arrow Through Me" of Paul McCartney. For the nostalgic ones of Baduizm, "Window Seat" is probably the one which is approaching the most the sound of your favorite album. The CD is ending in a rather spectacular way with "Out My Mind, Just In Time", a track of more than 10 minutes in 3 movements which carefully begins, with piano, before transforming into a soul/jazz psychedelic sound. When everything is over, we think that Erykah Badu once again succeeds in renewing herself to present an album full of creativity. Without equaling the part 1, Return of the Ankh is an album of great quality, not always easy to access, but very interesting anyway. (July 2010)
Video: « Window Seat »



½

Band of Horses - Infinite Arms
Band of Horses is an alternative rock group from Seattle which was formed in 2004. They generally present a mid-tempo rock sound which is inspired by The Flaming Lips and REM. Moreover, the atmospheric effects that are at the center of the first track, "Factory", remind us easily The Flaming Lips. Infinite Arms is their 3rd album and it possibly presents an assembly of the best elements the band can offer. The change of personnel has also probably something to do with the evolution of the band, as the only original member still here is Ben Bridwell. The elements of folk remain present, but the record is exploring much more the pop rock genre with an accessible sound. The quality of the melodies is very remarkable on Infinite Arms, and it's probably on that that the group appears to be at the top of its game. It's not so far from the universe of Brian Wilson. So, here is a sunny album which will bring a little heat in your cold winter evenings. (November 2010)
Videos: « Laredo » - « Blue Beard »



½

Emilie-Claire Barlow - The Beat Goes On
After exploring American standards of the 1930s and 1940s on her previous albums, the jazz interpreter and arranger from Toronto tackles the 1960s' repertoire. This new record by Emilie-Claire Barlow has the advantage that we know a little more the tracks with hits by Donovan, Neil Sedaka, Bob Dylan, Sonny and Cher, Carole King, Stevie Wonder, etc.. We also have to mention the excellent "Raindrops Keep Falling On My Head" of Burt Bacharach which is opening the program in a wonderful way and succeeds perfectly to convince us to go ahead with the listening. Moreover, Emilie-Claire visits the Quebec Francophone repertoire with the hit "Comme je crie, comme je chante" of Pauline Julien and "T'es pas un autre" of Claude Gauthier, an adaptation of "Until It's Time For You To Go" of Buffy Sainte-Marie we can also hear earlier on the album. The soft and sensual voice of Emilie-Claire Barlow allows us to rediscover the classics of the 1960s revisited in a unique way. Here is an extremely effective jazz album which is sexy and accessible, and has the potential to reach a wide audience. (February 2011)



½

Justin Bieber - My World 2.0
The young Ontarian was discovered by Usher and recorded his first album last year when he was only 15 years old. Quickly the new sensation of Canadian pop, Bieber is already back with his 2nd CD, only a few months later. In fact, as his first CD lasted only 25 minutes, My World 2.0 serves as the 2nd part of it to form a whole of a little more than 60 minutes. It offers light teen pop music, but largely effective with excellent beats with R&B influences and unforgettable melodies. Some more adult ballads seem much less relevant when we remember it's only a 16-year old boy who interprets them. On the other hand, the danceable pop moments are of great quality, as in the excellent "Eenie Meenie" featuring Sean Kingston. (June 2010)
Videos: « Baby » - « Never Let You Go » - « Eenie Meenie »




Big Boi - Sir Lucious Left Foot… The Son of Chico Dusty

It will have taken a few years for this Outkast member to produce his true first album. A change of label and many leaked tracks indeed delayed all the process. But here is finally the so much awaited record for fans of rap. Sir Lucious Left Foot… presents an extremely creative rap with short tracks of a great effectiveness. It's very varied and particularly rich musically with a good mixture of hip hop and R&B. "Turns Me One" quickly seduces us before the excellent hits "Follow Us" and "Shutterbugg". The unique beat of "Tangerine" makes of it also one of our favorite ones and it has everything necessary to become a great hit. Big Boi gives us an intelligent and entertaining album at the same time, probably the best rap album of the year until now. Don't hesitate a second! (September 2010 Featured New Artist)
Videos: « Follow Us » - « Shutterbugg » - « Shine Blockas »





Black Dub - Black Dub
Black Dub was born from the encounter between musician and producer Daniel Lanois and singer / keyboardist Trixie Whitley (daughter of the late Chris Whitley). The quartet is completed by bassist Daryl Johnson and drummer Brian Blade. The project had to be postponed for some months in the summer of 2010 when Lanois was involved in a serious motorcycle accident. Black Dub offers an alternative rock with influences of soul, funk and folk. Generally introspective, their music focuses on the unique atmospheres created by Lanois accompanied by the beautiful voice of Whitley. Many effects and music loops are greatly enriching the group's sound in the purest tradition of Daniel Lanois. Unfortunately, the scope of arrangements often takes precedence over the voice of the singer, and great soul songs are thus transformed into pure exercises in style. We have known for a long time the passion of Lanois for sonic experimentation of all kinds, but Black Dub would greatly benefit a better presence of its superb singer, a very nice discovery. The entire disc presents anyway great moments, creative and masterfully played. (January 2011 Featured New Artist)
Video: « Love Lives (live) »



½

The Black Eyed Peas - The Beginning
After The E.N.D. in 2009, here is now The Beginning. A year and a half later, the band is coming back with exactly the same recipe as for the previous album: a few monster hits surrounded by compositions rather common, even poor. But why changing the recipe when you just got a record for the most downloaded song in history ("I Gotta Feeling")... The Beginning starts with the current hit, "The Time (Dirty Bit)" (built on 1987 hit from the movie Dirty Dancing, "(I've Had) The Time of My Life"). The work is already done, they will have their next blockbuster in downloads, so they could stop right there... In the following 11 tracks, there are quite a few good moments like "Someday", "Don't Stop the Party" and a new collaboration with David Guetta, "The Best One Yet (The Boy)". On the other side, weaknesses are longer to enumerate. Again, the rap tracks are the worst, what makes us believe that the band cannot do anything good if it's not a big pop hit. We have the feeling that the album was issued in a hurry because they felt they had a couple of huge hits. In conclusion, waiting for a superb pop hits collection from The Black Eyed Peas, here is another mediocre album for this band which still managed to present some of the biggest radio hits of the last decade. (January 2011 Featured Review)
Video: « The Time (Dirty Bit) »


½

The Black Keys - Brothers

Brothers is already the 6th album by the minimalist duet The Black Keys, which however exists since less than 10 years. After their weakest album with Attack & Release in 2008 (possibly their only moment of weakness to date), here is that the duet returns at the top of its art. The Black Keys somewhat leave aside their psychedelic tendencies to concentrate on the blues influences which made their trademark at their debut. We cannot even talk about a return to the sources since they take another step ahead. This time, they go in a direction a little more accessible and they present us finally a true hit in "Tighten Up", largely helped by a TV ad. In addition to several titles influenced by the 1960s like "Unknown Brother", the duet covers the Jerry Butler song "Never Gonna Give You Up". On Brothers, The Black Keys succeed in amalgamating perfectly influences of the past with a modern sound of a great creativity. It only remains to applaud… (September 2010)
Video: « Tighten Up »





Bran Van 3000 - The Garden
James Di Salvio and his band are back on record, 3 years after Rosé. The collective remains in well known territories with a fusion of hip hop and ambient electronics. The melodies remain effective and people with bad intentions will be able to affirm that the group doesn't have truly advanced since its success of the end of the 1990s. In spite of an excellent album with Rosé, Bran Van failed to obtain success, and bet that it will be the same with The Garden. All the elements of a good album by Bran Van 3000 are joined together, even a potential hit with the excellent "Grace". On the other hand, it cannot be compared with the worldwide hit "Drinking in L.A.". The group succeeds in creating a superb environment throughout the CD of 15 titles adding up over 60 minutes. It's a light and charming atmosphere, so pleasant that we don't have any choice but smiling at one moment or another. Bran Van 3000 doesn't break any convention with The Garden, but it offers a good record once again. A deluxe edition includes a 2nd CD presenting all the tracks of the album in an instrumental version. (December 2010)



½

Toni Braxton - Pulse
One of the most popular R&B singers of the 1990s, Toni Braxton is back with a quality album, 5 years after Libra. It should be said that the release of Pulse was delayed for over a year due to leaked material over the Internet which forced her to go back into the studio to record several new pieces. Collaborations with well known artists were also rejected for the final version of the album. So, the possibility to hear a solid album was not very good with missing recordings like this. However, Toni has possibly issued her most effective record of the last 10 years. Pulse starts strongly with the breakup ballad "Yesterday", with lyrics full of truth in a straightforwardly unforgettable melody. Thereafter, we can hear a total change of style with a danceable song quite as effective, "Make My Heart", which enables us to appreciate all the possibilities of her powerful and warm voice. The album presents anyway some ballads with lyrics missing creativity and falling quickly into clichés. On the other hand, the unit remains coherent, mature and professional and it offers tracks of great quality. For our greater pleasure, they were able to avoid the so much anticipated disaster… (July 2010)
Video: « Yesterday »



½

Bring Me The Horizon - There Is a Hell, Believe Me I've Seen It, There is a Heaven, Let's Keep It a Secret
After the very good Suicide Season issued 2 years ago that made the band to become known on both sides of the Atlantic, the British hardcore metal band is back with a never ending title (as you can read). The group returns again with its creative blend of black metal and screamo. It managed to combine perfectly harcore punk with the precise technique of metal to make a creative sound that manages to go beyond anything we have heard over the last 30 years as aggressive music. The subtle arrangements in the studio, as well as the addition of violins and a religious choir bring an additional wealth to their music which is much less one-dimensional than it was at their debut. With There Is a Hell…, Bring Me The Horizon reached a new peak. The band will succeed not only to satisfy its fans but also to catch the attention of metal fans in general. (January 2011)
Videos: « It Never Ends » - « Anthem »



½

Broken Bells - Broken Bells
Broken Bells is a duo formed by the famous James Mercer, singer and guitarist of The Shins, and Brian Burton, producer and one-man band better known under the name of Danger Mouse (Beck, Gorillaz, Gnarls Barkley, and so on). The pair started to collaborate together in 2004, but it's in 2008 that they really began the writing and recording of their music. On the contrary to his previous projects, Burton leaves aside samplings to concentrate on live instruments. On his part, Mercer uses possibilities of his voice he probably never thought he had until now. The duo generally presents an indie rock sound, but it also explores without embarrassment pop music, as for example on the excellent "The Ghost Inside" which can remind us of what Burton did with Gnarls Barkley. The fusion between the two men is not completely natural and we can hear it a little too much on this 1st album which goes in various directions. Certain tracks seem to carry us towards something brilliant, but we often get lost on the way. With still a little more united work, the pair is extremely likely to offer us this brilliant record hoped so much at the time of its next album. To check out closely… (June 2010)
Video: « The High Road »




Stephane Carreau - In From the Cold
Stephane Carreau was Stef in Bet.e and Stef, the famous jazz/bossa nova duet from Montreal which separated too much prematurely in 2003. They had just presented their best album in career, Day by Day. Carreau releases now his first solo album as a songwriter, guitarist, singer and even producer and sound engineer. Trained jazz guitarist, his music still lets show influences of bossa nova, but it presents several other influences: soul, electro, acoustic rock, and so on. Musically, he creates at the same time an intimate and rich universe which enables us to discover more than ever his voice. Carreau wrote 9 of the 12 tracks offered, the 3 others presenting personal interpretations of songs from various repertories: "Protection" of Massive Attack, "Berimbau-Consolaçao" of Sergio Mendes and "Est-ce ainsi que les hommes vivent" of Léo Ferré. In end of line, In From the Cold is an album we appreciate easily because it's listenable in any circumstances. A very good work! (July 2010 Featured New Artist)
Papa Flavor / Outside / SIX



½

Celtic Woman - Songs From the Heart
Celtic Woman is a band made up of 5 superb young women with angel voices. But, the creative force behind the group is in fact producer and arranger David Downes who is keeping these women together in spite of the frequent changes of personnel. Songs From the Heart is their 5th album presenting again a mixture of adult contemporary pop songs and traditional Celtic songs accompanied by instruments of that time, a choir, contemporary musicians and a full classical orchestra. As soon as at the opening track, Sting's classic "Fields of Gold", the album sounds promising. On the other hand, when we hear the first notes of the superb "Amazing Grace", we feel discordance and the 5 singers are unable to do justice to this so powerful traditional song. The discordance between the various tracks will continue until the end, in spite of a few other interesting moments (Phil Collins' "You'll Be In My Heart"). In fact, there is rather the feeling to hear a joining of unequal covers, as we could hear in a super stage production, a kind of a soundtrack of a concert on Broadway or in Vegas. The annoying moments are too annoying to manage to appreciate the rest of it. So, here is an unequal album, overproduced and with extremely licked arrangements. Fans of Enya will surely find something interesting, but for the others, don't waste your time… (November 2010)
Videos: « Fields of Gold (live) » - « Amazing Grace (live) »



Bill Charlap & Renee Rosnes - Double Portrait
Bill Charlap and Renee Rosnes married in 2007. The 2 jazz pianists often played together in the past and here comes the time to set their performances down for posterity. These artists of great talent prove here that their chemistry is not limited to their couple. They are also in symbiosis when they blend their pianos. Nothing seems difficult and their performance is incomparably natural. Charlap and Rosnes interpret several jazz classics, starting with Gershwin's "My Man's Gone Now". Their arrangement of Lyle Mays' "Chorinho" is really solid to open the album and it gives the tone to the rest of it which will carry you in a magical universe. We can also possibly hear one of the most beautiful compositions by Renee Rosnes, "The Saros Cycle". Finally, Double Portrait is ending ironically with "Never Will I Marry" for this couple presenting a fusion album of great quality. This album is impossible to ignore for any fan of instrumental and smooth jazz, and it's certainly one of the best albums of the year in that genre. (November 2010)



½

Ciara - Basic Instinct
R&B singer Ciara is offering her fourth album, Basic Instinct, with the intention to permanently figure among the best of her genre. She works primarily with Terius "The Dream" Nash and Christopher "Tricky" Stewart, the very people who contributed to the best tracks of her previous album, Fantasy Ride. The result is her most balanced album to date, so that each piece seems to fit perfectly within the set. A few songs have real weaknesses. The arrangements are perfectly enhancing the melodies, without ever stealing the spotlight. The only criticism one could make is that Ciara is not taking enough chances. Then, she could easily bring seduction and provocation to another level. In that sense, most tracks of the album will seem rather soft and will appeal mainly to fans of the genre, without really capturing the attention of a wider audience. She differentiates anyway from the other singers of the genre with the excellent "Gimme Dat" and the European pop of "Turn It Up", a duet with Usher. (February 2011)
Videos: « Ride » - « Basic Instinct » - « Speechless » - « Gimme Dat »
LaFace / Sony



½

Cirque du Soleil - OVO
In the summer of 2009, the Cirque du Soleil presented its new creation, OVO, in the Old Port of Montreal, then in Quebec City. They're presently on tour on the US east coast and they now offer us the album including the soundtrack of the show. The record of 16 tracks adding up 74 minutes was entirely composed by Berna Ceppas, a Brazilian composer and producer who composed the music for several films. He also produced the album with Alain Vinet. For the first time, Cirque du Soleil explores Brazilian sonorities with various beats of samba and electronic sounds. The unit presents a good mixture of energetic and ambient parts. It's always quite difficult to create original music for a show that still remains coherent by itself without the show. With OVO, in spite of a few moments a little weaker, we find a good direction which succeeds in making the unit passably coherent. Otherwise, the album is certainly more effective for people who already saw the show and who will have the images in mind by listening to the music. (June 2010)
Video: trailer of the show
SIX




Eric Clapton - Clapton
A question quickly comes to our mind with this first solo album from Clapton in 5 years: why a self-titled album whereas it almost entirely presents covers? Perhaps that it's in his vocal interpretation that we can find the real Eric Clapton, because he offers one of his best performances for a long time. On the other hand, the guitar is more extinct, often hidden behind arrangements a little too licked. Clapton presents anyway an interpretation filled of simplicity of these blues and country classics which influenced him. Among the guest artists, we can hear Steve Winwood (his colleague from Blind Faith), Allen Toussaint, Wynton Marsalis, Sheryl Crow, Derek Trucks, as well as members of the Preservation Hall Jazz Band. Without revolutionizing the music, Clapton offers pleasant interpretations, all in softness, which are likely to please many people. (December 2010)



½

Coheed and Cambria - Year of the Black Rainbow
Emo/progressive band Coheed and Cambria presents its 5th album with Year of the Black Rainbow. Their topic remaining always the same around Amory Wars, reported in the science fiction writings of singer-guitarist Claudio Sanchez, we can consider that it's about the 5th volume of only one concept-album. But, like the 4 previous records of the series, the album can very well be listened by itself, which will reassure those which didn't hear the previous recordings of the group. Coheed and Cambria possibly reaches the top of its art in its capacity to present an extremely melodic progressive metal, a sound which is not without reminding us of Queensrÿche. The group is at its best when Sanchez plays guitar harmonies with Travis Stever, in the way of traditional British metal bands like Iron Maiden and Judas Priest. The album begins with a soft introduction leading us directly to the excellent "The Broken". "Here We Are Juggernaut" is a true anthem with unforgettable melodies as much in the chorus than the verses. The 53-minute CD is concluded with the title-song, a track of more than 7 minutes reaching its climax before the end. What a beautiful way of closing an adventure which will have lasted 8 years through 5 albums. The question which should now be raised, it's how the band will be able to come back with another original project thereafter. (July 2010)
Videos: « The Broken » - « Here We Are Juggernaut »



½

Phil Collins - Going Back
With Going Back, Phil Collins wanted to revisit his first influence, the Motown sound. Moreover, he wanted that the final result is comparable with an album of the 1960s. He hired 3 survivors of the Funk Brothers to play with him in a studio in Switzerland and he played almost in identical way classics and less known songs of that era. We can hear 18 of them, 25 in the deluxe version. Their fidelity to the original song makes us go back in the past, the only unique thing to Collins being his voice. The fans of Motown will be happy to hear again these classics in music history. On the other hand, the covers being so similar to the original songs, why not simply play your old records? (December 2010)




Sheryl Crow - 100 Miles from Memphis
With her new album, Sheryl Crow gives us the feeling to buckle the loop with the beginning of her career. It's that for the first time since her first record, Tuesday Night Music Club, she presents to us a light sound influenced by 1960s and 1970s pop. A little bit of soul and a little bit of reggae decorate this CD with colors of another time, but which benefits of a production well of today. The legendary Keith Richards comes to accompany with his guitar the beautiful American lady on "Eye To Eye", one of the tracks with reggae accents. She does also a great cover of the classic by Terence Trent D'Arby, "Sign Your Name", as well as the Jackson 5's, "I Want You Back", at the very end. 100 Miles from Memphis is a 60-minute album which is extremely luminous and pleasant to hear, her best record since a long time. (October 2010)
Videos: « Sign Your Name (live) » - « Summer Day »



½

Miley Cyrus - Can't Be Tamed
Miley Cyrus initially became a star in the Disney series Hannah Montana. She's also the daughter of country singer Billy Ray Cyrus. Now 17 years old, the teenager presents already her 2nd album. Can't Be Tamed marks a renewal for Miley which hopelessly tries to dissociate from her image of innocent girl. So, it's sexier and more woman than ever that she comes back to us, with a sound which wants to be also more adult. The music remains pop, but a little darker, and it ventures somewhat in rock territories. She covers effectively the Poison classic from 1988 "Every Rose Has Its Thorn". Unfortunately, this side a little darker removes pleasure while we listen to the album. They are effective pop songs, but it seems that with too much trying to change her style, she loses all her joie de vivre. Potential hits remain numerous and there is sufficient accessible material to preserve a good part of her young female fan base. She also has a solid voice and all the qualities necessary to catch the attention of the public of Ke$ha, Britney or Katy Perry. When she really reaches her so much desired maturity, she will be able to thus aspire to great honors. (September 2010)
Video: « Can't Be Tamed »




The Damned Things - Ironiclast
The Damned Things is a supergroup consisting of members of Anthrax, Fall Out Boy and Everytime I Die, which decided to join together in their spare time. At first glance, we have the feeling that the result will be weird with a thrash metal band that would merge with pop punk. But, the 5 members have managed the feat to bring out the best elements of each to create a metal / post-hardcore sound with elements of hard rock, a bit like Velvet Revolver. Scott Ian (Anthrax) provides powerful riffs to this band presenting both energetic and accessible rock music. Keith Buckley (Everytime I Die) drops his usual screaming voice to rather offer excellent pop melodies. The compositions are not very complex, but are always effective. These are real good rock 'n' roll songs that are pleasant to listen until the end... (February 2011 Featured New Artist)



½

Danger Mouse and Sparklehorse - Dark Night of the Soul
A project presenting music by Danger Mouse in collaboration with Mark Linkous of Sparklehorse and visuals by David Lynch was supposed to come alive in 2009. On the other hand, contractual problems created a delay in the project and Linkous had the time to die during that waiting period. The project is finally real and it presents a kind of a tribute to Linkous, as well as Vic Chesnutt, another one who died and which collaborated to one song of the album. For each track of the record, one finds a guest singer, who also wrote the lyrics. One can thus hear among others Jason Lytle (on 2 songs), James Mercer, Suzanne Vega, Black Francis, Julian Casablancas, Iggy Pop and, of course, Vic Chesnutt. One should not forget either The Flaming Lips who offer the opening track, "Revenge". Linkous and Lynch also contribute to some lyrics and vocals. Many collaborators of great talent bring an excellent richness to the album which finds its unification point in the music of Danger Mouse and Mark Linkous. It's thus a very good indie rock album which is offered to us, a deep and dark album at the same time, but presenting also several very luminous moments. (October 2010)



½

Deftones - Diamond Eyes
Here is the 6th album by California metal band Deftones, a group which has existed for more than 20 years. Nothing from them really succeeded in catching my attention since the excellent White Pony issued 10 years ago. Awaiting thus proved to be rather large towards Diamond Eyes. It will have been necessary to wait 4 long years since their last record, but it should be said that bad luck struck the group during that period. Initially, bass player Chi Cheng underwent severe wounds in a car accident in November 2008, which forced the band to take a hiatus, before continuing the tour with Quicksand bass player, Sergio Vega. They even recorded an almost complete album with him before destroying it. On Diamond Eyes, Deftones explores a little more atmospheric environment, even if it doesn't leave obviously aside its aggressiveness and its dark side. The more luminous or deep moments come to balance the rough aggressiveness characteristic of the group since the beginning of its career. It's thus a mature album which brings Deftones elsewhere, in an unexplored territory until there. Even if few titles arise from the batch, the unit is largely satisfactory and it will please fans of intelligent metal music. (September 2010)
Video: « Diamond Eyes »



½

Diddy-Dirty Money - Last Train to Paris
Producer Sean Combs (aka Diddy) presents us a lot of new things with this new record. First, he introduces greatly the female duo Dirty Money, composed of Kalenna Harper and Dawn Richard. Then, he presents a rap album based on house music with European influences. Finally, Last Train to Paris is a concept album about broken love. The 2 girls from Dirty Money rather act as chorus singers here, providing considerable support to the weak rap of Diddy. Musically, the record stands out nicely from what Diddy did before (or P. Diddy or Puff Daddy), but it also differs from the work of most of today's rappers. We can certainly see this album as a mere promotional coup to propel Dirty Money in the spotlight (and it will definitely work). But, the album of 18 tracks totaling 73 minutes gives us quality music from the beginning to the end without major weaknesses. Some titles will surely leave you indifferent, but the whole is extremely solid and consistent. A nice surprise! (February 2011 Featured Review)
Videos: « Angels » - « Hello Good Morning » - « Loving You No More » - « Coming Home » - « Ass on the Floor » - « Someone To Love Me »



½

Disturbed - Asylum
The metal band from Chicago Disturbed is back with a 5th album in 10 years. It's with a soft instrumental that this new record begins, in the purest tradition of Metallica. But, from the title-song, it's becoming more serious with an effective guitar riff on a heavy and creative rhythm section, everything accompanied by the single voice of David Draiman. The tested style of Disturbed is still quite present on Asylum with an accessible metal sound, sometimes even radio friendly. Some tracks present creative moments that are interesting for a band which is not renowned for its great originality ("Asylum", "Another Way To Die", "Never Again"). Then, thanks to an excellent production, we can appreciate the less creative tracks as well, as they are interpreted in a perfect way. The band even takes the risk to do a cover of the U2 classic, "I Still Haven't Found What I'm Looking For", which they skillfully hide in an untitled track at the very end of the CD. Asylum is an effective album which their fans will like undoubtedly. (November 2010)
Videos: « Asylum » - « Another Way To Die »



½

Fefe Dobson - Joy
After having become famous at the age of only 18 in 2003, the Toronto female singer gets back now with a 3rd album which finally has all the elements to project her to the forefront. Fefe Dobson presents pop rock songs with great energy. The hit "Ghost", produced by Kevin Rudolf, gives very well the tone for the album as soon as at its opening. A little later, the hugely successful mid-tempo "Stutterin'" will definitely put Fefe among the essential pop rock singers of the 2010s, alongside P!nk and Kelly Clarkson. "You Bitch", the independent hit "Watch Me Move" (recorded before her new record deal) and "I Want You" add to this already very revealing portrait of the positive evolution of the singer. Fefe Dobson offers us memorable pop melodies and each piece brings an interesting element to the album, despite the simplicity of some compositions. Joy is therefore certainly her best album to date. (March 2011)
Videos: « Ghost » - « Stutterin' » - « I Want You »



½

Dr. Dog - Shame, Shame
After years of hard work, pop/alternative rock band from Philadelphia, Dr. Dog, can finally count on a production of quality for its first album on Anti. Musically, the band continues despite everything in the direction well established already, refining still a little more its style based on the rock sound of the early 1970s. The addition of an external producer for the first time in Rob Schnapf (Beck, Elliott Smith) helps a lot to polish the very creative music of the group. The vocal harmonies remain a strong point for Dr. Dog which offers beautiful melodies on always creative compositions. For the nostalgic ones of the pop rock sound of the 1970s which have the feeling there is nothing more that is interesting today, here is an album which will make you change opinion. I could not say for the moment if it's the best album of the band's career, but with maturation, it could extremely well be that conclusion. An excellent record! (July 2010)





Eels - End Times
Only 7 months after the excellent Hombre Lobo, Eels is already back with a new record. On End Times, Mark "E" Everett opens completely to us to announce his fear to get old, and to get old alone. Several tracks are interpreted all in simplicity, acoustic guitar on hand (sometimes with piano). But, some songs come nevertheless to add a little energy to this album which could easily be passably depressing. A song as "Gone Man" for example is as sad when we hear the lyrics, but it has at least the advantage of having a good rockabilly beat. With End Times, Everett possibly presents to us his most personal album to date, a CD on which he is abandoning himself completely, in spite of the pain he can get from it. Without being as complete as Hombre Lobo, this new opus by Eels has qualities that many of their fans will like. (March 2010)
Videos: « In My Younger Days » - « End Times » - « Little Bird »
Vagrant /
Universal




Eliane Elias - Eliane Elias Plays Live
After a career of more than 25 years of recording, Brazilian jazz pianist Eliane Elias offers us a live album. The 70-minute CD was recorded several years ago, on May 31, 2002 in Amsterdam, Netherlands. She is accompanied on stage by bassist Marc Johnson and drummer Joey Baron. This trio format suits her perfectly well, emphasizing the emotion she manages to emerge from her piano. The album contains 7 songs, most of them stretching over more than 10 minutes. She presents a medley of Gershwin / Lyra / Donato ("Embraceable You / But Not For Me / Jazz Influence / Who Knows"), one of her compositions ("Bowing To Bud"), and concludes it with a 18-minute track of Jobim obviously ("Desafinado"), Jobim being one of her all-time favourites. With this live recording, Eliane Elias offers us an excellent album, showing all her talent. (February 2011)



½

Eminem - Recovery
Just a year after Relapse, it was expected a Relapse 2, but it's not the case. Marshall Mathers rather presents us a somewhat different album from the last two. He returned to the source with a very musical rap, more comparable to his successful albums of the beginning of the last decade. The first thing that is hitting us is that Eminem finally leaves the skits, those small usually unnecessary interludes which were always a part of his albums as well as those of several rappers. On the other hand, he's still presenting us a long album of 77 minutes counting 17 titles. The first songs make us applaud his decision to return to the sources, particularly with "Talkin' 2 Myself" and its excellent guitar. "Won't Back Down" presents other elements of rock, while P!nk accompanies the rapper, then "Going Through Changes" takes Black Sabbath's classic "Changes" to make a touching rap as only Mathers can produce. Later, there are weaker moments that unfortunately come to mitigate the effect of the tracks that are so good. It's a pity that Eminem is still doing too long albums, because if Recovery was a few songs shorter, it could probably stand proudly alongside his best albums in career. It remains that Mathers presents us his best record since The Eminem Show in 2002. (August 2010 Featured Review)
Video: « Not Afraid »
Aftermath / Interscope / Universal



½

Roky Erickson with Okkervil River - True Love Cast Out All Evil
Texan Roky Erickson is especially known for his madness and drug abuses. He got a certain success on the garage rock scene of the 1960s before disappearing for many years. During that period marked by a really abusive consumption of drugs and many obvious signs of psychosis, he spent several years in jail and psychiatric establishments. In the early 2000s, he finally succeeded in getting rid of his demons and dropping drugs. Then he joined again with the most positive elements of his past and went back on stage. For this album, Erickson, accompanied by the band Okkervil River, chose and recorded 12 tracks among about 60 songs previously unreleased, of which several are among the bests he ever wrote. Producer Will Sheff from Okkervil River was really successful in amalgamating these tracks written at various moments, including some in prison, to make a coherent theme of it about the unique life of Erickson. The music was completely rearranged with more powerful orchestrations to make them more dynamic. In end of line, this album could have been a simple collection of rarities without any links, but it's rather a solid record from the beginning to the end, perhaps the best of his solo career. (August 2010)



½

Kellylee Evans - Nina
Canadian female singer from Jamaica Kellylee Evans is offering her 3rd album, after having created great reactions with her two previous ones. A genuine star in France, the one that is now residing in Ottawa has a single talent when it's time of singing jazz with a powerful voice which is always emphasizing her personality. On Nina, Kellylee revisits the repertory of the legendary Nina Simone. It's very necessary in the same way to be courageous to cover the work of an artist as admired as her, knowing that the comparisons will be inevitable. She however succeeds in giving a new breath to the songs, to put them in a style of today, to endorse them. It's nevertheless a whole exploit to succeed in catching our interest with songs we heard hundreds of times in various versions. The sober musical arrangements are carried out perfectly, and then they leave the entire place to this superb singer with an exceptional talent. So, here is an album paying very well homage to the legend that represents Nina Simone. (November 2010)



½

Piers Faccini - Two Grains of Sand
A British born from Anglo-Italian parents, Piers Faccini grew up in France. He presents his 3rd album after Leave No Trace (2004) and Tearing Sky (2006). On Two Grains of Sand, he worked as a recluse, whereas he straightforwardly played all the roles during the creation and recording of the album. The recordings were acoustic, almost in a demo version, and he then added the other instruments, always in a discrete way. He asked anyway for the assistance of Renaud Létang to add a little luminosity to the ensemble, but several songs remained close to the stripped original version. It's thus a folk rock album rather stripped Faccini is offering us, an album putting above all the value of the lyrics. These lyrics are particularly poetic, even if they're not always completely original. It's thus preferable to let go to the soft music of Faccini which will bring you in a universe close to a Bob Dylan of the 21st century. (October 2010)
Video: « The Wind That Blows »
Tôt ou Tard / Warner / SIX




The Factory - The Factory
The Factory is a punk / new wave band from Washington, D.C. which did nothing but pass quickly in the music industry at the end of the 1980s. After tours supporting Iggy Pop, the Ramones, Public Image Ltd. and Johnny Thunders, the band broke up in 1992, without having been able to release an album. Acetate Records president, Rick Ballard, preserved a demo recording of the band for 20 years. Having discovered the group online, he immediately contacted them to discuss the release of an album. Their recordings were thus cleaned up and here it is finally on CD. "Self-Submission" starts the album strongly with an effective rock 'n' roll influenced at the same time by the New York Dolls and the Rolling Stones. We can hear this sound in a couple of occasions like on the very good "Girl That I Want" and "Six Feet Down", but we also unfortunately find several uninteresting compositions or sometimes sounding a little too much like a demo. For the fans of the 1980s punk only or if you're curious… (December 2010)


½

Johnny Favourite - Troubadour
After 6 years of exile outside of Canada, including a good part of it as a merchant of art in the south of Portugal and as singer on cruises, the singer crooner is back with Troubadour. He had left after his disillusion of the musical industry, as well as a broken heart, but he hopes that the things will be different this time. Right at the first notes of this new album, we feel that the tenor didn't lose anything of his energy and that he's still as skilful to interpret in his own way classics of the American songbook. Among the most famous, let's note Leonard Cohen's "I Came So Far For Beauty" and Bruce Springsteen's "The Fever", but one can also hear the excellent "Careless Love" (in duet with Jill Barber), "Cry Me a River" and "22 Steps". This is a very rich jazz sound which is offered to us here with several instruments coming to accompany perfectly the voice of the crooner. Even if he was eclipsed by Michael Bublé since his exile, Johnny Favourite has as much talent and he presents an album of a great effectiveness. (November 2010)



½

The Flaming Lips and Stardeath and White Dwarfs with Henry Rollins and Peaches -
The Dark Side of the Moon
Very few artists have the courage to attack a classic like The Dark Side of the Moon of Pink Floyd. But if a band can allow it, it's certainly The Flaming Lips, one of the most respected bands on the US alternative scene. Accompanied by Stardeath and White Dwarfs, as well as Henry Rollins and Peaches, they really make their own this progressive and atmospheric masterpiece of the 1970s. Certain passages are more rock and more raw that the original. We even have the feeling per moments ("Breathe") they tried to bring The Dark Side of the Moon to the psychedelic era of Pink Floyd in the 1960s when they were leaded by Syd Barrett. Peaches makes "The Great Gig in the Sky" in a unique and a little odd way, whereas the mega hits "Time" and "Money" take a totally different direction. In spite of some completely different versions, the group succeeds in remaining faithful to the original while putting a completely personal key to it. Without being of the same quality than the 1973 classic, this version by The Flaming Lips deserves that we listen to it, at least by curiosity. (August 2010)



½

Florence K - Havana Angels
With Havana Angels, the talented female singer from Quebec offers the conclusion of her trilogy from Havana magnificently started in 2006 with Bossa Blue and continued in 2008 on La Historia de Lola. For this 3rd studio album, Florence K moved to Havana to record it with young very talented Cuban musicians. Ah yes, it as to be mentioned that it is a Christmas album… On the other hand, far from falling into boring interpretations we can often hear at this time of the year, Florence serves an album of great quality in her usual world beat style, with more than obvious Cuban accents. Among the 13 tracks presented, she offers 5 original compositions including "Havana Light", a duet with guitarist Jesse Cook, and the only French song, "La lune et la neige" (the moon and snow). She revisits the classics "Blue Christmas" and "Santa Baby", in addition to writing new arrangements for "I'll Be Home for Christmas". She gives a new breath to "Ohla Pro Céu" of Tom Jobim in company of Walter Rios, in addition to adapting in a beautiful way "Have Yourself a Merry Little Christmas" in company of Pancho Amat thanks to arrangements of Manual Juan Ceruto. She offers us a very personal version of the love lament of king Henri VIII, "Greensleeves", without forgetting a song popularized by Mercedes Sosa, "La Peregrinacion", interpreted with her mother, opera singer Natalie Choquette, and Osvaldo Montes on the guitar, which also coproduced the album with Florence. Finally, she presents "As I Went Down in the River to Pray", a traditional American gospel song she interprets with Afro-Cuban band Sintesis. So, here is a Christmas album filled with heat (Cuban heat), an album quite different from what we usually hear at this period of the year. In fact, it is perhaps about one of the rare Christmas albums we can allow to play all year long… (December 2010)
Red Blues / Musicor



½

Roberto Fonseca - Akokan
Roberto Fonseca is a Cuban virtuoso pianist. Especially known for his work with the legendary Ibrahim Ferrer, he offered us in 2007 the superb Zamazu, a world critically acclaimed album. He comes back now with Akokan, another album of contemporary jazz that is brilliant of maturity. The CD was recorded at the famous Egrem studios in Havana with musicians who have already accompanied him for more than 12 years. One can also hear the guest singers Mayra Andrade and Raul Midon. Even if Fonseca allows itself to sing on various occasions, piano remains at the centre of this unique album enabling us to make a genuine world tour in 55 minutes. The playing of Fonseca is impressive and he succeeds in transmitting perfectly the emotion via his piano keys. The album is closer to contemporary jazz than Latin jazz, but the fusion of cultures we can find here makes in end of line a quite personal sound. Akokan thus constitutes once again a very well done album for Roberto Fonseca, a record that any listener of contemporary piano will like. (October 2010)
Enja / Justin Time / SIX



½

Angel Forrest - Come Alive
For already more than 20 years, Quebecer Angel Forrest impresses crowds with her blues sound and her raucous voice. Especially known to have interpreted Janis Joplin in a musical with great deployment, she then released Angel Sings Janis Live which allowed her to widen her fan base. In 2005, she offered us a first record of original songs in English, Here For You, which got sales of more than 15.000 copies and conquered Canada. She's back 5 years later with Come Alive, an album presenting a very good mixture of folk rock and pop rock, and which is at the same time accessible to a large audience. The blues is a little less at the heart of this album, but it's never very far. One can partly compare her with Alannah Myles and Melissa Etheridge. For Come Alive, Angel is surrounded again by guitarists Denis Coulombe and Rob MacDonald who also co-wrote all the songs with her. At the end, here is a very solid 5th CD on behalf of this excellent female singer with a powerful and not too clean voice. (October 2010)
Wonderland / SIX



½

Galactic - Ya-Ka-May
The new funk band Galactic is back with a new album very awaited by its fans, 3 years after its previous record, From the Corner to the Block. Once again, the group gives us a fusion between rock, hip hop, jazz and electronics in a funk music integrating a brass section. More than ever on Ya-Ka-May, the band integrates various popular genres in New Orleans in the post-Katrina hurricane era. The hip hop already quite present on the previous CD, gains in importance and we find more lyrics than on their former albums. The guest artists are numerous and come to however add some richness to this already very rich sound. The Galactic music has the characteristic of superimposing several elements, but to succeed anyway in offering simple and remarkable melodies. The album is solid and creates a beautiful atmosphere until the end. In fact, its main defect and what it misses in Galactic to pass to another level, it's the lack of some potential hits which would pop up of the unit. (May 2010)



½

The Gaslight Anthem - American Slang
The Gaslight Anthem is a band from New Jersey which was formed 5 years ago. The punk band releases its 3rd album which is extremely likely to make their career explode. Strongly influenced by Bruce Springsteen and other rockers with big hearts, The Gaslight Anthem slows down the beat on American Slang, allowing it to approach more than ever its influences. We still hear energetic tracks which will please their first fans, but the album consists most of all of mid-tempo tracks leaving the entire place to singer Brian Fallon, even if he doesn't have a very great voice. American Slang is an extremely mature album which will finally give the band the recognition it deserves. (October 2010)
Video: « American Slang »



½

Gorillaz - Plastic Beach
Five long years after Demon Days, the hip hop collective Gorillaz is back on CD for our greatest pleasure. The first virtual hip hop group, directed by Blur's Damon Albarn, presents a large scale album. It indeed succeeds in bringing its music to another level, with musical richness and a production never heard until then. Albarn is somewhat less present on Plastic Beach to leave the entire place to guest artists of a great reputation who bring the atmosphere to the album. It's the case for Snoop Dogg, Mos Def, Bobby Womack and Lou Reed, without forgetting De La Soul which are making a comeback after the hit of "Feel Good Inc." on the previous record. Ambient textures accompany magnificently the effective pop melodies. It thus results perhaps in the best album from the group to accompany a comic strip concept. On the other hand, if we take the album out of the concept of the group, it is undoubtedly weaker than the previous recordings which offered a perfect fusion between hip hop, pop and rock. In conclusion, Plastic Beach constitutes an album that is difficult to identify clearly, an album which has strong elements in terms of execution and production, but which doesn't have anything to really catch the attention of a large audience, while not having the same overall creativity of the previous recordings. (May 2010 Featured Review)
Video: « Stylo »



½

Ellie Goulding - Lights
Ellie Goulding is a British pop singer who is inspired as much by electro-pop as by alternative music. With Lights, she presents to us her very first full-length album, a 41-minute CD. She co-wrote each of the 11 songs succeeding in integrating all her influences into it, Imogen Heap being probably her most important one. Ellie presents quite good songs throughout the album, including the excellent "Starry Eyed". Some listeners will be able to detect a lack of coherence throughout the record. On the other hand, when we compare her with other successful pop singers, especially on the American part of the world, Ellie Goulding has a place more than relevant in the music industry. This unique talent offers a refreshing album… (June 2010)
Videos: « Starry Eyed » - « Under the Sheets » - « Guns and Horses »



½

Greenwood - Green Money
Greenwood is a Quebec blues rock band led by singer and guitarist Joé Boisvert (Boisvert meaning Greenwood in French). Joé says he discovered blues at the age of 16 during a performance by Steve Hill. This primary influence of the band can immediately be heard on this first album, while Greenwood delivers us a fairly heavy blues. This is the case at the opening track, the excellent title-song, a piece simply unleashed. Other tracks explore a bit more traditional blues as it's the case with "You Cut My Wings." We must not ignore the presence of Kim Richardson, who lends her voice as a background singer in several songs. Without an overflow of creativity until the end, Green Money has good moments that will please fans of furious blues. (May 2011)




Grinderman - Grinderman 2
After a first album in 2007 which did much noise (in all meanings), here is that the parallel project of 4 of the members of Nick Cave & The Bad Seeds continues. The project of the first album made it possible for Cave to revisit the noisy music which had made him vibrate in his youth, and it's in the same direction that this 2nd album is going. We can hear a low bass that, twinned with various experimental sounds and loops, becomes completely hypnotic and forces us to listen to it until the end. However, nothing is accessible once again on this album with purely artistic ambitions. The band counts again on producer Nick Launay who does here an album a little more polished than the previous one. Fortunately, because the unit is even more difficult of approach than the first CD. Fans of Nick Cave and creative experimental music will once more be charmed, even if patience is necessary before managing to really appreciate the album. (December 2010)
Video: « Heathen Child »



½

The Guilty Brothers Experience - TGBE!
The Guilty Brothers Experience is a band from Brussels, Belgium which is offering his very first full-length album. The group presents us a rock sound, sometimes rather heavy, with many moments of experimentation and some Eastern influences. Difficult to describe, their music can be compared with a mixture between Led Zeppelin, Pink Floyd, Radiohead, The Mars Volta and Queens Of The Stone Age. This is an intelligent rock sound and it's necessary to listen to it attentively to be able to really appreciate. With its 12 songs adding up 58 minutes, TGBE! is a particularly successful first album. (September 2010)



½

Heartsounds - Until We Surrender
Heartsounds is a duo from San Francisco which was formed from the ashes of melodic death metal band Light This City. Laura Nichol and Ben Murray go back to their first influence, punk rock, with a sound fitting perfectly with California punk sound, particularly Bad Religion. We still find some moments of aggressive metal, but most of the album is rather melodic and accessible, without anything revolutionizing. Lyrics can sometimes seem introspective, even if they come alive through an energetic sound. Few tracks arise from the batch, but the whole of hardly 40 minutes is very listenable until the end. (October 2010 Featured New Artist)




Jimi Hendrix - Valleys of Neptune
Forty years after his death, they still find new material to offer us on behalf of Jimi Hendrix. In the case of Valleys of Neptune, it is presented to us like nothing less than a new album. It should be said that even the well-known titles included here are in a different version from the one that made them famous. On the other hand, several of these parts have appeared at one moment or another in a box set or on an album of rarities. Very little real new material can be found. The most interesting element of this record is an impeccable mixing by Eddie Kramer who succeeds in bringing this album to a contemporary sound. Some guitar recordings can seem imperfect or incomplete, but they remain extremely effective thanks to the huge talent of Hendrix. He would certainly have preferred to work them over again before presenting them to us, but he's not there anymore to give his opinion, unfortunately. Finally, even if I didn't await anything exceptional from this album of rarities, this is about a very good record which is pleasant to discover until the end. A great surprise in the circumstances and a beautiful gift for his fans! (May 2010)
Video: « Valleys of Neptune »



½

H.I.M. - Screamworks: Love in Theory and Practice, Chapters 1-13
H.I.M. (His Infernal Majesty) is a Finnish band with Gothic influences which has existed for already 15 years. Even if the group takes its influences first from Sisters Of Mercy, it goes in a very accessible pop sound with this 7th recording. H.I.M. can be found somewhere between Evanescence and Fall Out Boy. The entire album turns around the theme of lost loves, a topic that can already be annoying after a couple of tracks, culminating with the ballad "Disarm Me (With Your Loneliness)" at the 5th track. Fans of the band will not certainly have much problems to recognize their favorite band and the commercial possibilities of the album are evident. On the other hand, Screamworks is undoubtedly not their most creative album and it will probably hurt Gothic rock purists. (June 2010)
Video: « Scared To Death »
Warner


½

Hole - Nobody's Daughter
We had to wait 12 years before hearing a new album by Hole. During that time, Courtney Love tried to embark on a solo career, but without much success. So, it's probably the reason why she decided to re-use the name of the band which made her famous. More especially as this new album by Hole cannot be regarded as a meeting of the old members because we have to note the absence of Eric Erlandson and Melissa Auf der Maur, two pillars at the sides of the uncontested leader at the time of the most successful years of the band in the 1990s. Nobody's Daughter is thus a new solo project by Courtney without her name on it. She asked anyway for the assistance of faithful collaborators for the songwriting in Linda Perry and Billy Corgan. Courtney seems to want more than ever to put her lyrics in front (which is not so interesting elsewhere) with mid-tempo songs, often rather annoying. On the other hand, when she sings on a rock sound closer to her punk roots, it's her unbearable yelling voice which comes to sabotage everything. In end of line, what is remaining? A flat album, without substance, without excitation and especially, without inspiration. After all, it's not that surprising when we realize that all the songwriters who worked on the album were unable to carry on their creativity in the new millennium. (June 2010 Featured Review)



Hollerado - Record in a Bag
Hollerado is a new Ontarian band, now based in Montreal. But, above all, this is about a true phenomenon. Winner of a contest on a radio show in Ottawa, the band offered their album online for free for months, in addition to selling copies in Ziplocs bags at their concert venues. The group was chosen by Jack White to open for The Dead Weather last summer, and then they invented the "Residence Tour" on which they visited the 7 same cities for the 7 days of the week during 4 weeks. Besides, it was possible to see them at Divan Orange in Montreal on every Saturday of February. Finally, they even made a "half-world" tour visiting China, Brazil and Argentina. Now that we know more about the subject, let's talk a little about their music since their famous album is now officially on sale. Produced by ex-Me Mom and Morgentaler, Gus Van Go, also producer for Trois Accords, The Stills and Vulgaires Machins, Record in A Bag presents a pop rock sound with dangerously catchy melodies. We can perceive influences of Franz Ferdinand and Weezer, but the creativity of Hollerado's music makes them difficult to categorize. Let's say that several of the 12 tracks of the album will stay in your mind for weeks, the most interesting being the first singles "Americanarama" and "Juliette", as well as "Fake Drugs", "Got To Lose" and my favorite one, "Walking on the Sea". Hollerado offers a first album of a little over 40 minutes which will definitely catch your attention. Thus, here is a band it will be necessary to check out very closely, a band which could easily become the new Montreal's rock sensation. (April 2010 Featured New Artist)
Videos: « Americanarama » - « Juliette »
Royal Mountain / Arts & Crafts



½

Infected Mushroom - The Legend of the Black Shawarma
Infected Mushroom is an Israeli duet established in Los Angeles, California which is presenting to us techno trance underground music since already many years. The Legend of the Black Shawarma constitutes their 7th album indeed. More than ever, the duet returns to its rock and metal influences whereas one can hear Jonathan Davis (Korn) on "Smashing the Opponent" and Perry Farrell (Jane's Addiction, Porno For Pyros) on "Killing Time". It should be said that their rock influences always had a place of choice in their techno sound, regularly bringing them in the playground of industrial music. Besides, "Can't Stop" presents this energetic style with guitars quite present and electronically worked over voices in the Ministry style. The 78-minute long album concludes with a remix of "Riders on the Storm", a classic by The Doors. For those who like creative underground electronic music, Infected Mushroom deserves that we pay a detailed attention to them. Fans of industrial music should also listen to this single duet. (September 2010)



½

Michael Jackson - Michael
A year and a half after his death, this is a first posthumous album for Michael Jackson. The 10 tracks presented here were all recorded during past sessions for a forthcoming album before being rejected. The arrangements of some songs were completed after the death of the king of pop to give them a sound of the years 2010. This is the case for the great hit "Hold My Hand" with Akon, as well as "Monster" with 50 Cent. On the other way, most of the other tracks are already suffering from the weight of years. The most interesting tunes come from the days of Thriller: "(I Like) The Way You Love Me" and "Much Too Soon". The rest is pretty much the style of Jackson in the years 1990-2000, either dynamic beats that are desperately short of memorable melodies. The overall set is lacking cohesion, in the quality of the compositions, as well as in the melodies and arrangements. But really, it was predictable because Michael is actually an album of rarities offered to the public for a purely commercial objective. (February 2011)
Video: « Hold My Hand »


½

Jaheim - Another Round
Jaheim Hoagland is an artist with multiple talents. In addition to singing R&B, he was also a rapper, a model and an actor. Raised in a family of musicians (his grandfather, Victor Hoagland, was a member of the Drifters), we can say that Jaheim had the music in blood at a very young age. Another Round is already his 4th album, a CD which obtained much success at its release reaching the first positions of the Billboard 200. We find a few major changes compared to his previous recordings, which will be appreciated anyway by his long time fans. His powerful voice emphasizes perfectly the sensual melodies which accompany this warm music directly inspired by the 1970's soul. With the listening of "Impossible", there is straightforwardly the feeling we hear a more modern version of Percy Sledge's classic, "When a Man Loves a Woman". On the other hand, it's in the good beat of "Ain't Leavin' Without You" in opening of the album that we can find the best of Jaheim. We can besides hear a remix of this track at the very end, a version featuring rapper Jadakiss which is immediately becoming a fan favorite. (May 2010)




The Jazz Passengers - Reunited
The Jazz Passengers were formed in the late 1980s by Roy Nathanson and Curtis Fowlkes. Guitarist Marc Ribot has also served and Deborah Harry (Blondie) sings regularly with them since 1994. Reunited marks a return for the contemporary jazz band that has presented no records since 1998. We have to go back to 1996 in order to hear their last studio album. For this new meeting in studio, the group has invited several artists including Ribot on 6 tracks. Two live performances ("Think of Me" and "One Way or Another" of Blondie) are offered as bonuses and feature Deborah Harry. One can also hear the voice of Elvis Costello on the first song, "Wind Walked By", and that of Susi Hyldgaard on the classic "Spanish Harlem". Also note their particular interpretation of "The National Anthem" by Radiohead. The Jazz Passengers offer us a jazz sound that is rather difficult of access and that will have problems to attract a wide audience. In addition, there is some unevenness in the quality of their compositions, especially when it's compared to the classics integrated among the only 9 tracks. The album offers a good time anyway. (February 2011)




Jonas & The Massive Attraction - Big Slice
The singer from Montreal Jonas Tomalty is introducing his new band, The Massive Attraction. As soon as at the title-song, we cannot prevent comparisons with Nickelback, even if the song offers a great energy and is certainly the most effective of the CD. The references to Nickelback will often come back throughout the album, as much in the energetic songs than in the powerful rock ballads. "Seize the Day" is rather ordinary, even if it's one of the headlights of this record which is missing clearly of creativity. As for the ballads, most of them are really annoying. There is only "Exit Wound", an acoustic ballad, which succeeds in catching our attention. Among the tracks that are the most energetic, "What Type o' Ride Are You" will succeed in entertaining you for only 2 minutes and a half. It's a pity that the unit doesn't succeed in presenting more interesting moments, because Jonas has a powerful and unique voice, in addition to being a true stage animal. Why then camp himself in a role of a product under Nickelback? (December 2010)
Video: « Big Slice (live) »
Big Slice / Roy Turner


½

Norah Jones - …Featuring
Since the success of her first album in 2002, Norah Jones has been offered numerous collaborations on movie soundtracks and on albums by other artists. …Featuring is actually a collection of 18 of these collaborations recorded between 2001 and 2010 with artists as varied as the Foo Fighters, Outkast, Willie Nelson and Ray Charles. Strangely, even though the styles may look different from one track to another, there is a very good guideline on this CD. And this guideline is Norah Jones herself who managed to give personality to each song offered. The album starts strongly with "Love Me" of Elvis Presley performed by the Little Willies, before continuing with "Virginia Moon" of the Foo Fighters. Her recording of "Take Off Your Cool" with Andre 3000 of Outkast is also one of the highlights of this amazing album. Here is a different way of seeing this singer with a huge talent. An excellent record! (January 2011)
Video: Introduction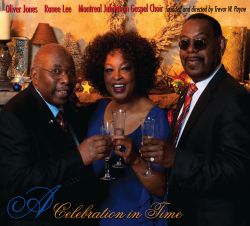 Oliver Jones, Ranee Lee & Montreal Jubilation Gospel Choir - A Celebration in Time
It's true that it's not really the right time in March to talk about a Christmas album, but I must admit that I completely missed this one. I had to mention it anyway considering the importance of the meeting on this record and the quality of the product. In fact, it's very difficult to get a better Christmas album with such great figures of Montreal jazz. In another way, I have less regrets having forgotten it for Christmas considering that basically, we can listen to A Celebration in Time at anytime of the year (perhaps excluding "Silent Night "and" Little Drummer Boy" which are more typical of Christmas). This is an album in the pure jazz tradition with Oliver Jones on piano which is in great shape and Ranee Lee, who still has a voice as unique. Both accompanied by the Montreal Jubilation Gospel Choir led by founder Trevor W. Payne for nearly 30 years, they can also count on the participation of the superb Haitian vocal quartet Daphnée Louis Singers. The CD includes 10 classic and forgotten tracks from the gospel repertoire, including rarities "Gras Bondye" and "Hymn to Freedom". Here is an excellent jazz album for Christmas that you can enjoy all year long. (March 2011)





Stacey Kent - Raconte-moi…
Stacey Kent quickly became a sensation of American vocal jazz in the years 1990. She would finally be recognized with her 6th album, Breakfast on the Morning Tram in 2007, album on which she flirted with the French-singing repertoire including 2 covers of Serge Gainsbourg. All was thus in place for her so she can start out a new adventure entirely in French. So here is Raconte-moi… on which Stacey presents 12 tracks including classic French songs from artists like Barbara, Paul Misraki, George Moustaki, Henri Salvador, Michel Jonasz, Keren Ann and Benjamin Biolay. But, the album also presents new songs by young French songwriters who deserve to be known like Claire Denamur, Pierre-Dominique Burgaud and Emilie Satt, whose "La Vénus du mélo" is the first single. Stacey succeeds in splendid interpretations thanks to her soft voice and her pop music accompaniments often inspired by Brazilian pop. She offers a merry and sunny album which has also completely releasing virtues. It's thus an album of vocal jazz that is particularly well done, which puts more in value the French repertoire. A successful album by this American which will succeed in widening her audience. (May 2010)
Video: « La Vénus du mélo »
SIX



½

Ke$ha - Cannibal
The last year has been strong in rebounds for Ke$ha who rose from anonymity to stardom over the time of a hit, "TiK ToK". In the wake of this huge success, she offered us in January 2010 her first album, Animal, an effective pop record, but with no major surprises. Why not benefiting from the current success, and immediately present something else, so here is Cannibal. Because all the hits that contained Animal were presented to us, they had to come up with something new. With only 8 new tracks and a remix of "Animal" for a total of only 32 minutes, Cannibal is actually an EP that serves as a supplement to her first record. For surprises, you can forget it because you will find exactly the same recipe that made her previous successes. The heart of the recording is unquestionably the hit single "We R Who We R", accompanied by some other catchy tracks like "Blow", "Grow a Pear" and the title-song. When she is rapping, Ke$ha is certainly not at her best and it became quite apparent on "Sleazy". Ultimately, Cannibal simply reached its goal of making sure we do not forget this new pop star too quickly and we continue to have her memorable melodies in mind. Is it worth the cost? I don't think so, since the effective parts of the CD will be played repeatedly on radio until total disgust. But, there are advantages to an EP: it necessarily contains less filler songs and it is sold at a lower price. (January 2011)
Video: « We R Who We R »



Ke$ha - Animal
Kesha Pink Sebert was born in Los Angeles, California, but grew up in Nashville, Tennessee, because her mother worked over there as songwriter. Still a teenager, she went back to Los Angeles to start her career as a singer. After the number 1 hit that was "TiK ToK", here is her first full-length album containing nothing less than 14 tracks. It presents a dance pop music which is ideal to party, with electro beats and a little of rap. Few songs have the same commercial potential than "TiK ToK", except maybe for the energetic "Ki$$ N Tell", which reminds us largely of The Veronicas, as well as the second single, "Blah Blah Blah". The most important negative point of the CD is the inclusion of frankly annoying ballads which come to waste a very good album to have fun. Parties, alcohol and drugs fill up this record which is completely politically incorrect. (June 2010)
Videos: « TiK ToK » - « Blah Blah Blah » - « Your Love is My Drug »




Kings of Leon - Come Around Sundown
First acclaimed with its second album, Aha Shake Heartbreak in 2005, Kings of Leon then turned into one of the most popular American bands. The Strokes of the South or the American U2, comparisons fly from all sides. I would also add that Coldplay seems to have been a great influence for the preparation of Come Around Sundown, their most recent album. That said, the group returned to a very commercial rock sound, perhaps even more than its previous album, Only by the Night (2008). This is perfect for carrying rock in stadiums around the world and make the crowd sing. If their goal was to continue their conquest of the world, there is no doubt that everything is there to succeed. But, the Followill family offers possibly their most common rock sound to date, compositions that are missing seriously the creative madness they had at their debut. Many fans of the first era had left the ship at the release of their previous album and the band did nothing to win them back with this new record. Come Around Sundown includes several good melodies and sure hits, but unfortunately it also contains their weakest compositions to date. (January 2011)
Videos: « Radioactive » - « Pyro »


½

Hilary Kole - You Are There: Duets
For her 2nd album, the talented singer-pianist Hilary Kole presents 13 jazz standards in duet piano-voice. We can hear several legends including Hank Jones, Cedar Walton, Freddy Cole, Kenny Baron, Michel Legrand, Dave Brubeck and Monty Alexander. In addition to playing piano, Freddy Cole sings with Hilary on "It's Always You", the best moment of this rather one-dimensional disc. The album was recorded over a 5-year period and it's achieving its goal of impressing by the huge artists which could be assembled on a single disc. On the other hand, the softness of the ballads, all love songs, can be wearying after a few tracks. If you like your jazz in its simpler expression, all in subtleties, here is the album that you need. But, beat changes would have catched the attention of an audience a little larger. (December 2010)




Kylie - Aphrodite
Kylie often separated critics in two groups and it's still the case with her 11th album, Aphrodite, for which we can hear and read the best and the worst. However, if her previous album, X, proved to be passably unequaled in spite of good moments, Kylie largely tightens the cohesion of the unit on Aphrodite. Obviously, it remains the light pop sound which made her famous, but she's nevertheless one of the rare pop singers to be able to produce albums of such quality. Several titles have the potential to burn the dance floors, especially in Europe, even if nothing can equalize her mega-hits of the beginning of the last decade. To carry out this step ahead, Kylie is surrounded here by producer Stuart Price (Madonna, Pet Shop Boys) and by the authors Jake Shears (Scissor Sisters) and Calvin Harris. The result is surprising, but completely satisfactory. Kylie succeeds in presenting at the same time largely effective pop songs and a cohesive album, which is probably making of Aphrodite one of her best albums in career. (September 2010)
Video: « All the Lovers »



½

LCD Soundsystem - This is Happening
James Murphy is facing a huge challenge with this new album: to succeed in catching the attention as much as he did with his previous record, Sound of Silver, which practically made unanimity among the fans and critics. His response is very simple because he only presents a sound comparable with the previous album, without changing too much the winning receipt. Once again, Murphy presents a basically electronic sound including elements of post-punk and disco. In the rockier moments, as on "Drunk Girls", LCD Soundsystem can be compared advantageously with Franz Ferdinand. On the other hand, some purely electronic compositions are definitely in the underground and will allow you to crank up the volume and dance in your living room ("One Touch"). One can also hear introspective mid-tempo ballads as the poignant "I Can Change". For those who wished to hear a hit on the album, Murphy wrote a song entitled "You Wanted a Hit". Murphy's writing continues to evolve on this new album and he's now one of the best songwriters in his genre. Without being of the same quality than Sound of Silver, This is Happening is another excellent album by LCD Soundsystem. (August 2010)
Video: « Drunk Girls »
EMI



½

Jamie Lidell - Compass

British Jamie Lidell offers a fusion of sounds with a heart of funk, soul and African beats. Sometimes, some discrete guitars with distortion come to add a considerable element of rock 'n' roll. Whereas we could see him in the past as a good soul singer, without really being able to go further, we now feel more than ever that he's in creation mode on Compass. Lidell can count on collaborators with a good reputation in Feist, Gonzales, Chris Taylor (Grizzly Bear) and Pat Sansone (Wilco). It's also important to mention Beck, especially that we can occasionally compare the sound of Lidell with that of the American. During the second half of the album, Lidell proves to us that he can compose and interpret an introspective sound of great quality. The soul voice of Jamie Lidell is incomparable and he succeeds in adding to it a highly creative music which finally enables him to go up at a higher level. So, here is his best album to date, a record which is extremely likely to appear among the best ones of the year. (July 2010)
Video: « The Ring »
Warp /
SIX





Linkin Park - A Thousand Suns
Linkin Park is back with its 4th real album, excluding their remixes and live recordings. A Thousand Suns is following the very disappointing Minutes To Midnight issued 3 years ago and it continues unfortunately in the same direction. The group once again forsakes completely metal to focus on a more atmospheric sound where the guitars are found straightforwardly buried under a layer of synthesizers. Forget the screaming of Chester Bennington and the effective rap of Mike Shinoda, because even if they are sometimes present, they are buried in melody textures and arrangements. In fact, Linkin Park gives us here a perfect example of overproduction. Some effective melodies, as on "Waiting for the End", really succeed anyway in catching our attention, but it's not enough to convince us to re-listen to the album. We have to wait as far as at the 9th track, "Blackout", to finally hear a dynamic track, but once again, we have the feeling it's stucked in electronic arrangements and that it will really live only on stage. Since the last 2 albums, the band seems completely lost and hopelessly tries to remake an identity. Why not simply dissolve the band and work with creative collaborators who will be able to give a new breath to a project that would be distinct from Linkin Park? They could then let go completely in their atmospheric and experimental ambitions, without being trapped in the Linkin Park name, which was made famous thanks to an entertaining and energetic rap metal sound. (November 2010 Featured Review)
Video: « The Catalyst »


½

Madonna - Sticky & Sweet Tour
Even if Hard Candy was far from being a first quality album for Madonna, she had to embark on another huge tour. After all, it's how she earns all her money! Warner issued a CD/DVD combo from that other successful tour by Madonna. In fact, it's probably the DVD that does all the work, but as I didn't receive it, I will talk to you about the CD today. The CD presents unfortunately half the material of the DVD. Moreover, these are especially medleys that we can hear on this, rather than the hits of the queen of pop. We nevertheless find new versions of some of her hits, like "Vogue", "Music", "La Isla Bonita" and "Like a Prayer". "Give It 2 Me" and "She's Not Me" are among the rare interesting moments of this CD recorded live in Buenos Aires in 2008. (September 2010)


½

Harry Manx - Isle of Manx: The Desert Island Collection
After the excellent solo comeback of Harry Manx in 2009 with Bread and Buddha, nothing is more natural than to get back immediately with a new proposal. But, it's rather this time a compilation of 15 of his best songs to date, picked from his 5 solo studio albums since 2001. The Canadian bluesman is proving here that he is certainly one of the most versatile musicians of his generation, playing banjo, sitar, harmonica and lap steel guitar. It's too bad the tracks are not presented chronologically and the booklet is not including much information, because this is a superb collection of the best material by Harry Manx. To discover! (February 2011)





Phil Manzanera - The Music 1972-2008 (2 CD + 1 DVD)
Guitarist Phil Manzanera was part of some of the most eclectic bands of the past 40 years, best known for his work with Roxy Music and Brian Eno. Here we find a re-edition of the superb box set released 2 years ago and making a complete retrospective of his work between 1972 and 2008. The first CD covers the first 20 years with many Roxy Music titles, but also tracks from Brian Eno, 801 and as a solo artist. On the second CD, we can hear his performances of the last 10 years while he sang with groups like Vozero, 6PM and 50 Minutes Later. Finally, the box set would not be complete without a DVD containing a documentary, live performances and videos. There is even a home video captured in Cuba at the time of the Revolution, because Manzanera spent a part of his youth in Cuba. Manzanera's work may seem obscure to most of you. But, his creativity makes him one of the most important avant-garde guitarists. This box set represents a great way to discover him. (January 2011)





Marina & The Diamonds - The Family Jewels

Marina Diamandis was born in 1985 in Wales from Welsh and Greek parents. Although The Diamonds appear to be a group name, it's actually an alias for Marina who works primarily alone, although she's of course accompanied by musicians on tour. She offers a particularly creative pop sound which was inspired by both Gwen Stefani and Kate Nash. This first album is very varied and goes from dancing pop of the 1980s to rock of the 1990s, integrating also contemporary soul. She has a unique voice and incomparable melodies. Despite the catchy melodies found on the CD, The Family Jewels is not necessarily a large audience album. It requires a few good listenings to really understand the universe of Marina. On the other hand, we can say that she realizes the tour de force to assemble her different influences on a coherent album for 45 minutes. It's therefore a first record of quality which is offered here by this incredibly talented singer. (August 2010 Featured New Artist)
Videos: « Mowgli's Road » - « Obsessions » - « I Am Not a Robot » - « Hollywood » - « Oh No! »





Maroon 5 - Hands All Over
After the huge success of the album It Won't Be Soon Before Long in 2007, awaitings were particularly important towards Maroon 5 for the follower. They thus try with Hands All Over to continue in the same creative pop rock direction. Even if they work with rock producer Robert John "Mutt" Lange (AC/DC, Def Leppard, Foreigner), they reduce rock 'n' roll to its simpler expression on this new record. In fact, the album especially emphasizes the melodies and the voice of Adam Levine, always accompanied by involving beats. Lange also allows emphasizing the soul side of the band, in short songs all under the 4-minute bar. It's thus a pop album of great quality which is offered to us, a CD of which we will certainly hear several singles on the radio. (December 2010)
Videos: « Misery » - « Give a Little More »



½

Mark Masri - La Voce
The Toronto-native singer Mark Masri presents an adult contemporary sound wrapped up in many orchestrations. He offers songs in various languages including especially Italian and English on a very adult pop music, a little crooner per moments and with Celtic accents. It is primarily about an album of ballads highlighting the lyrics and his voice. He does covers of some classics like "Caruso", "Fragilidad" (a Spanish version of "Fragile" of Sting) and even "Fix You" of Coldplay. On the other hand, the original compositions are frankly annoying. For the fans of contemporary ballads only… (December 2010)


½

Massive Attack - Heligoland
Formed in 1987 in Bristol, England, Massive Attack was the striking force behind the trip hop movement of the late 1990s that helped to launch bands like Portishead, Morcheeba and several others. Less active for the last few years, the group offered us his last album in 2004 with the soundtrack of Danny the Dog which had divided critics. Heligoland inevitably presents similarities with what the group produced in the past. On the other hand, we can nevertheless appreciate a musical evolution worthy of the years 2010. Among the guest back-up singers, we can hear new voices like Damon Albarn (Blur, Gorillaz), Hope Sandoval (Mazzy Star), Guy Garvey (Elbow) and Tunde Adebimpe (TV On The Radio). The performance of Damon Albarn on "Saturday Come Slow" has to be noted more particularly, because he perhaps offers his best material since Blur. The work of the members of the band on soundtracks throughout the last years seems to affect the sound of Massive Attack on Heligoland which is less experimental and could accompany several movies without too many arrangements. Even if the sound of the group is easily recognizable, Heligoland unfortunately doesn't succeed in getting the same feeling of admiration we could have at the time Massive Attack was at the top of its art. This is an honest effort, but which cannot equal the comeback of Portishead in 2008 with its album Third. (July 2010 Featured Review)
Video: « Paradise Circus »



½

MC Mario - Live 1234
DJ Mario Tremblay, aka MC Mario, has been in the clubs in Quebec for many years and he has offered countless compilations of dance pop. This time, they present a compilation recorded live to his club, the 1234 in Montreal. This 72-minute collection of hits will provide you a quality entertainment with some of the greatest pop hits of 2010. Among the most interesting ones, let's mention Marco Calliari ("L'Italiano" remixed by Montreal House Mafia), Montreal House Mafia ("Tarantella"), Duck Sauce ("Barbra Streisand"), Voyer Bros ("Losing My Religion" of R.E.M.), Usher ("OMG") and finally, Stromae ("Alors on danse"). We must also mention the presence of a new extremely talented female singer from Montreal, Danyka, presenting "It's About Now Everybody", a track from her EP The Love Report that was remixed for the occasion by Big Joe Bootleg. The song is very popular everywhere around the world. You can buy and download The Love Report on Archambault.ca. Ultimately, MC Mario gives us again a compilation of quality and a great entertainment, that will make you move. (March 2011)
Video: Album Trailer



½

MGMT - Congratulations
MGMT is a New York duo which was formed several years ago. Their first album issued in 2008, Oracular Spectacular, included incredible hits like "Kids", "Time to Pretend" and "Electric Feel". On the other hand, the mixture of these accessible songs with frankly experimental pieces created a certain overall inconsistency. For their 2nd album, they concentrate mainly on the exploratory side of their artistic direction. We thus find a more difficult music to access which can be compared to The Strokes and The Flaming Lips, with some energetic elements, but also more atmospheric moments. So, by tightening the direction of the album, it becomes at the same time more coherent than the first one. On another side, we lose the superb hits we could hear on the previous one and which gave the orientation to the album. In conclusion, the band progresses anyway in a beautiful way with its 2nd record. (June 2010)
Video: « Flash Delirium »



½

Bret Michaels - Custom Built
Here is the 3rd solo album by the former leader of Poison, Bret Michaels. One says "new album", but one finds actually a little bit of everything on this 12-track record. We can indeed hear picks from his previous albums, remixes and even a not really successful cover of Sublime's "What I Got". Among the new compositions, we can hear the theme-song of his new reality show on MTV, Bret Michaels: Life as I Know It, entitled "Riding Against the Wind". The most important piece of Custom Built is certainly "Nothing To Lose" with Miley Cyrus, which we can also find a demo version at the end. The problem is that Miley is not really present and that we could certainly have exploited a little more her voice rather than only use her name. One finds also a country version of the greatest hit of Poison, "Every Rose Has Its Thorn", whereas Bret is accompanied by Brad Arnold of 3 Doors Down, Chris Cagle and Mark Willis. The remixes include the theme of Rock of Love, "Go That Far", in a club version by Jason Miller of Godhead, as well as a rock version of "Driven", whose original versions were found on Rock My World, his previous album released in 2008. It thus seems to have on paper several elements worthy of interest on this new album by Bret Michaels. On the other hand, when we analyze the ensemble item by item, we realize quickly that a few of them are really well done and that the annoying elements are much more numerous. We all knew since a long time that Bret Michaels was in a lack of inspiration and it's confirmed once more. (October 2010)
Poor Boy / North Fontana


½

Milow - Milow
Milow is a Belgian singer (of its real name Jonathan Vandenbroeck) which initially was successful in 2007 with the song "You Don't Know". It will have been necessary for him to await his 2009 self-titled album to really have success and it's now offered to us in North America. At the time of the first hearings of the radio hit "Ayo Technology", I had straightforwardly the feeling to hear a new song by Red Hot Chili Peppers, perhaps because it's a little too similar to "Snow (Hey Oh)" at the chorus. It's this mega hit that is opening the album, followed by a new version of "You Don't Know", as well as one of his first tracks which is going back to 2005, "One of It". These 2 tracks, as well as "Born in the Eighties" appeared on his 2006 album The Bigger Picture. We can also hear the 11 songs from his 2nd album issued in 2008, Coming of Age. It's thus clear that Milow decided to present all his best material to date for this first internationally distributed album. Milow's sound is most of the time acoustic folk with some dashes a little more pop. The 70 minutes of the album can seem a little long to you considering that we find some tracks among the 18 which are a little less memorable and which are used as filling. On the other hand, the unit remains passably coherent in spite of the fact that we have in fact a compilation in hands. Here is a beautiful way for Milow to become internationally famous. (August 2010)
Video: « Ayo Technology »



½

Janelle Monae - The ArchAndroid

Discovered by Outkast's Big Boi in the mid-2000s, female singer from Kansas City, Janelle Monae, appeared on many compilations, before recording her first EP. The Chase was released in 2007 and consisted of the first of 4 extravagant suites introducing the character of Cindi Mayweather in the year 2719. She then signed a contract with Sean "Diddy" Combs' label Bad Boy and The Chase was re-issued with bonus tracks. Janelle finally presents her first album containing in fact suites 2 and 3 of the great adventure started 3 years ago. The ArchAndroid presents 18 titles for a running time of nearly 70 minutes. It explores various musical universes on a basis of soul music, whereas it goes even in rock 'n' roll per moments ("Come Alive"). This is a concept-album following a rather sinuous way and it can seem difficult to catch it at the beginning, but it's what is making it so interesting. Overflowing of creativity, Janelle doesn't hesitate at all to break the standards and to explore freely. Some albums of progressive rock in the 1970s didn't even dare to deviate as much of their guiding line. In fact, which is linking each song of this album, it's the single and powerful soul voice of Janelle Monae. You will find a few radio hits on The ArchAndroid which is rather presenting a little insane exercise of styles, sometimes disturbing, but most of all exciting. There are well some catchy melodies like the first single, the funky "Tightrope" featuring Big Boi, as well as the excellent "Cold War", but the unit is primarily for the fans of original music who cannot hear anymore disposable pop songs. In 2010, few artists can be proud of being able to offer as much creativity on the same album… (November 2010 Featured New Artist)





Jason Moran - Ten
Jason Moran has been active for over 10 years in instrumental jazz. The pianist and his trio, The Bandwagon, has now reached the pinnacle of his career with his album possibly the most mature and consistent. Even if the album is particularly focused on the trio's, Moran virtuosity is apparent on different occasions. As much Moran can deliver a pretty standard jazz, he also can afford to experiment, incorporating different influences like hip hop and classical, as well as special rhythms. The modern ensemble remains still quite romantic.