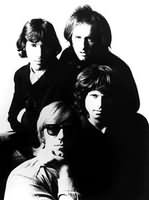 Years active: 1965-1973
From: Los Angeles, California, USA
Genres: Hard Rock, Pop Rock,
Psychedelic Rock, Blues Rock
Band Members:
Jim Morrison (vocals)
Ray Manzarek (keyboards)
Robbie Krieger (guitar)
John Densmore (drums)
External Link:
The legend is still lasting !
More than 30 years after the death of Jim Morrison in Paris, his legend is still living, like the music of The Doors. It's particularly impressive because of the short career the band had.
The Doors had a unique sound (guitar, keyboards and drums) that helped them to be different from the other psychedelic bands of that time and to become one of the greatests in the world.
The band was inducted into the Rock and Roll Hall of Fame in 1993.
So, here is the musicography of one of the most important bands in American pop music history.
Richard Dion
You can use this banner to create a link to this website: